It's time to celebrate GivingTuesday once again on November 30, 2021!
It's Help Hope Live's single largest charity giving day of the year with four times more donations to our organization than on any other day.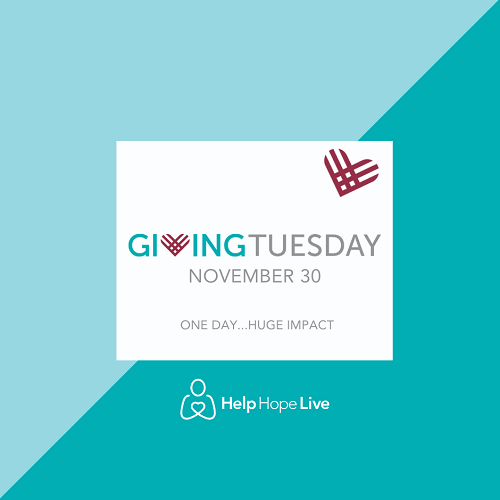 No Credit Card Fee for Online Donations
We're bringing back our #tealdeal! Between midnight on Tuesday, November 30 and 3 a.m. ET on Wednesday, December 1, we will cover the credit card fee for all online donations made in honor of any Help Hope Live client.
Share this information with your friends and community so they can make more impact with every donation.
GivingTuesday Help and a Customized Flyer
As a Help Hope Live client or team member, you can receive personalized fundraising support from your Client Services Coordinator. Reach out via phone or email, and don't forget to request a customized GivingTuesday flyer like this one: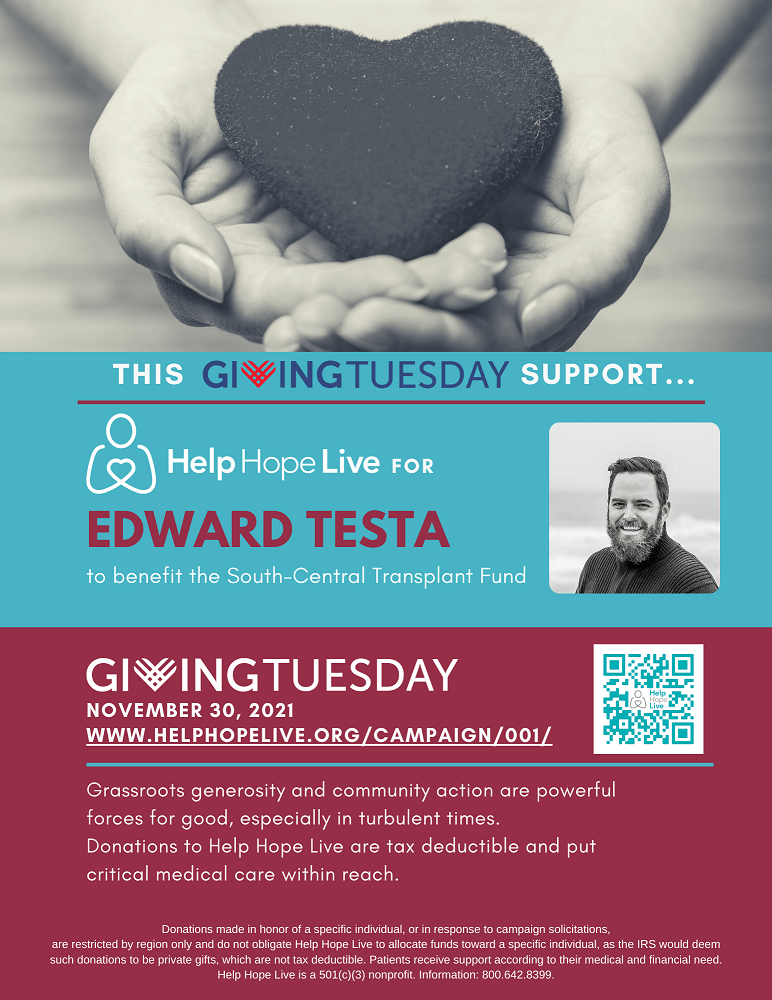 Graphics to Share
Here is a graphic you can save and share on social media to spread the word about GivingTuesday this year: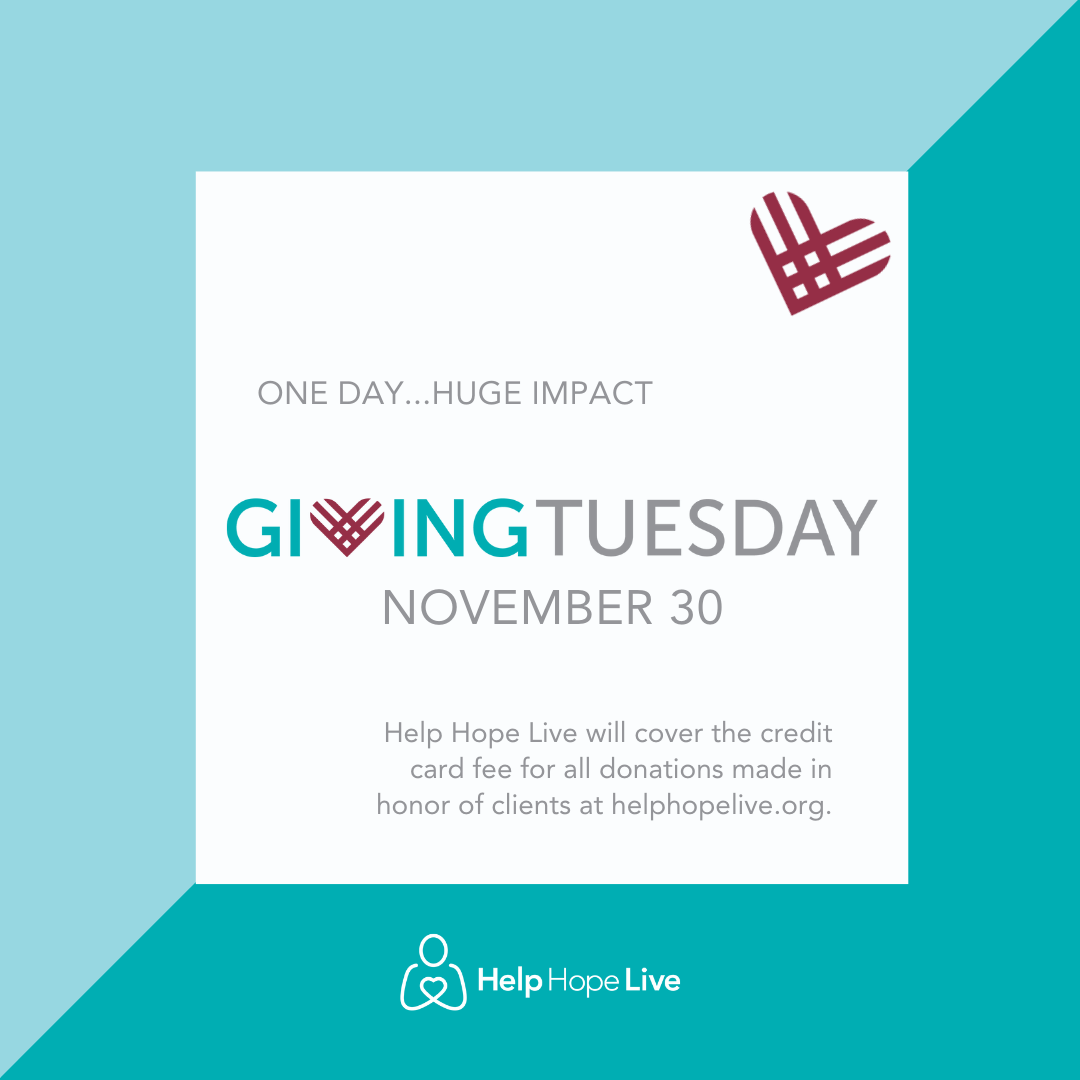 You can request a GivingTuesday frame like the one below from your Client Services Coordinator! Use the frame on your Campaign Page or on any social media platform.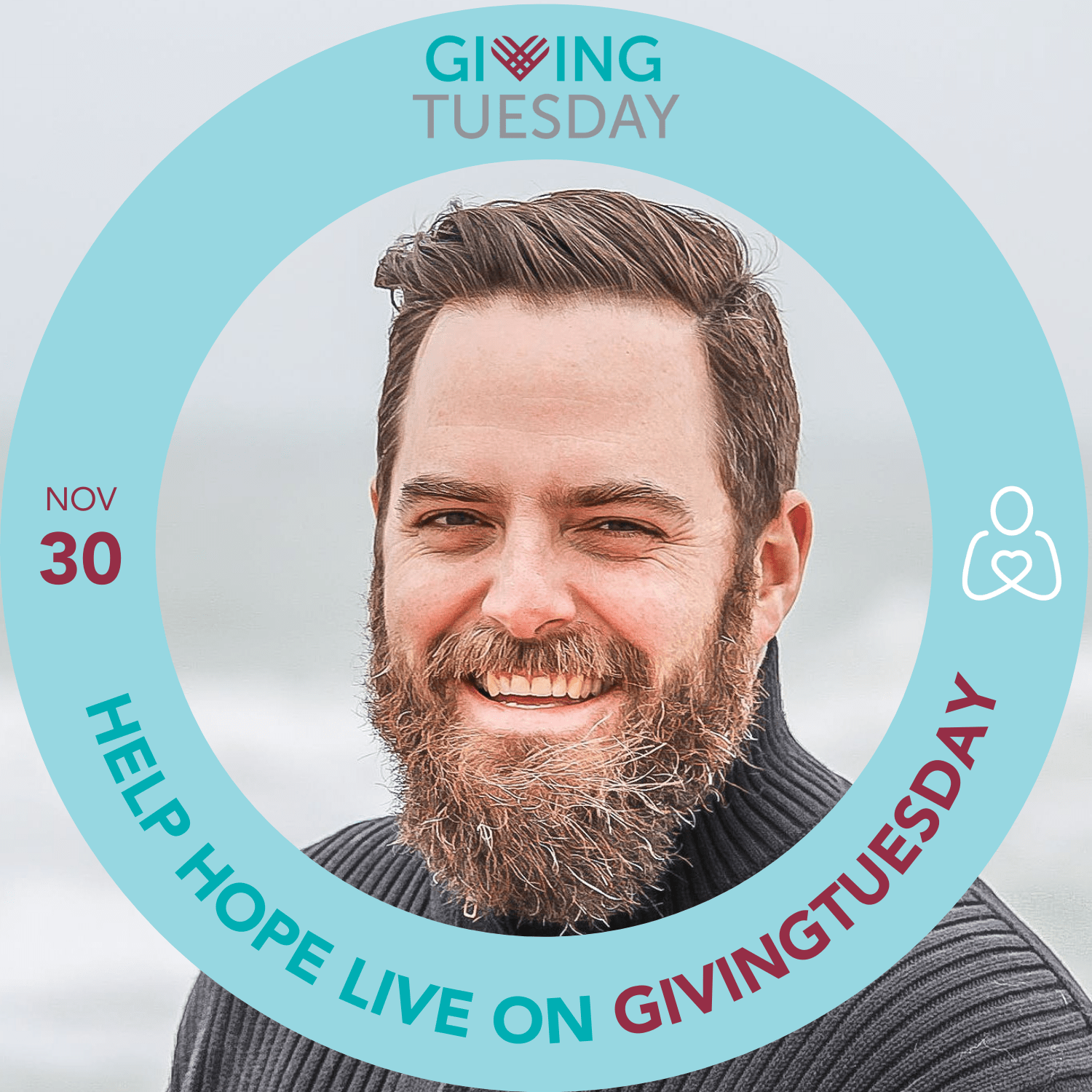 Start a Facebook Fundraiser
Facebook has announced that starting at 8 a.m. ET on November 30, the platform will match $8 million in donations on GivingTuesday while funds last. A few things you need to know:
Donors are not guaranteed to get a match. The match will only last until the funds run out, which usually happens within a few minutes on GivingTuesday.
The matching funds from Facebook do not come to Help Hope Live at the same time as the donations made to the Facebook Fundraiser. Typically, it takes Facebook several months to sort through and send us any matching funds.
We manually track all Facebook Fundraisers and corresponding "in honor of" designations. Keep in mind that funds take several weeks to arrive at Help Hope Live—when they do, they will appear on your List of Contributors.
You can easily start a Facebook Fundraiser for GivingTuesday! Here is a quick guide:
Click or tap here: https://www.facebook.com/fund/helphopeliveorg/
Add "in honor of Client Name" to the title of the Facebook Fundraiser
Customize the goal, date range, description, and picture however you see fit
Read our complete guide to Facebook Fundraisers here.
You can see some examples of current Facebook Fundraisers for inspiration here.
You're also welcome to reach out to your Coordinator if you'd like to connect with a Help Hope Live team member who can provide tailored social media and Facebook Fundraiser advice.
Here are a few quick Facebook Fundraiser tips directly from Facebook: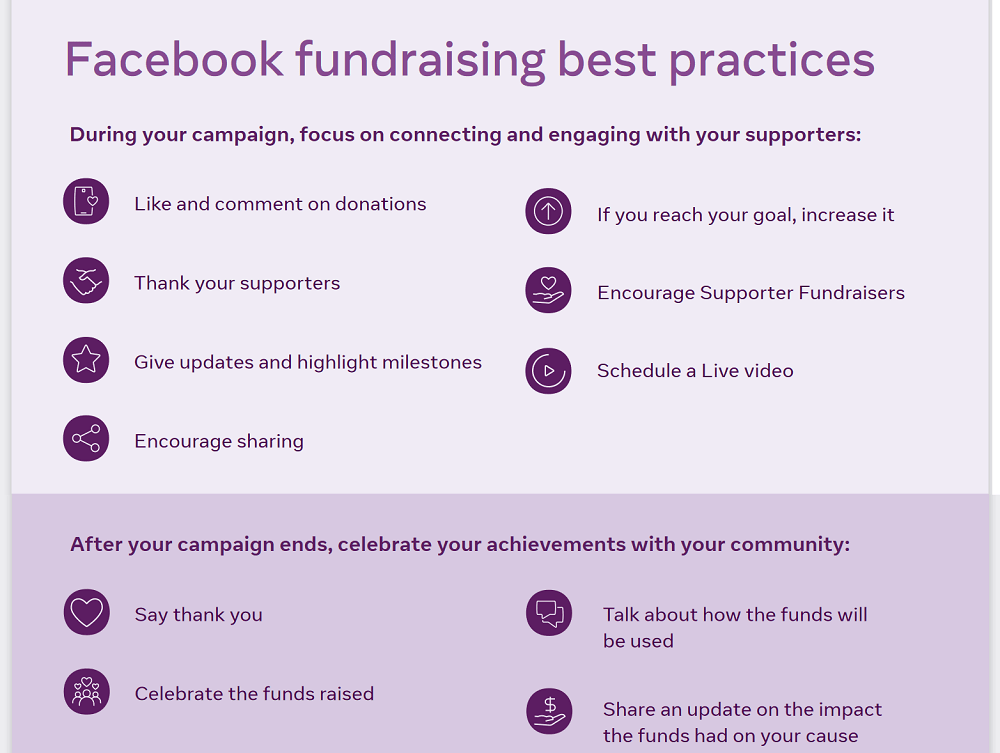 Social Media Posts for GivingTuesday
At minimum, we recommend planning at least three social media posts for GivingTuesday: one for the day before, one for the day-of, and one for the day after. Here are two sample GivingTuesday posts to get you started.
Sample GivingTuesday Post: Day-Of
Big date, big difference! GivingTuesday is Tuesday, November 30. I am fundraising for an important cause, and I could really use your help and support!
Please consider making a donation to the national nonprofit Help Hope Live on GivingTuesday. To donate, visit helphopelive.org and search for Client Name.
If you can't donate, there are other ways to help! You can:
-Start a Facebook Fundraiser for Help Hope Live (just add Client Name to the title)
-Share this post
-Reach out to me to find out how to volunteer to help spread the word
THANK YOU—your support makes all the difference. #GivingTuesday #helphopelive @helphopeliveorg
Sample GivingTuesday Post: Day After
I am blown away by all the encouragement and support that I received on GivingTuesday this year! Thanks to you, I am closer than ever to my goal of raising X dollars to help offset the cost of life-changing medical supplies and services, including X, Y, and Z.
Your support gives me hope for the future. THANK YOU!
If you'd like to stay involved in my fundraising efforts with Help Hope Live, reach out to me. Your help is greatly appreciated! #helphopelive #GivingTuesday @helphopeliveorg
Have more time to spend on social leading up to November 30? If you do, we recommend planning one post per week or even one post per day on different topics that will engage and interest your community in unique ways.
Choose a few of these questions, then answer each of them in unique social media posts leading up to GivingTuesday:
What is GivingTuesday, and why is it an exciting date for you in connection with your fundraising efforts?
Can you give a 15-second text or video "elevator pitch" on who you are and why you're fundraising?
What are three ways that your life has changed that are directly linked to the donations that your community has made to your Help Hope Live campaign?
What are five things you are fundraising for right now? How much does each of them cost?
What is one moment that made an emotional impact on you over the past year that relates to fundraising (or community support in general)? What made that moment so impactful?
Why does it make an impact when someone spreads the word about your fundraising efforts?
Who are three people you are grateful to have in your life on this fundraising journey?
What does the word "hope" mean to you right now?
If a friend were to tell you that they want to help you with fundraising, but they can't make a donation right now, what are two ways they can make a difference WITHOUT a donation?
If a friend wanted to get their employer or a local business involved in your fundraising campaign, where should they start?
Why are you fundraising with Help Hope Live instead of GoFundMe? (Hint: you may want to share this post! https://helphopelive.org/what-is-a-501c3/)
How can someone start a Facebook Fundraiser for Help Hope Live in your honor?
What is one item that someone may be surprised to learn makes a HUGE difference in your day-to-day? How much does it cost to purchase or maintain it?
What are four words that come to mind when you think of the phrase "community support"?
Going Beyond Social Media
If you're not highly active on social media, or if that's not where your community likes to gather and support your fundraising campaign, that's okay. There are plenty of other ways to spread the word.
You will want to talk over your options with your Coordinator. To get you started, here are just a few suggestions:
Update your Help Hope Live page with a fresh campaign picture
Create an email blast to share with previous donors and ask for donations
Print your GivingTuesday flyer and share it in person (ask local businesses for permission)
Pair the flyer with coin banks
Plan a virtual watch party, a virtual trivia night, or another virtual fundraiser—if the timeline is too short to plan a successful event, you can make GivingTuesday your announcement day instead!
A Day "Tue" Give
Need a little more inspiration? Here are a few additional resources you'll find valuable:
After GivingTuesday, we'll keep posting fundraising tips here on our Latest blog and on social media—be sure to follow us to hear our new tips first!
Written by Emily Progin