You may already be familiar with #GivingTuesday, a global day of giving that takes place every year on the first Tuesday after Thanksgiving. On this day, our client campaigns receive 4x the amount of donations. This year, Thanksgiving is coming early with the launch of #GivingTuesdayNow on May 5, 2020—an emergency response to the unprecedented need our communities are facing due to COVID-19.
Right now, approximately 1.5 billion people are social distancing or quarantining at home. Many of them are spending most of their time online. They are looking for something to do to put their time and energy to good purpose—and, often, a way to get the whole family involved in something positive and productive. #GivingTuesdayNow provides the ideal opportunity to virtually support nonprofit causes. When you participate, you will get the chance to tell your story and ask for support from an engaged and available audience.
In this Blog post, you'll learn what #GivingTuesdayNow is all about, how to participate, how Help Hope Live can help you maximize your impact—and much more.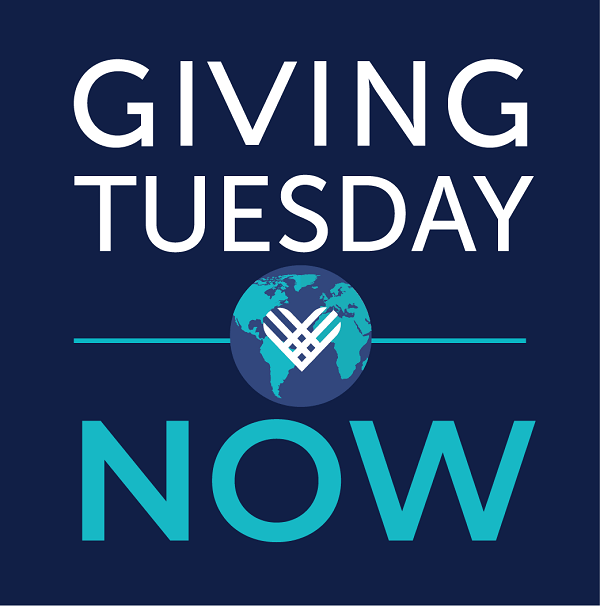 #GivingTuesdayNow FAQs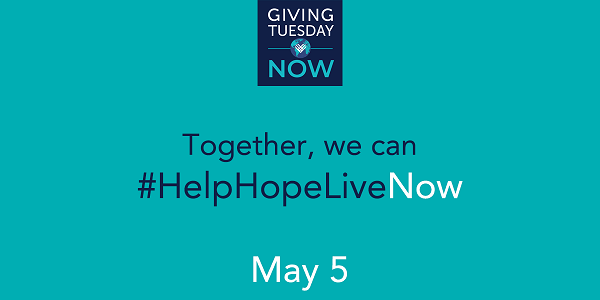 How to Participate in #GivingTuesdayNow
The two easiest ways to participate in #GivingTuesdayNow are to:
Share how COVID-19 is impacting your critical health and fundraising needs (tips below)
Communicate how your community can make a difference on #GivingTuesdayNow by:

Making a donation (and potentially getting it matched)
Starting or supporting a virtual fundraiser
Sharing your Help Hope Live Campaign Page with their community to extend your reach
Starting a Facebook Fundraiser
Getting their kids involved
How Help Hope Live Can Assist You
Our team can provide:
Help planning a virtual event
Messaging support (check out our tips below)
Custom materials like this flyer (ready for social sharing!):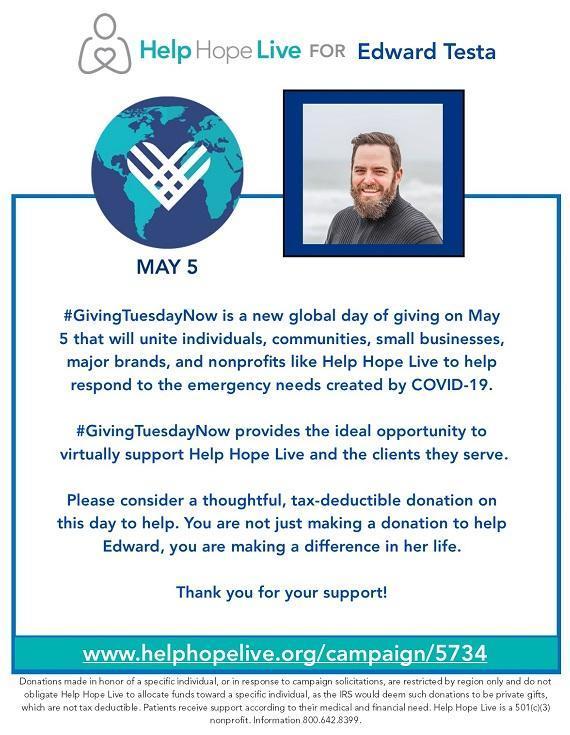 Your #GivingTuesdayNow Facebook Frame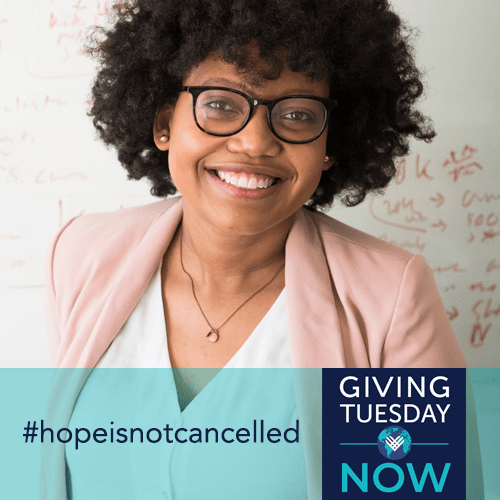 Get your #GivingTuesdayNow Facebook Frame now: click here!
How to Share #GivingTuesdayNow
Social sharing is a big part of GivingTuesday and #GivingTuesdayNow—it's a way to help us all connect with each other by sharing favorite causes and pledging support live.
In addition to social media posts, you may want to share #GivingTuesdayNow info via:
Email
Text
Phone calls (nothing wrong with going old-school!)
Direct messages to top supporters and team members
First, consider the timing. You will want to share both before and during May 5 to ensure that your whole community gets the chance to learn about #GivingTuesdayNow and participate.
We recommend:
Sharing info about #GivingTuesdayNow at least once per week until April 27
After April 27, sharing info several times per week—or even once per day if your social media community is large and engaged
Sharing several posts on May 4, including info on how to donate and how to start a Facebook Fundraiser
Sharing posts and updates roughly once per hour on May 5. A few ideas:

Share a short "launch" video in the morning expressing your excitement and sharing a little bit of your fundraising story
Personally or publicly thank friends who have donated, started a Facebook Fundraiser, or spread the word
Create a "lunch break" post around noon sharing a few hopeful updates (whether personal or fundraising-related)
Sprinkle text and graphic/photo posts throughout the day to remind friends
Share a short and heartfelt video thank-you with your entire community in the evening

Don't forget about the day after: plan ahead for your follow-up. On May 6, be sure to update followers on the successes of the day, your gratitude, and how they can continue to be supporters and advocates throughout the rest of the year.
Once you've made plans for when you want to share, consider the message. There are three essential parts to a good #GivingTuesdayNow post:
The what (what is #GivingTuesdayNow?)
The why (why are you asking friends to participate?)
The how (how can friends make a donation or a difference?)
Tag us on every platform @helphopeliveorg. Don't forget to include hashtags! A few hashtag ideas:
#GivingTuesdayNow (official event hashtag – include this in every post!)
#HelpHopeLiveNow (our official hashtag for this event)
#hopeis (fill in the blank: hope is…?)
#hopeisnotcancelled (fundraisers and in-person events may be on hold, but for Help Hope Live clients, hope is NOT cancelled!)
Here are a few sample social media posts to get you started:
Sample Facebook Post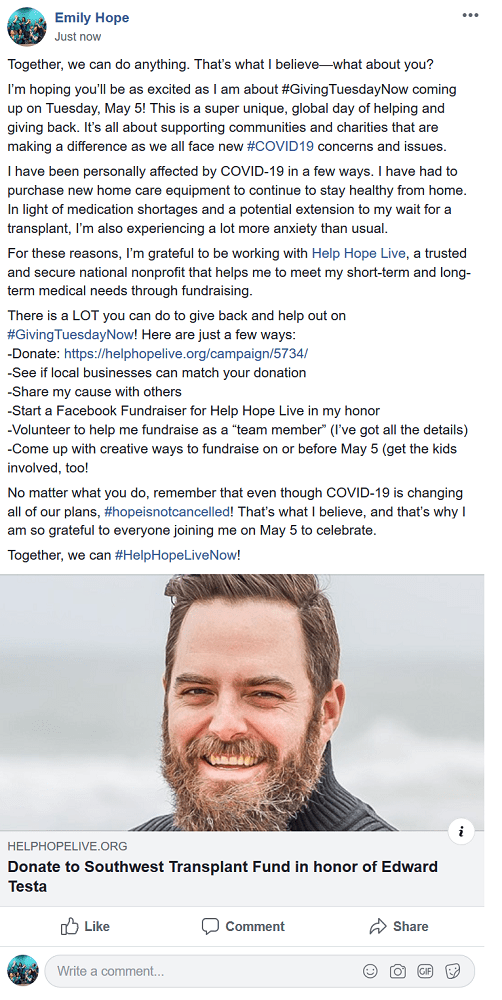 Sample Tweets


What About Friends Who Can't Donate Right Now?
A lot of individuals are under added financial stress right now. While charitable giving is still going strong, especially with the new incentives provided by the CARES Act, it's a great gesture to give friends a few ways to help if they just can't make a donation right now.
Here are two ways for others to help on #GivingTuesdayNow without spending a dollar:
Become a fundraising volunteer. Do you have a creative cousin who may be willing to help you write social media updates? How about a go-getter BFF who could cook up and promote a creative virtual fundraiser in your honor? Could some of your friends in the local moms-at-home group put their heads together to help share your campaign with groups, businesses, and neighbors in the community who may be willing to help?
Everyone has a part to play in successful fundraising! Friends pledging their "talent" and "time" can be just as valuable—or even MORE valuable—than their "treasure." Keep in mind that your Coordinator can speak directly to anyone who might want to become one of your campaign team members.
Embrace the power of spreading the word. Though your social media reach may be limited to people you know and friends-of-friends, every one of the people who share your posts could introduce your campaign to a whole new audience. Sharing is caring—and it's absolutely free!
I'm Ready to Participate!
Let's do this! Call or email your Coordinator to start making your plans for #GivingTuesdayNow on May 5.
Don't have a medical fundraising campaign with Help Hope Live? Learn more about what we do or submit a campaign request here.
Written by Emily Progin