In 2013, Amber D. Campbell was a vibrant, outgoing, and independent 32-year old when she received shocking news: she was diagnosed with a rare relapsing autoimmune disorder called neuromyelitis optica (NMO). Without treatment, NMO could result in vision loss, gait issues—even paralysis.
After a medical procedure in 2014, Amber was hit with a second blow: her diagnosis had developed into transverse myelitis. Within two days, Amber was a quadriplegic, with no use of her legs, hands, or arms.
Today, the word "independence" means more to Amber than it ever has before. She is working toward that independence through intensive therapy and is regaining motion in her body. This is her story.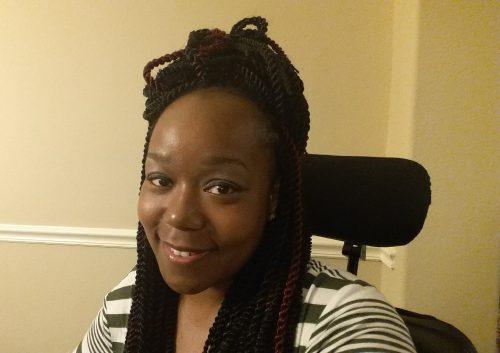 The Diagnosis That Changed Everything
It was a huge challenge for me to learn that I had transverse myelitis. I was not knowledgeable about transverse myelitis – in fact, before I was diagnosed, I had never even heard the name. Everything was extremely new to me. It was a huge shock. It felt like my life was turned completely upside down.
I was used to being very independent before I was diagnosed…
I was employed by the United States Department of Commerce as a food inspector. My career was instantly cut short due to the diagnosis.
I was very active with my family, friends, and community. My family has always been my world. Transverse myelitis can require a caregiver, and my only caregiver is my mother. She became my rock, and I thank God every day for her.
One of the things I enjoyed most before I was diagnosed was traveling to North Carolina to visit my sister, nephews, niece, and brother-in-law. I also used to love taking road trips to my alma mater Prairie View A&M University during homecoming.
This diagnosis has taken away my ability to easily participate in social gatherings, and I immediately lost the independent social life I used to have.
The Financial Burden of a Chronic Illness
Having transverse myelitis can be a huge financial burden. A lot of my out-of-pocket expenses tie into mobility costs like accessible transportation, therapy, and caregiver services when my mother is not available.
I found out about Help Hope Live from my counselor at the Texas Workforce Commission. Fundraising has impacted my life in a positive way. It has allowed me to raise funds to one day cover the cost of a wheelchair-accessible vehicle. Having accessible transportation will make a tremendous difference in my life and will greatly help my family! Funds raised also help offset the cost of the therapy sessions that I need to rebuild my strength.
My Life Today
A lot of things have changed since my diagnosis…
Mentally, I have become more compassionate toward people living with disabilities. I have a heart to help people who need support, but at the same time I realize that I need help with things myself.
Physically, I'm not as strong as I used to be, but I continue to work every day to rebuild my strength.
Emotionally, I've become more sensitive, and I am still working on some insecurities that tie into this diagnosis. My mindset has become stronger thanks to an amazing support team.
The hobbies I enjoy most today are taking my dog outside and spending time in my neighborhood to get a nice fresh breath of air. I still like to go fishing. A lot of my hobbies have changed, but I still find joy in everything I do.
Hope, Faith, and My Future
Even though I have transverse myelitis, I will not stop living or trying to achieve goals that I now know and believe are reachable for me. I will not quit. One of my goals is to open an animal rescue shelter to save large and small animals. I absolutely love animals!
I was a quadriplegic when I was first diagnosed. After hours upon hours and days upon years of therapy, I have overcome a lot and regained a lot of my strength and movement. I am not able to walk right now, but I will never lose hope for walking again in the future.
I am a strong believer in Jesus Christ and I know He will make me a way. I'm a positive young lady and a loving individual who needs a fair chance in life. That is why I never give up and I keep hope alive! To me, hope means to believe and to have faith. Without hope, there is no future.
The thing that motivates me the most is family: my mother, sister, nephews, niece, and my dog and cat. My family means the world to me, and that's why I keep fighting to get stronger and stronger.
My nephew asks me almost every day, "Amber, can you walk yet?" Every time he asks me that it makes my heart melt. One day, I will be able to tell him, "YES!"
Follow Amber's journey with transverse myelitis at helphopelive.org.
Written by Emily Progin