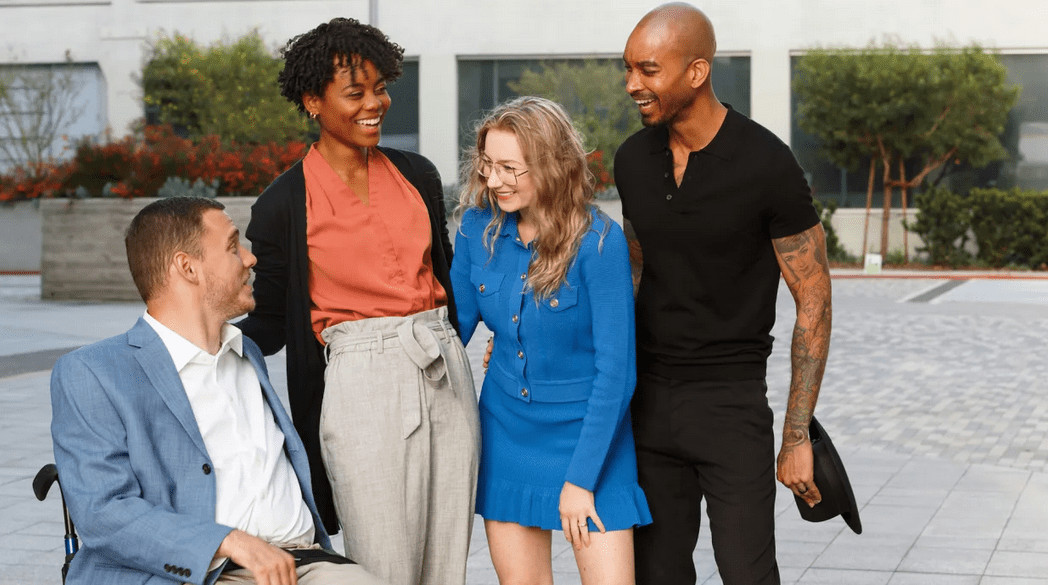 We loved this Fast Company interview with our client Cole Sydnor and his wife, Charisma, of Roll with Cole & Charisma about how they collaborate with talent management agency C Talent to represent and elevate the disability community in entertainment.
C Talent agency's founder Keely Cat-Wells began living with a disability at age 17 while attending college. She quickly learned just how many barriers she'd face in her personal and professional pursuits:
"The world was no longer built with me in mind."

Keely needed to work remotely to maintain her health. In a time well before COVID-19, remote work was still a novelty to potential employers, and they were quick to turn her away.
That's why she started her own company for talent representation. The name C Talent was inspired by the reality of the entertainment industry for talent with disabilities: Option A and Option B are often entirely inaccessible, whether literally or figuratively.
Keely points out that abelism and inspiration porn are common encounters across multiple industries, including in entertainment.
Ableism can extend to every area of entertainment, from inaccessible workspaces for disabled actors to one-dimensional on-screen representation in which:
"Disabled people are usually villains, victims, or inspirations—stereotypes." 
Often, characters or professionals with disabilities are held up as one-sided examples of concepts like pity or perseverance. In many cases, they're presented as "overcoming" their disability by reaching their goals or simply participating in everyday activities. In reality, as Keely explains:
"We don't overcome our disabilities. We overcome ableism."  
Cole and Charisma agree that in the age of social media, it's easier than ever for content creators to tell their stories, represent life with a disability, and find an audience. There are more opportunities and less gatekeepers in social media-informed entertainment. However, that doesn't mean less ableism.
In one example, Cole and Charisma shared a video of Cole using an exoskeleton. They hoped the video would be enlightening and educational about some of the major benefits of exoskeletons to people with paralysis like Cole, potentially including bone support, better circulation, improved bowel and bladder function, more physical activity, and a range of mental health benefits.
Instead, as Charisma explains:
"People only saw the fact that we're giving each other a standing hug and that he's walking again, and only enjoyed that content for that purpose and not the educational purpose."
Such a response can easily elevate to the level of inspiration porn as viewers chime in, inspired by possibilities but overlooking the tangible health benefits of the technology – not to mention the positive aspects of Cole's current day-to-day with paralysis. As Cole explains:
"In the comments section it was all, Oh, you're gonna walk again one day. This is so inspirational. Oh, I'm sure Charisma loved that so much. And she did – but she loves our sitting hugs, too."
As Cole pursues acting opportunities, he and Charisma have had firsthand experiences with companies adding only token disability representation or missing the boat entirely with the goals and motivations of their target audience, including missing simple key details – such as how someone with a disability might use a certain mobility device. They've had to take an educational role with some potential employers just to promote accuracy.
Disabled actors can do more than represent disabilities on-screen: they can represent everyday consumers and target audiences. As the podcast host observes, "quadriplegic people love Snickers, too."
To Keely, change in the entertainment industry is twofold – and it starts with recognition that people with disabilities are more than inspiration and more than mouthpieces for awareness and education. "We're 3D people with different identities," she says, so:
"Tell, celebrate, and listen to the stories that are disability focused, but normalize disabled people being experts in subjects that aren't just disability." 
Keely adds, "Hire disabled people – [including] behind the camera."
Written by Emily Progin