You can see a list of disbursements on your Dashboard.
What Are Disbursements?
Disbursements are payments that Help Hope Live has made to cover medical expenses and related costs. When you submit a Fund Request Form to Help Hope Live, you are requesting a disbursement. Those disbursements appear on the disbursements list on your Dashboard.
Where to Find Disbursements

Here's how you can find a list of disbursements on your Dashboard:  
Log in at

helphopelive.org

using your email address and password

 

Click DASHBOARD

 

Scroll down to the new DISBURSEMENTS section

 

Click VIEW

 

Change the START DATE and END DATE as needed

 

Click FIND DISBURSEMENTS

 

Scroll down to view the list

 

If needed, click EXPORT LIST to download a copy

 
What You'll See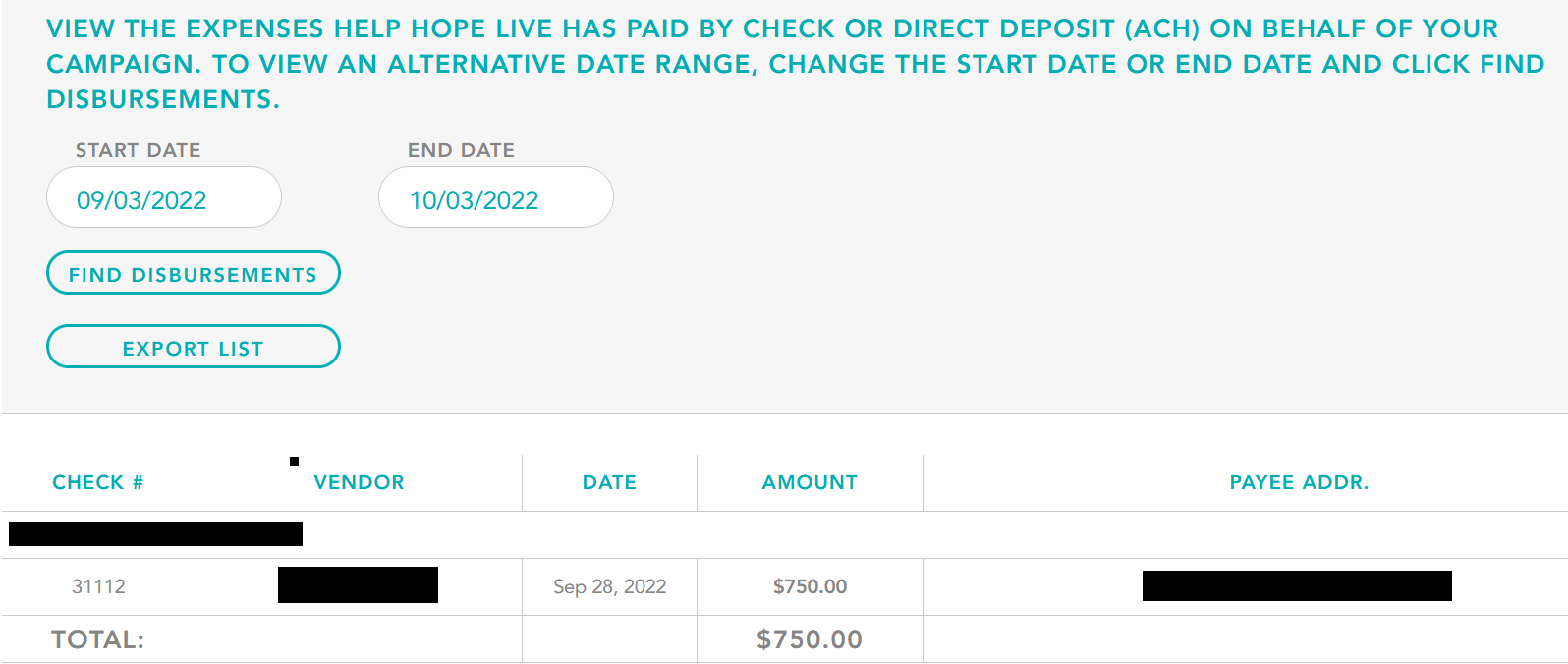 Here's the information you'll see associated with each entry on the disbursements list:  
Check number or ACH number 

 

Vendor name

(may be an individual's name for reimbursements) 

 

Date

that check or ACH payment was made 

 

Amount

of check or ACH payment

Payee address
How Soon Will Disbursements Appear?
The list of disbursements will update every Wednesday and Friday.
When Will Payments Arrive?
The date you see in the DATE column of the disbursements list represents the date Help Hope Live sent out a check or made an ACH payment.  
From there, the arrival date and processing date associated with these payments will rely on the postal service or associated financial institution. 
Please wait until at least 10 days have passed since the payment date on the disbursements list before you follow up with our team.
Getting Help
Need assistance navigating this feature or other aspects of your Dashboard? Start by contacting your Client Services Coordinator via phone or email.
Written by Emily Progin