Katie Fair, MS, OTR/L/CDRS is a Driving Program Specialist at MedStar National Rehabilitation Network in Mclean, VA. Her work helping people with mobility challenges to learn to drive again gives her a front-row seat to the power of mobility to change lives.

How did you discover your career?
My first exposure to driver rehabilitation was as an occupational therapy student 15 years ago. After completing my education, I worked in neurologic rehabilitation (for stroke, spinal cord injury, brain injury, etc.), and I felt frustrated that almost all my patients wanted to drive again but had difficulty finding a place to provide training. I decided that I wanted to make driving a bigger part of how I helped my patients.
I started training at our driver rehabilitation program in Washington, D.C. with the goal of starting a satellite program at our Northern Virginia outpatient site.
What does your workday look like?
It totally depends on the day! Some days, I am behind the wheel doing driver training. Other days, I'm in the clinic with patients who need more therapy and aren't quite ready to drive yet. After work the other day, I met a patient and his mother at the equipment installation shop for a fitting—that's one of the best things about my career: no two days are ever the same.
When I take my patients behind the wheel, we start in a parking lot. Friends and family members always ask me if my job is scary—most of the time, it's really not! We screen all patients through a clinical evaluation before getting them behind the wheel. If there are major safety concerns, we either recommend driving retirement or continued therapy to focus on areas of impairment.
What are some of the innovative solutions clients can access to drive again?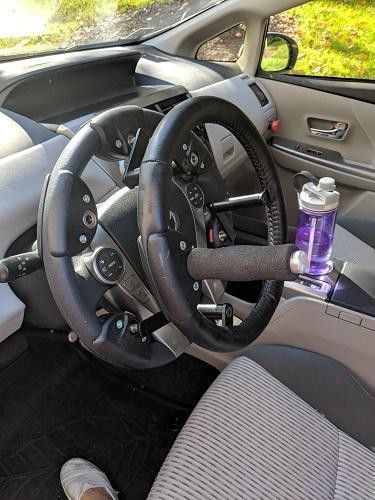 I recently worked with a younger client who had a stroke and wanted to drive again with as few modifications as possible. We trained on a driving simulator for about a month to improve the reaction time of his right leg enough to practice behind the wheel. He passed his road test, and he only needed one modification to return to driving. Today, he has returned to work as well.
Another fun story: a client who was born with a bilateral arm deformity wasn't sure if driving was going to be an option for him. Working with a mobility installer, he ended up getting a custom steering device that was 3D printed so that he could operate it with his elbow.
What are some of the biggest myths you've heard about driving with a mobility condition?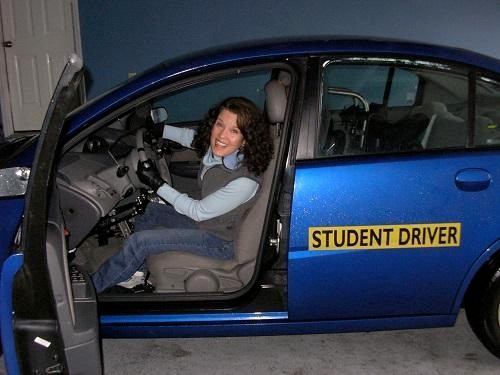 There are two ends of the spectrum:. some people lose hope after an injury, believing that they'll never drive again; others have the misconception that they'll be able to jump right back in the driver's seat after an injury. Either way, after a major injury or medical issue, driving again takes time, practice, and money.
There is so much out there now in terms of equipment that the possibilities for someone with physical impairments to drive again are almost endless..
That said, it's not always that easy to drive again after sustaining an injury that affects cognition. Since driving isn't an option for everyone, pursuing mobility sometimes includes finding alternative options for how to get around. Ridesharing services, rehabilitation, and aging services can all be good resources to pursue to improve mobility for drivers as well as non-drivers.
What does the pathway look like for someone who wants to relearn to drive?
In most states, there are forms that the DMV requires a physician to complete after a major medical event. The client completes a clinical and behind-the-wheel driving evaluation. Training with adaptations or equipment can take one session or multiple.
Once the client has completed training, we collaborate with a NMEDA-certified vendor for recommendations and installation of the necessary adaptive equipment. Typically, the client will take a road test with that state's DMV before driving again.
Do you think access to the right mobility equipment can be life-changing?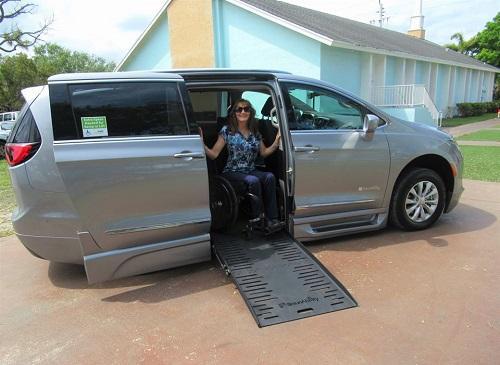 Most definitely! Mobility empowers people to resume their life roles (parent, student, spouse), return to work, or just regain a sense of independence that they lost after an injury. You may associate your personal identity with being able to get around in your community—mobility enables us to participate in the things that we enjoy, and it may also be a necessary part of making financial ends meet.
During Mobility Awareness Month, we get the chance to spread the word that anyone from children with special needs to newly-injured mature drivers have options when it comes to regaining mobility. Being able to get out of the house, run errands, take care of family, and get to work is an important part of our lives that we often take for granted. That's why #MobilityMatters –it keeps us moving forward, in more ways than one.
If you would like to pursue driving with professional support from someone like Katie, seek out a Certified Driver Rehab Specialist and explore your mobility options. Fundraising with Help Hope Live could help you to unlock the financial support you need to complete rehabilitation, training, and certification to get you back on the road.
Written by Emily Progin