Heads Up: This Post Has Changed!
We made updates to this guide in September 2023 to reflect changes to Facebook/Meta's policies and procedures for Facebook Fundraisers.
All About Facebook Fundraisers
Since 2015, Facebook Fundraisers have raised a whopping $5 billion for nonprofit and personal causes. Most donations are under $25.
You can start a Facebook Fundraiser to raise funds for Help Hope Live in your honor to take advantage of this incredible trend.
Help Hope Live receives Facebook Fundraiser funds via PayPal Giving Fund.
Read on to learn everything you need to know before getting started.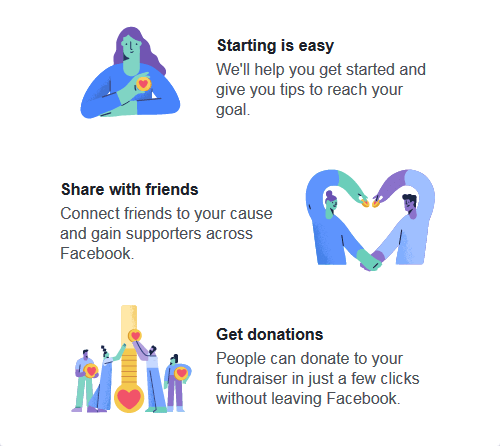 Is There a Fee?
Yes: starting in 2023, donations made to Facebook Fundraisers are processed by PayPal Giving Fund, and they are subject to processing fees of 1.99% + $0.49.
Donors can choose to cover this fee.
How Funds Come to Help Hope Live from Facebook/Meta
Funds raised through a Facebook Fundraiser are not immediately available to cover medical and related expenses.
PayPal Giving Fund may take between 15 and 45 days to send donations from Facebook Fundraisers to Help Hope Live.
On average, funds will become available 3-4 weeks after a donation is made on Facebook.
Once we have received and processed a Facebook payment, the total funds raised from a Facebook Fundraiser will appear on the client's DASHBOARD under My Supporters as "Facebook Fundraiser."
How to Start Your Facebook Fundraiser
First, contact your Help Hope Live Client Services Coordinator to make sure your campaign is set up to receive funds from Facebook fundraising: your campaign must be publicly visible before we can designate funds in your honor as they arrive.
Visit facebook.com/fundraisers
Click Select Nonprofit, then search for and select Help Hope Live. See example below.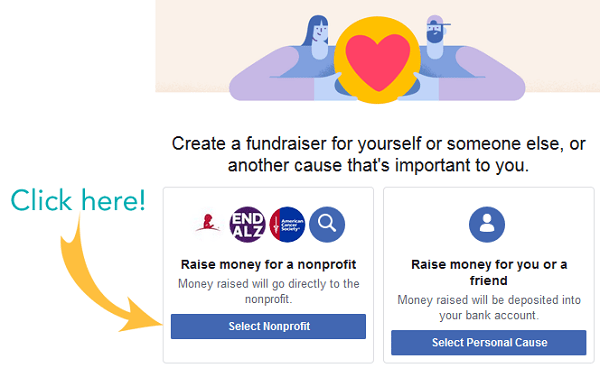 Adding Details
Facebook will ask you for a few details to continue.
Who are you raising money for?
Make sure Help Hope Live is selected.
How much money do you want to raise?
Set a realistic goal. Friends will give more if even a small donation makes a big difference. Think $1,000, not $100,000.
When should your fundraiser end?
Choose any date. Your Fundraiser can be as short as a few days (for a special occasion like a birthday) or as long as you want. We suggest starting with a month-long fundraiser.
Keep in mind you can start another Fundraiser if you wish as soon as the previous Fundraiser ends! There is no limit to how many Fundraisers you can hold over the course of a year.
What's the title of your fundraiser?
Make sure you include "in honor of Client Name" here. You MUST include this text or funds raised will benefit Help Hope Live's General Operating Fund. See below for an example.
Why are you raising money?
Here, you can add any information you want to personalize the Fundraiser description. We suggest adding at least one paragraph about your medical need and out-of-pocket costs. You can keep or delete the text Facebook provides. See below for an example.
If you're not sure what to post, you can copy/paste or replicate some of the content right from your Help Hope Live Campaign Page. This description can be as long or as short as you want. Just make sure the reason you are fundraising comes across loud and clear to inspire donations!
Pick a cover photo or video
You can use the suggested image from the Help Hope Live Facebook page or upload a client photo of your own to make your Fundraiser more personal.
Make it your own!
Along with the guidance above, you may want to take a look at successful past Facebook Fundraisers for Help Hope Live in honor of clients. Click here to see a full list. You may be able to pick up a few tips or ideas!
Time to Share!
It's time to start sharing and promoting your new Facebook Fundraiser!
You can share your Fundraiser on your Facebook page, tag specific friends, send it via Facebook Messenger, or share the link via text, email, and other social media platforms…or you can do all of the above!
You will have a chance to post a comment thanking each donor if donors do not make their donations anonymously.
You may want to post comments on the Fundraiser from time to time letting friends and supporters know that their donations are appreciated! You can also indicate how the donations will improve your life to make a personal connection with potential donors.
Tip: if someone else starts a Facebook Fundraiser for Help Hope Live in your honor, always reach out and say thank you. Statistically, someone who starts a Facebook Fundraiser will raise money when they receive a thank you.
Whether your Facebook Fundraiser is a one-time effort for a special occasion like #GivingTuesday or a recurring part of your Help Hope Live fundraising toolkit, we hope you'll seize the opportunity to rally your community on social using the tips we outlined here.
If you would like to pay it forward to help other patients like you, consider starting a Facebook Fundraiser to benefit Help Hope Live as a whole once your own medical needs have been met!
You can use the same process and share with others how fundraising with Help Hope Live has positively impacted your life.
Simply leave out the "in honor of" portion, and we'll ensure the funds raised through your Facebook Fundraiser fuel our mission and help other people to access our fundraising help.
Written by Emily Progin