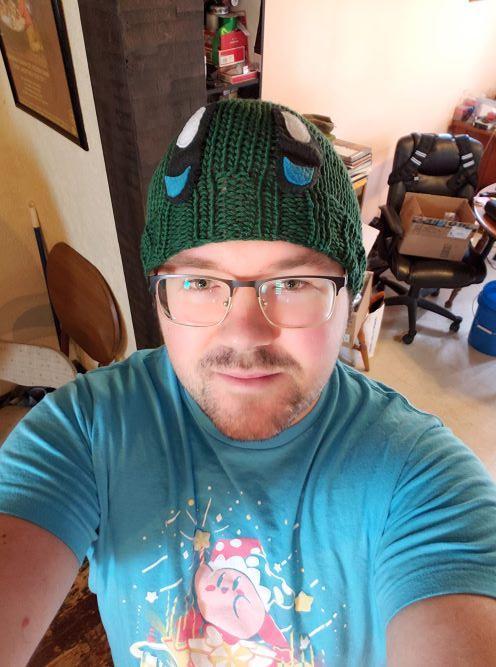 As the holiday season is currently underway, we want to give another shoutout to an incredible person and the group that put together a wonderful Kirby-themed charity stream.  Jean-Samuel, or as his friends call him "AwayToHit", is one of the creators of KirbyThon, a weekend long event that focuses on Kirby-related games while raising money for the charity of their choice.  Their commitment to helping people in need is only matched by the intense fun that everyone has on stream day.  Workers at Help Hope Live were lucky enough to take part in their last event as it raised much needed funds for our organization and keeping it afloat during these uncertain times.  I was able to ask him a couple questions about his life with game charity and this is what he had to say!
Who are you and how long have you been taking part in game charity?
"Hello! My name is Jean-Samuel but I go by AwayToHit online. I'm a 34 years old guy from Québec, Canada! I first came across gaming charity in general when I stumbled upon the Twitch stream of Awesome Games Done Quick in January 2013. I was fascinated that so many gamers where able to get together and raise a pretty big amount of money for charity! Soon after that I discovered Zeldathon and I was even more hooked! Then after that, Pokéthon became a thing (I actually attended it in 2019!) and it was clear there was something awesome going on in the game charity world. I've watched and donated to all of those events ever since!"
How did you get started in game charity?
"Well aside from watching all the events I could catch and donating since 2013, I discussed with a couple friends back in 2017 about starting Kirbython! Kirby is a pretty big game franchise after all and we noticed that nobody was doing a gaming charity marathon with those games yet. And so after a ton of work and coordination, we did our first Kirbython in November 2018! It was a great success and we raised over $4,069 for Direct Relief! In 2019, we had a couple of setbacks unfortunately and couldn't do one that year but we just recently came back in 2020 and we did our second marathon in early October! Because of the pandemic, we had to do it remotely and it wasn't as long as the first one but despite all those factors, we still raised $1,660 for Help Hope Live! A big thanks to everyone in the team, every viewer and every donor! The plan is to do Kirbython at least once a year going forward!"
What games do you like to play on and off stream?
"On stream, I like to play games I can actually complete in a single stream or no more than a couple streams. Most Kirby games are good for that! Some Zelda games are great as well for this purpose. One exception is Breath of the Wild though. I love streaming that game even though it's a big open world adventure. I guess I like rotating between shorter games and longer ones depending on my mood.
Off stream, I play Animal Crossing: New Horizons pretty much daily. I'm also currently enjoying Hades which is a FANTASTIC roguelike game. I would recommend it to pretty much anyone even to those that don't normally like the genre. It's THAT good! I also like playing most Nintendo games in general. I'm currently still enjoying Smash Ultimate and Super Mario 3D All-Stars. I also recently got back into Hollow Knight which is pretty much my favorite metroidvania of all time."
Do you have a favorite moment of gaming for charity?
"I can't remember at which Zeldathon it was exactly but when Scott Cawthon (who is the developer of the Five Nights at Freddy's series) first donated $25,000 out of the blue, everyone went crazy in a good way (myself included as a viewer!). I still remember this moment like it was yesterday haha."
And finally, what is your favorite food and drink while gaming?
"Excellent question! The thing with food while gaming is that you want something that won't get your hands dirty since you don't want to mess up your controller, mouse, keyboard or whichever gaming peripheral you are using to control the game. When I can afford it, sushi is perfect for that since you can eat one piece at a time with chopsticks so your hands will always stay clean. As a backup to that though, I also like eating pizza (with a fork and knife so my hands stay clean while gaming of course). For a drink, Dr. Pepper is my favorite soda so I often go with that. Sometimes, I go with beer instead as well and the rest of the time, just water. Gotta stay hydrated folks!"
We at Help Hope Live want to thank AwayToHit for taking the time and speaking with us on how he has made an impact on our community and his.  You can follow him on his personal twitch at www.twitch.tv/awaytohit.  You can also find his charity events at www.twitch.tv/kirbyforcharity.
Be sure to stay tuned as we are updating our blog more and more about the good of our gaming community.  If you want to get involved and start streaming for Help Hope Live, click here!
Written by Help Hope Live