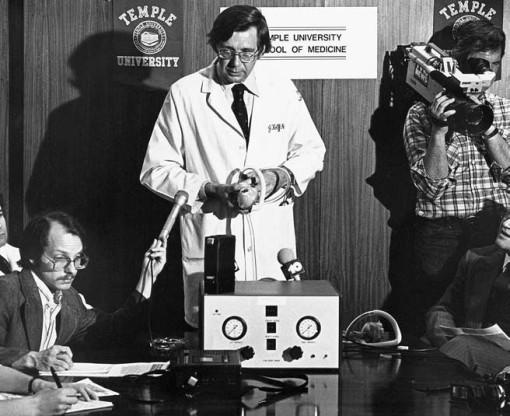 In 1983, Dr. Jack Kolff brought the first heart transplant program to the Delaware Valley at Temple University Hospital. At the time, insurance companies were often hesitant to cover any costs related to what was then viewed as an experimental procedure.
That didn't stop Dr. Kolff.
If insurance wouldn't cover heart transplants, maybe the local community could help raise the necessary funds instead. For many patients and their families it can be uncomfortable to ask relatives and friends for financial support, but these communities are often anxious to help and want guidance on the best ways to do so. Dr. Kolff and his wife, Patricia, a nurse with a BSN, co-founded Help Hope Live (formerly the National Transplant Assistance Fund or NTAF) in an effort to address the uninsured health care needs of heart transplant patients in the Greater Philadelphia area through community fundraising. Fast forward 30 years, heart transplantation is now the "gold standard" treatment for end-stage heart failure.[i] Today more than 2,000 heart transplants are performed each year in the U.S. alone.[ii] At any given time, almost 3,500 to 4,000 people are waiting for a heart or heart-lung transplant. Even for patients who have good insurance coverage a heart transplant can still be a tremendous financial burden. From relocation in order to be near a transplant center, to anti-rejection medications and rehabilitation after receiving a new heart, the out-of-pocket expenses add up quickly and likely continue for a lifetime.
However, just like the Kolff's envisioned, people can mobilize their community in order to raise funds. And for more than three decades we have been working with patients and families to develop successful fundraising campaigns to cover unmet medical expenses. Organizing and participating in community fundraising campaigns gives family, friends and neighbors an opportunity to be involved and to provide both hope and assistance to people in need in a meaningful and tangible way, allowing community members to feel they are doing something to help.
While it all started with the heart in the 1980s, we continue to excel in medical fundraising for experimental treatments. As a national nonprofit, we have been able to expand our mission to serve all solid organ, bone marrow and stem cell transplant candidates, as well as individuals living with catastrophic injuries or illnesses resulting in a physical disability. We fundraise for today's experimental procedures that will be tomorrow's gold standards.
---
[i]Newswise."Heart Transplant Success Improving, Patients Living Longer." Accessed February 19, 2014. http://bit.ly/T3ykuf
Written by Emily Progin