If you've been browsing our social media posts lately, then you know we're bringing back our Hope Travels Virtual 5K on Saturday, May 14! This year, our Hope Travels 5K only benefits our General Operating Fund, helping to sustain the fundraising support and resources we offer to campaigns like yours.  
Want to hold a Hope Travels fundraiser of your own?
We'd love to help! Here are all the details.  

What is Hope Travels?
Hope Travels is our name for a special day of movement, fitness, and fun. We're encouraging all our clients to consider planning a Hope Travels fundraiser of their own on May 14 (or on any other day of the year).  
What Hope Travels means to us:  
Rallying the community to

fundraise for Help Hope Live

 

 

Raising awareness

of Help Hope Live's mission (and the reason why you fundraise)

 

Promoting

health, wellness, and activity

—whether outside or inside 

 

Gathering a team

or setting and reaching a

personal goal

 

Participants can get together

in-person or virtually

 

Each participant gets to

choose their place, their pace, and their activity

! 

 
How Can We Help You Plan a Hope Travels Fundraiser?
Reach out to your Client Services Coordinator to ask for assistance planning your own Hope Travels fundraiser.
We've provided some of our top tips throughout this post to get you started. 
As always, your Coordinator is available to provide one-on-one fundraising support and other key resources to help you succeed, including:  
Customized Hope Travels materials

, such as printable or digital flyers, QR codes, and pledge sheets for participants

 

The official Hope Travels logo

for you to use on materials of your own, such as t-shirts

 

Assistance

using your Campaign Page

to manage the fundraiser and collect donations (more on that below)

 

Communication support

, including suggestions for email blasts, social media, letters to your community, business and sponsor outreach, and more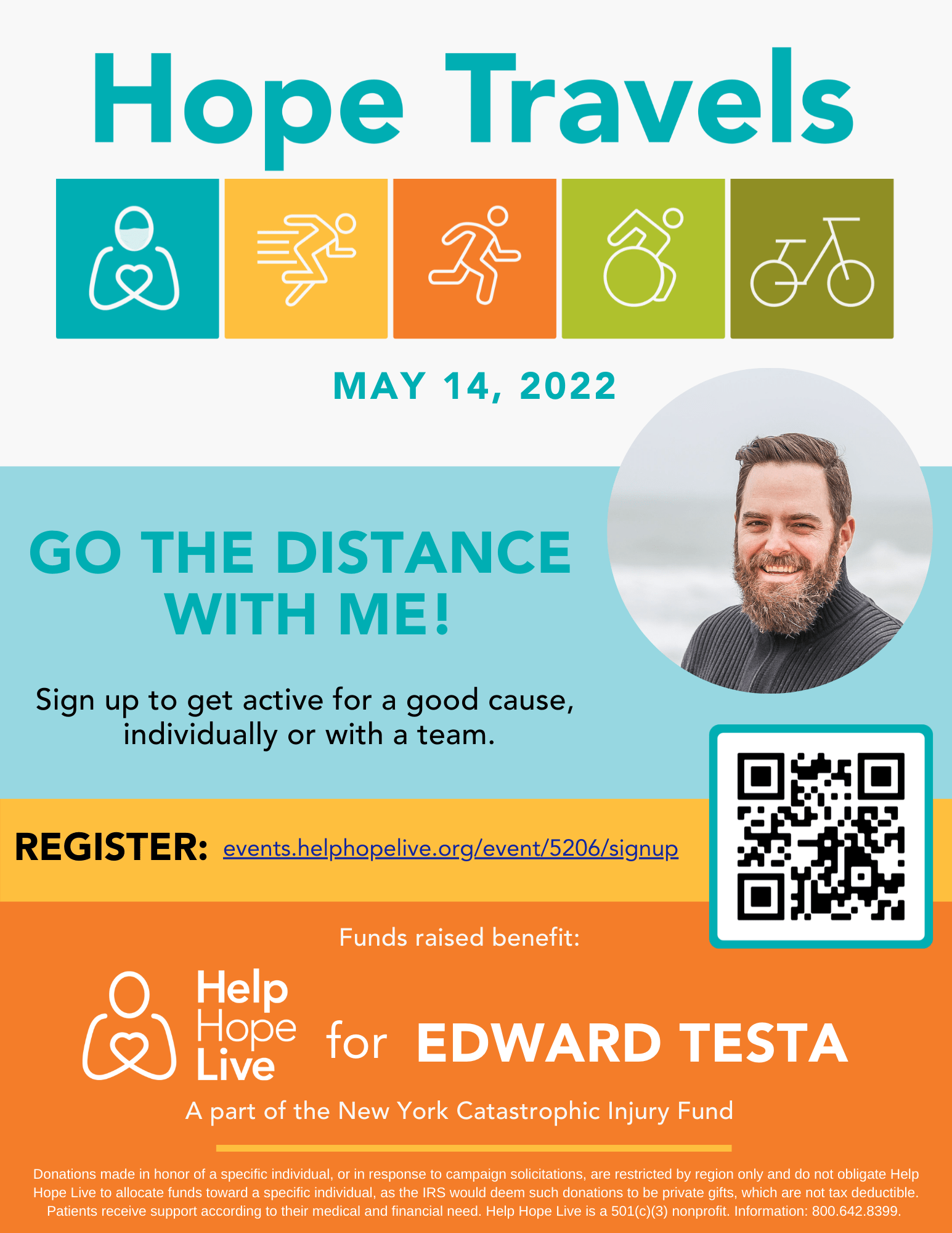 How Does a Hope Travels Fundraiser Work?
How you structure your Hope Travels fundraiser is up to you based on input from your Coordinator and your community's interests.  
Here's how this kind of fundraiser typically works:  
You work with your Coordinator to finalize a few key details (more info below)

 

You set up an event on your Campaign Page where you can collect donations for your Hope Travels event

 

You decide how to collect donations (more on that later)

 

You promote Hope Travels to encourage family and friends to join in the fun—share info online, offline, or both!

 
What Are the Key Details I Need to Determine?
Date: Use our date for your fundraiser (Saturday, May 14) or choose your own. 
Donations: Check out our suggestions below on how to collect donations.  
Location: Decide whether your event will be an in-person event or an event that allows participants to get involved from any location.  
Keep in mind that an in-person event may require more coordination from you and be less accessible to folks who live outside of your area. Always follow the COVID-19 and safety guidelines in your area. 
Distance: Choose a set distance for your Hope Travels fundraiser if you want to hold a traditional 5K-style event. Or, you can skip this step and simply encourage a day of movement! 
Teams: Decide whether you'd like to allow participants to join "teams" to boost their fundraising efforts or whether each participant will get involved on their own.  
Sponsors: Decide whether you'll be asking businesses and organizations to sponsor your Hope Travels fundraiser, as you might do if you were planning a golf tournament fundraiser. Sponsorship levels can start as low or as high as you want depending on what will appeal to your community and which promotional benefits you can offer, such as a social media shout-out or logo inclusion in your Hope Travels materials.  
How Do I Collect Donations?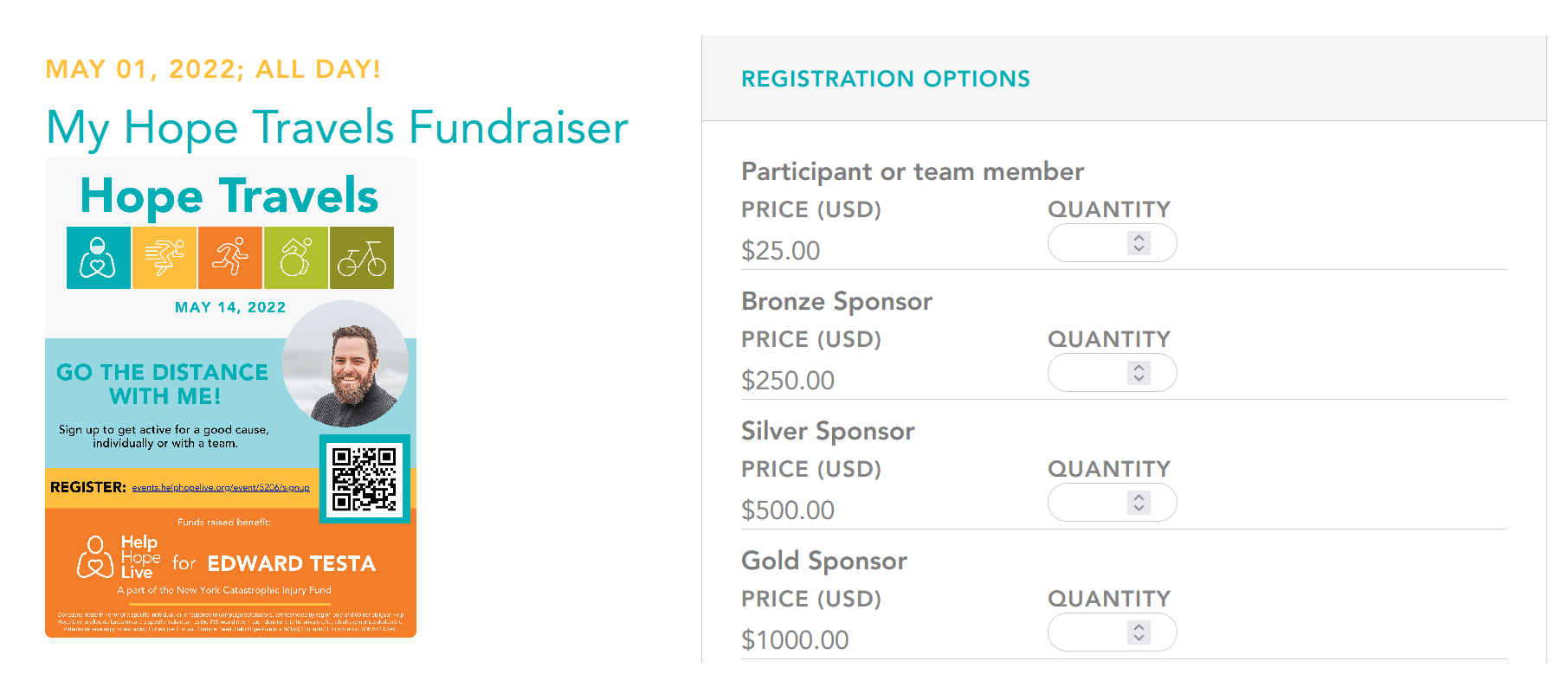 There are a few ways to collect donations depending on what works for you and your community. Here are a few ideas—discuss the best fit with your Coordinator.  
Participants can

make a set donation up front

(such as $25) to participate 

 

Participants can

fundraise on their own or as a team

and donate the funds they raise when Hope Travels ends

 

Participants can

collect pledges from the community

(such as $10 per mile that they cover on Hope Travels day) and donate the funds they raise when Hope Travels ends

 
Always offer your community an alternative way to make a donation in your honor if they don't want to participate in Hope Travels this year. We can give you advice on how to communicate this option. 
What Are Some Unique Hope Travels Ideas?

Here are a few creative ways to get your community engaged in Hope Travels:  
Invite participants to walk, run, roll, hike, bike, swim, or engage in any activity of their choice over a set distance on your Hope Travels date. 

 

Ask local activity studios to offer a special class or activity on Hope Travels day and donate a portion of the class fees to your Hope Travels fundraiser. This could be anything from a local gym promotion to an indoor rock-climbing marathon to a yoga-thon to a Zumba dance-a-thon. Virtual classes are a great option, too!

 

Organize a baby crawl-a-thon or a play-a-thon for local families. 

 

Pets welcome! Ask participants to walk their furry friends a set distance, either on or by Hope Travels day. 

 

Ask local running groups to run for a cause on Hope Travels day. 

 

Set a goal and participate in your own favorite method of exercise on Hope Travels day, and collect pledges from your community ahead of time while they sit on the couch.

 

Come up with a few creative ideas of your own!

 
Get Social!
If you have an active community online, make social media part of your Hope Travels strategy! You and your participants can post videos throughout Hope Travels day, share photos of their progress training for the big day, capture special sights they see as they participate, or anything else that's fun and engaging for them (and for you).  
Are You In?
We hope you'll make Hope Travels a part of your fundraising plans for 2022.
Reach out to your Coordinator today to get things moving!
Written by Emily Progin