GivingTuesday is on November 29, 2022. One of the most appealing things about starting a Facebook Fundraiser for GivingTuesday is the prospect of securing a match from Facebook/Meta. If you'd like to participate this year as a Help Hope Live client or supporter, all the details you need are below.
Please read carefully: match eligibility has changed significantly since last year.
Don't forget to read through our complete GivingTuesday 2022 Toolkit for other ways to make the most of this giving season. Our toolkit has been updated to reflect the changes below.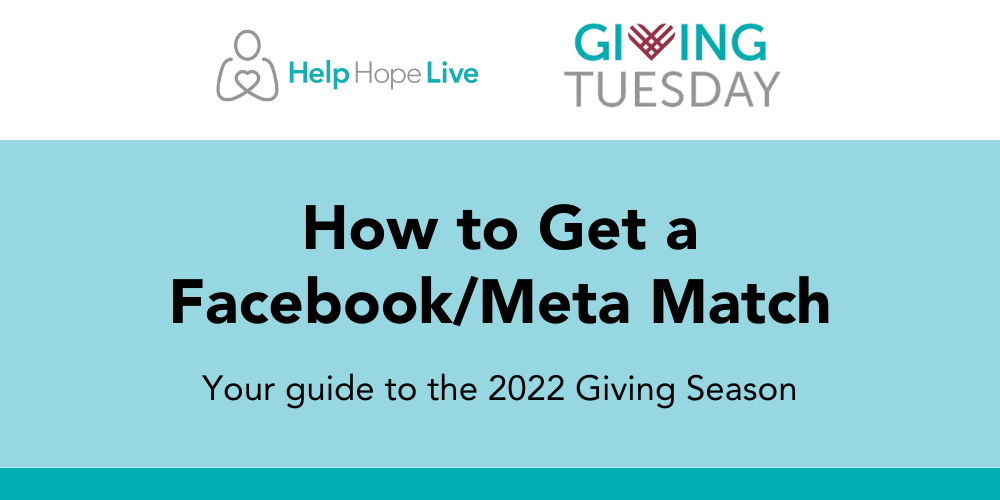 Will Facebook/Meta match donations on GivingTuesday?
Facebook/Meta's new "Giving Season" extends from November 15 to December 31, 2022. During that time, Facebook/Meta will match up to $7 million in donations to Facebook Fundraisers that benefit charities like Help Hope Live.
However, in 2022, Facebook/Meta will only match ONE donation per user, and the donation must be a recurring donation.
How can I get a Facebook/Meta match on GivingTuesday?
Here's how you can become eligible for a match as a Help Hope Live client:
Start a Facebook Fundraiser between November 15 and December 31, 2022 (here's how)
Ensure the client's name appears in the title or description of the Facebook Fundraiser
Ask supporters to make a recurring donation of $5 or more to your Facebook Fundraiser between November 15 and December 31, 2022 (instructions here)
Until funds run out, Facebook/Meta will match the SECOND recurring donation up to $100 that the donor makes to your Facebook Fundraiser. The donation can take place after December 31, 2022 as long as it is the second recurring donation for that donor to the Facebook Fundraiser.
Donors will receive a notification directly from Facebook/Meta if their recurring donation has been matched.
CRITICAL! You must ask donors to send a screenshot of that notification at sharehope@helphopelive.org. Without a screenshot, our team cannot ensure matching funds from a Facebook Fundraiser will come to Help Hope Live in a particular client's honor.
The match will not take place until 2023.
While we won't be able to confirm a GivingTuesday match on any donations until 2023, we will retain the screenshot and information you send us to ensure we manage matched funds appropriately when they arrive.
Each individual donor can only receive up to $20,000 in matching funds from Facebook/Meta. Each nonprofit like Help Hope Live can only receive up to $100,000 in matching funds.
More information is available directly from Facebook/Meta here.
Is the match guaranteed?
No: Facebook/Meta provides no guarantee that any donor or Facebook Fundraiser will receive any matching donations in 2022. Even if a donor makes an eligible second recurring donation, the matching funds may run out before the donation becomes eligible for a match.
Will Facebook/Meta match non-recurring donations?
No: in 2022, Facebook/Meta will only match the second recurring donation that a donor makes to a nonprofit Facebook Fundraiser during the eligible period of November 15 to December 31, 2022.
Facebook/Meta will NOT match any other donations to Facebook Fundraisers during this time period, including on GivingTuesday on November 29.
Will the matched funds be available immediately to cover client medical and related expenses?
No: funds raised through the platform will not be available immediately to assist with client medical and related expenses.
For all Facebook Fundraisers, it takes Facebook/Meta at least three weeks to send funds raised to Help Hope Live and an additional week for our team to process donations once they arrive.
That process will not start for Giving Season matching donations until Facebook confirms and sends out the matching funds to eligible Facebook Fundraisers in 2023.
Who can I contact with questions about the Facebook/Meta match?
Help Hope Live does not receive any information about Giving Season matching donations from Facebook/Meta aside from what is publicly shared with all Facebook users.
You can always talk to your Client Services Coordinator to ask questions and get help with fundraising, but keep in mind that our team may direct you to Facebook/Meta for further assistance if we can't help with your questions about matching funds.
Written by Emily Progin