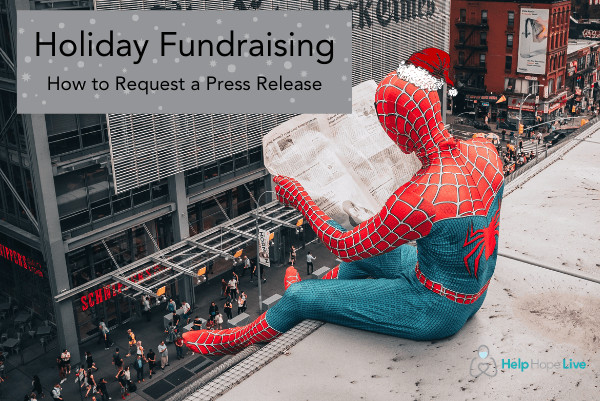 Every December, uplifting stories and special community events decorate the headlines. TV networks, radio stations, and newspapers love to cover stories that fill their audiences with hope, inspiration, and holiday cheer.
Your fundraising campaign with Help Hope Live could be one of those holiday stories! Here's how you can get started with personalized press outreach assistance from Help Hope Live.
What We Need from You
Make sure your Campaign Page is up-to-date and complete with a story and a clear photo of you.
Contact your Client Services Coordinator and request a press release.
Put together a list of local news outlets—just publication names, not contact information. You can include outlets of any type and size, from small local newsletters to regional TV stations.
Bonus: include the names of any specific reporters you have seen cover similar stories to yours in the past.
Look out for a press release draft from Help Hope Live in your inbox to review and approve.
Keep an eye on your inbox for follow-up emails from Help Hope Live and respond quickly—for instance, we'll reach out if a reporter wants to interview you.
Our team keeps you informed if any stations express an interest or publish your story.
Holiday Fundraising Stories and "Hooks"
Every story that gets press coverage has a "hook." A hook is the piece of the story that will inspire emotion in an audience, whether it's surprise, sympathy, excitement, joy, hope, or something else.
When we pitch your story to the press, we will include a hook. One reason why we ask you to keep your Campaign Page updated is so that we can look for new aspects of your story that might be strong hooks for press outreach.
One of the biggest holiday hooks is good news. People love to donate and support fundraisers that already have momentum behind them. Remember to share your good news with us, whether the update is small or significant—it could form the start of an awesome press outreach opportunity to get you even more community support!
Examples: Holiday-Friendly Headlines
Here are three real examples of client press coverage from December of last year:
…and a few other examples of hooks that make great holiday headlines:
Outpouring of Community Support for Teen Hospitalized During the Holidays

Holiday Fundraisers Bring Cheer to Woman with Cerebral Palsy

Father Receives Early Christmas Gift: Kidney from Best Friend

Mother of Four Feels "Blessed" After Successful Holiday Fundraiser

Community Comes Together to Give Holiday Hope to Family Facing Cancer

Family Hoping Secret Santa Will Help with Cost of New Wheelchair
Let's Do It Together!
We would love to partner with you in getting your unique fundraising story out to the press this holiday season. Get in touch with your Coordinator today to explore your options.
Written by Emily Progin