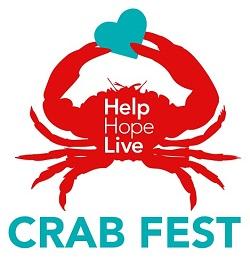 Each year, Help Hope Live brings friends, neighbors, supporters, and clients together for our Crab Fest fundraiser in Gladwyne, PA. This year, we're doing something we've never done before: we're inviting all Help Hope Live clients to join us for free.
If you are a Help Hope Live client, we've got a ticket with your name on it. Our catastrophic injury clients are welcome to bring a caregiver for free, too.
Crab Fest is Sunday, August 4 from 3 p.m. to 7 p.m. at St. Christopher's Church in Gladwyne, PA. Rain date August 11. Find all the event details on our website along with photos of previous Crab Fests.
If you're able to join us, you can look forward to all-you-can-eat fresh steamed blue crabs, fried chicken, summer sides, cool treats, and non-alcoholic drinks, all in a beautiful outdoor setting. You can purchase an additional all-you-can-drink wristband to enjoy craft or domestic beer and wine for $15.
Want to bring a friend or family member? Help Hope Live clients can register one guest for just $30, 50% off regular ticket pricing. Email us for details.
If you'd like to bring your whole family, you can purchase additional tickets as well as family four-packs at any time on our website.
Each day, Help Hope Live clients and Team Members like you celebrate the power of hope and community grown right in their backyards. This August, we hope you'll join us in ours.
See you in August?

Written by Emily Progin