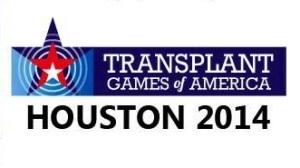 This weekend marks the start of the Transplant Games of America. For those of you who might not be familiar, it's a biannual event modeled after the Olympics where anyone who is a living donor or the recipient of a transplant is invited to compete. Many individuals join with others in their state or region to form teams and travel together to the event which serves as a reminder of the importance of organ donation and a celebration of their lives. This year's competition is being held in Houston, Texas, and to give you a better idea of what the Games are all about, here's a rundown of some of the competitors from around the nation in our first ever preview of the Transplant Games of America!
Let's start with a scouting report on two Houston residents who are hoping for a little home-field advantage. Heart transplant recipient, John Cugini, and kidney transplant recipient, Jeff Timpanaro, have been training hard to maintain a competitive edge for Team Texas. Cugini is looking to take home the gold in cycling, golf or swimming, while Timpanaro will be chasing glory in the tennis and table tennis events. Both men feel like their respective transplants gave them a new lease on life, and are happy to be able to compete in the sports they love and celebrate with fellow transplant recipients.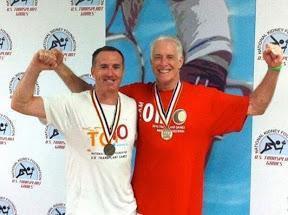 Above: John Heaney, left, and Shelly Artz
Moving on to the Midwest, one of the oldest gold medal winners at the Games and his partner are looking to regain their place atop the podium. John Heaney and Shelly Artz took home the gold medal in men's doubles tennis back in 2010, and they're heading to Houston with Team Ohio this year in search of another victory. Artz, a two-time heart transplant recipient, was able to convince Heaney, a kidney transplant recipient, to join together for the 2010 games, and the duo has remained a force to be reckoned with ever since. While they both agree that the Games stand for more than just the competition, I wouldn't expect them to roll over on the court. Keep an eye on this squad when the 2016 Games come to Cleveland.
Gearing up for her fifth Transplant Games is Minnesota athlete, Candy Pagel, who received the first ever adult-to-adult living donor liver transplant in the state. In 2000, Candy was battling liver cancer when her sister, Lori, donated 65% of her liver to Candy. Now 14 years later, Candy is 100% ready to battle her opponents on the volleyball court and in the bowling lanes for Team MN-DAK (Minnesota, North Dakota, and South Dakota).
Finally down in the Big Easy, Team Louisiana member Tyrone Cooper has been getting some world-class coaching. Tyrone is a heart transplant recipient who's excited to be swimming in this year's Games. His coach, a social worker at his hospital who specializes in helping heart transplant recipients, just so happens to be Olympic gold medalist swimmer Kim Black (2000 Sydney, AUS). Though he has yet to compete, Tyrone knows he's already a winner. "I already won the game, when I was able to have a donor donate an organ to me," he said in an interview with WGNO.
Even more than a competitive event, the Transplant Games of America is a celebration of the lives that have been touched by organ donation. In competing, these athletes are truly appreciating their own health while honoring the lives of those who saved theirs. For more information on the Transplant Games, visit http://www.transplantgamesofamerica.org/
Written by Emily Progin