On November 9, Doug Parisano prepared for a very special occasion: the Penn State vs Minnesota game at TCF Bank Stadium—it would be the second time in 45 years that two undefeated Big Ten teams would meet this late in the season.
But it wasn't the epic college football face-off he was attending that he was most excited about, rather who he'd be meeting there: Ben Elliott, the bone marrow donor who saved his life.
While Doug was battling leukemia in Pennsylvania, Ben, a complete stranger, was in Minnesota signing up to be a bone marrow donor through the Be The Match Registry® as a wedding gift to a friend. Ben soon learned he was a perfect match for Doug, who lived some 1,300 miles away.
In January 2013, Doug received the gift of life from Ben. By the end of the summer, Doug was not only in stable condition but healthy enough to go back to work. But it would be years before Doug would come face to face with the stranger who saved his life.
Ben and his family got the chance to meet Doug's sister, Stephanie, when business brought her to Minneapolis. Doug and Ben finally had their first face-to-face meeting when Ben and his wife travelled to Philadelphia in 2016. The two families kept in contact, building a strong relationship since that meeting. They reunited this November for the Minnesota vs. Penn State game.
This meeting was particularly special for a small but very significant reason: Doug got to meet Ben's son, Griffin, the newest addition to his family.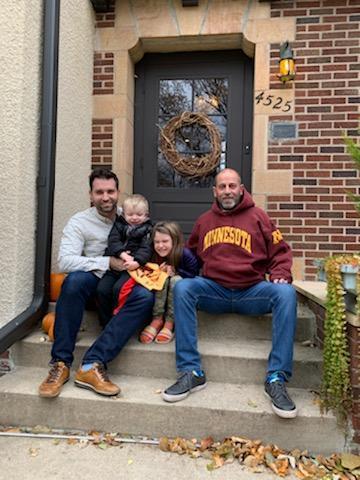 As they parted ways, Doug planned one more special gesture: a gift of his own for Ben.
At this year's Help Hope Live gala, Live It Up!, Doug won the "Lifesaver" painting you saw  a digital print of as the cover of this year's holiday card. He shipped the original artwork to his real-life lifesaver.
"He was happy and surprised," said Doug. Ben opened the painting with his entire family, and he looks forward to finding a spot to display it in his home: "It is awesome! I want to find just the right place for it," he said.
 "Almost at 7 years [post-transplant]. I am a lucky guy!"
Thank you for helping us to ensure that finances never stand in the way of the gift of life, which so often transforms not just one life, but two—or more.
Happy Holidays!
Written by Emily Progin