On January 30, 2016, Molei Wright and her partner, Jeremy Osheim, were driving through a snowstorm in the Rocky Mountains when their vehicle was hit by a truck. Jeremy was injured in the crash but Molei was critically impacted: stuck between the dash and her passenger seat.  Miraculously, a stranger driving behind the couple completed 45 minutes of CPR on Molei before help could arrive, saving her life.
Doctors called Molei "internally decapitated" with less than a 1% chance to survive her injuries: a collapsed lung, severed spine, broken ribs, and a traumatic brain injury. She was placed in a medically induced coma, awaking 3 months later with no memory of the accident and a long road of recovery ahead of her.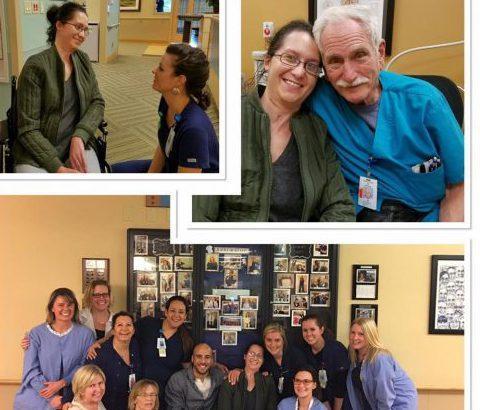 Molei devoted herself to physical therapy—she had to relearn how to eat, talk, and walk again.  By summer, Molei wheeled herself out of the hospital after overcoming almost complete paralysis, and returned home to continue her fight to recovery. With strong will and determination and the support of her family and community, Molei has regained strength doctors deemed improbable, recently returning to some of her favorite hobbies, including skiing with Jeremy, who has never left her side. Nearing two years post-injury, we spoke with Molei and Jeremy about why mobility matters.
How much did you know about traumatic brain injuries before the accident?
Molei: I knew absolutely nothing! I didn't even know what "TBI" stood for.
Jeremy: I knew very little. I have a psychology degree and I studied the subject briefly in college, but that was by no means an adequate base of knowledge for helping Molei and planning for our future.
What are some of the emotions you experienced after the accident?
M: I was in a coma for months following the accident. A little after I woke up, I participated in a fundraiser my co-workers threw in my honor. It was a long day, and once I got back to the hospital (my temporary home), I just broke down.
I started crying, and my mom asked me, "What's wrong? Are you okay?" I remember just looking at myself thinking, "Of course I'm not okay! I'm in a freaking wheelchair, being tube fed; people have to assist me to go to the bathroom…so, NO! I'm not okay!"
J: It was incredibly hard to see Molei deal with such a serious injury. We didn't always know if she was going to pull through. I had to grapple with the fact that no one could completely predict the outcome.
Along the way, there were some setbacks that were heartbreaking, like when she started posturing [involuntary movements that indicate severe brain damage] after a few months of forward progress. I cried. A lot. I also had to worry about the potential of her not remembering me–that was tough.
For some reason, I always had a feeling she was going to get better. When things got really dark, that helped me. It was a rollercoaster of emotions to say the least.
Which mobility-related needs became part of your lives after injury?
M: My wheelchair became a part of me. I remember the first time I left the house without it: it felt so liberating–even though Jeremy and I were only going out to rent a Redbox! I was able to upgrade to a walker, and now I just use a cane or walking poles if I take walks outside.
J: Dragging that wheelchair everywhere was tough. I really feel for the folks who have to use one for the rest of their lives. It was so nice when Molei progressed far enough to ditch the wheelchair.
The selfish part of me focuses on the logistics of it all, but more than anything, it was really just liberating for Molei. Being able to hop in and out of a car, walk through a movie theater without being carried, or take a stroll in the park improved her life.
What have you come to understand about the importance of physical therapy after an injury?
M: PT is life!! I do PT on my own at least four days per week at Craig Hospital. It not only improves my endurance and muscle strength but also gives me a sense of responsibility. Like a job, I think of participating in physical therapy as my duty.
Physical therapy has led to so many positives in my life. Just going to the rec center at Craig, I see so many other patients working on PT like me. I've had many different physical therapists who have all become friends of mine.
J: When it comes to physical therapy, you have to do it. If you work hard at therapy, you have a chance to improve your mobility. If you don't, you don't. Molei was incredible lucky to have talented physical therapists who cared a lot about her. She also put in a ton of extra work outside of the sessions with therapists.
I believe Molei's quality of life has improved dramatically as she has regained mobility. Being able to move freely through the world is something we all take for granted. There is so much to see, do, and learn, but it's hard when you don't have the ability to move freely.
Early on in Molei's recovery, I tried my best to remove barriers for her by pushing her chair or carrying her when she couldn't get around. I didn't want her to miss out on life. As Molei improved, she started finding ways to challenge herself and increase her mobility without me–-and now, she's really living life again!
We do have a saying we like: "You can achieve anything you want–-you just might have to invent a way to do it." Molei lives that motto daily.
How does your life look different today than it did right after the injury?
M: Our life is brighter! No more sleeping in hospitals and 3 a.m. blood draws! It's even brighter than if you were to compare it to when I was first released from the hospital. We no longer have to load up the car with a wheelchair. We can live together in Denver, which gives me more access to a community. I can walk to the elementary school and volunteer!
J: It's very different. Life isn't "normal," but we've been blessed to have another crack at it. We've traveled a little, we get out on the town once in a while, we live together, we can work together – things are much better than they were, and the future is bright.
M: One of my favorite quotes is from Roy Tuscany, founder of the High Fives Foundation. He said, "Life will never be the same–-but it'll be awesome."
What advice would you give to a partner facing a loved one's catastrophic injury?
J: Never set limitations for your partner. None of us knows what the future holds, and the last thing someone needs is a negative partner telling them they can't do it. Help your partner find the limits and then devise ways to safely push past them.
Never take no for an answer. Your partner can achieve anything they want. And when it comes to you, take good care of yourself and remember to invest time in your passions, too. If all you do is give, eventually you'll have nothing left to give. Fill your own cup once in a while, because you deserve it, and so does your partner. You cannot bring the best version of yourself into every interaction if you are not a happy person.
Know that the future is bright. You'll very likely be challenged by dark hours when the odds in front of you seem insurmountable – that's just your mind playing tricks on you. There will be brighter days ahead. Stay in the game. You are not alone.
J: Every injury is different. We know some people will not be as lucky as Molei, and some will be luckier. It's important to find a path of gratitude regardless of your level of injury that is unique to you. If you're injured, find a way to reinvent yourself and use the skills and ability you have to make a life.
Molei is doing it masterfully, so take heart in her story, and know you can do it, too.
Molei continues to fundraise for Help Hope Live as a part of the Midwest/West Catastrophic Injury Fund to help offset the many uninsured expenses related to her injury. We will feature mobility stories all month long on our Blog – subscribe for updates!
Written by Emily Progin