A recent study found steep increases in the out-of-pocket costs associated with medications to help with multiple sclerosis, epilepsy, Parkinson's, and other diagnoses. Here are a few key takeaways for MS patients.
How Much Did Medication Costs Increase?
Cumulative out-of-pocket costs for MS patients top $2,238 over the first two years after diagnosis. Some MS patients faced out-of-pocket costs topping $9,855 over those two years.
The out-of-pocket costs associated with MS medications soared from 2004 to 2016: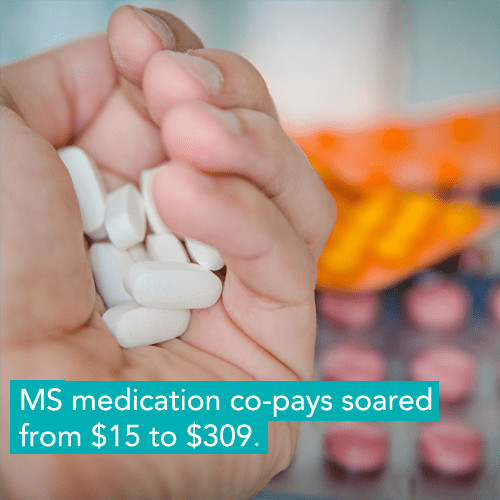 MS patients with high deductible health plans paid an average of $661 out-of-pocket per month in 2016. Even low deductible health plans left patients with a significant out-of-pocket burden of $246 per month.
Why Are MS Medication Costs Increasing?
One chilling reason for increasing medication costs: facing debilitating or life-threatening illnesses, patients have no choice but to pay. "There is less price sensitivity [because] raising the out-of-pocket price for a specific allergy medication will have a larger effect on its use because it is non essential," explained the chair of pharmaceutical and health economics at the University of California.
While the study didn't examine the ramifications of rising medication costs, such as non-adherence and skipped care, other professionals weighed in, citing "higher risk of emergency department use, hospital admissions, injuries and death" as examples of potential consequences of skipped medication doses for people living with epilepsy.
"Out-of-pocket costs can cause financial hardship and potentially decrease medication adherence."
One surprising piece of advice: ask your doctor about generics and cost-saving alternatives. Many physicians aren't aware of how much patients may be expected to pay out-of-pocket for the medications that they are prescribed.
Your Fundraising Lifeline
If you or someone in your network is struggling with rising out-of-pocket care costs related to MS or another catastrophic illness diagnosis, Help Hope Live may be able to help. Learn how fundraising with a nonprofit can help or complete an Application on our Get Started page.
Written by Emily Progin