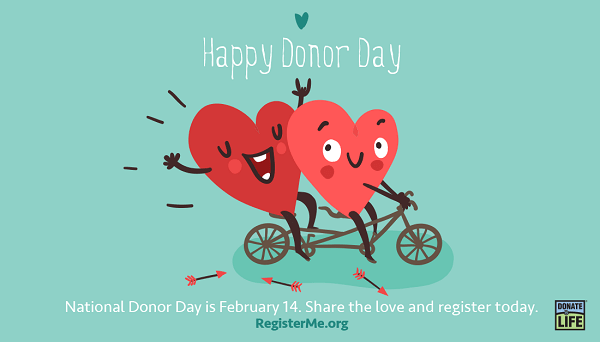 My name is Jason Enyeart. I've had four transplants. I'm alive today because of my donors.
Being an organ donor means being a hero not just once or in one person's life but in countless ways that touch thousands of lives. On National Donor Day, I want everyone to understand what organ donation means to me, and how to celebrate organ donors everywhere.
Personally, I celebrate my donors throughout the year. Because they have passed away, I like to recognize them on birthdays, holidays, and all the other special occasions that I know they are no longer here to celebrate.
My goal is to respect the organs they gave me in every way that I can. I thank people for being registered organ donors, shaking hands when I meet them in person and offering hugs and genuine thanks. Since I am not connected to my own donors' families personally, I take the time to reach out to friends' donor families instead.
Why We Celebrate Donor Day

If you watched the Super Bowl this year, think about the stadium they played in. It holds about 65,000 people. There are 113,000 people on the waiting list for an organ transplant to save their lives.
Unfortunately, 20 people die every day waiting for a transplant due to a lack of available organs. On Donor Day, we have a huge opportunity to raise awareness, celebrate donors, and encourage new people to register as organ donors to save lives.

Celebrating Donors
I think social media is a fantastic place to celebrate Donor Day and thank organ donors. Post something special, update your profile picture, add a temporary banner, wear green and share a selfie—these are all little ways to raise awareness and make a huge difference.
In addition to your outreach on social media for Donor Day, make sure that you're ready to talk about organ donation. You may want to prepare a 30-second speech or just a few talking points about what organ donors have meant to you or to someone you love. Talking with others one-on-one can be a tremendous way to make a difference.
That is especially true because of all the myths surrounding organ donation. For example, it's a common misconception that all you need to do is register and it's a one-and-done process. Instead, we want to encourage people to not just register but also communicate their wishes and intentions to their loved ones. We also need to work to bust the myth that if you're hurt or in an accident, paramedics won't take care of you or save your life if you are a registered organ donor. That is not the case at all!
We can all do our part by offering trusted information to friends about organ donation, but it's also a great idea to encourage others to connect with a transplant center in person. We can share trusted online resources like Donate Life and our local organ procurement organizations (mine is now Gift of Hope)—no one should be relying on random information on the Internet to get info about such an important life decision. Get the truth and share the truth.
I think that when you come face-to-face with someone whose life was saved by an organ donor, like me, the experience can be extremely significant in inspiring someone to register.
Celebrating Communities
Community support is central at every stage of the transplant experience, especially amid the ever-changing landscape of transplant expenses. Hospitals are constantly changing which insurance companies they accept and don't accept, and insurance itself can be a huge cost, especially for someone like me who is on disability. Being your own advocate means taking the time to pursue the best support avenues for you, including pursuing financial support, insurance changes, and fundraising.
On my journey, I have experienced two different kinds of community.
Me and my husband were well-established in our community in Indiana. That community rose to the occasion, held fundraisers, and did everything possible to assist us from making donations to Help Hope Live in my honor to offering to help with transportation to watching our house and caring for our pets.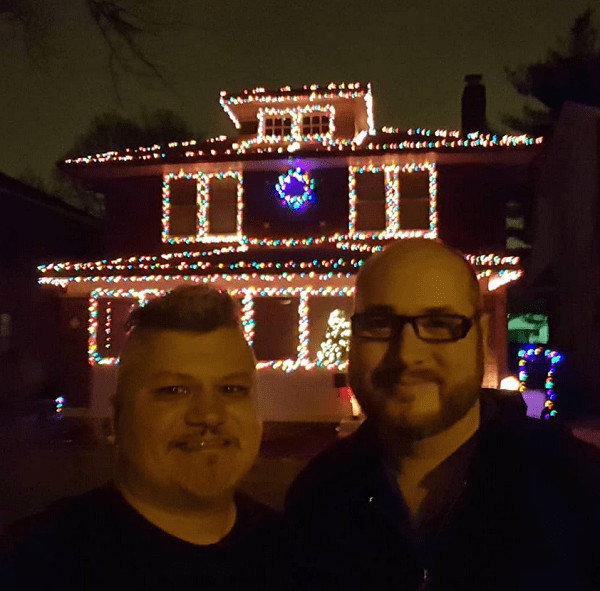 After my fourth transplant, the side effects I was experiencing made it necessary to move close to my transplant center. In that new city, we did not have that family-and-friends community. What was interesting was that we found a surprising new set of resources instead.
It was still a community focused on helping others, willing to jump in and offer support at every turn. This new community may not have been close friends and family members, but we found groups, committees, and volunteers who had been where we were and understood the challenges we faced. They were able to open the door to vital resources to help with our transportation, housing, and other vital concerns.
I believe there is always a community for you. You just have to be willing to reach out and ask for support.
Celebrating You
As you build that community, it's important to be honest with yourself about what is difficult for you. I am not afraid to admit that I meet weekly with my psychiatric team and speak to counsellors. The truth is this journey is challenging—there is nothing easy about any of this. My transplant journey has impacted every single piece of my life. Talking to family, friends, and professionals is extremely important as you establish your own community of support.
Communication and honesty are things that have served me throughout my multi-transplant journey. From Day 1, I knew that I wanted to find help and support by connecting with others who could understand what I was going through. I knew I wasn't alone. No matter how many doctors told me that my case was unique, that it was complicated, I believed that there were others who could relate to at least a part of it.
Being honest helped me to put small pieces of support in place that have really helped me. It's okay to be completely honest. You are not the only one going through what you're going through. There are support groups, both in person and on social media, but they won't be able to find you—you have to find them!
Always advocate for yourself. Be willing to take the leap and say, "This is what I'm going through. I don't feel good, and I need help—I want to talk to someone about it."
You Can Prove Them Wrong
In all my social media posts, I use the hashtag #provethemwrong. That's because on multiple occasions, I have been told, "There is nothing we can do. You are going to die." I've had to plan my own funeral—and yet here I am today.
Whether by challenging common myths about organ donation, being bold enough to reach out for help, or celebrating the power that we all have to overcome the odds, I believe that you can prove them wrong this Donor Day.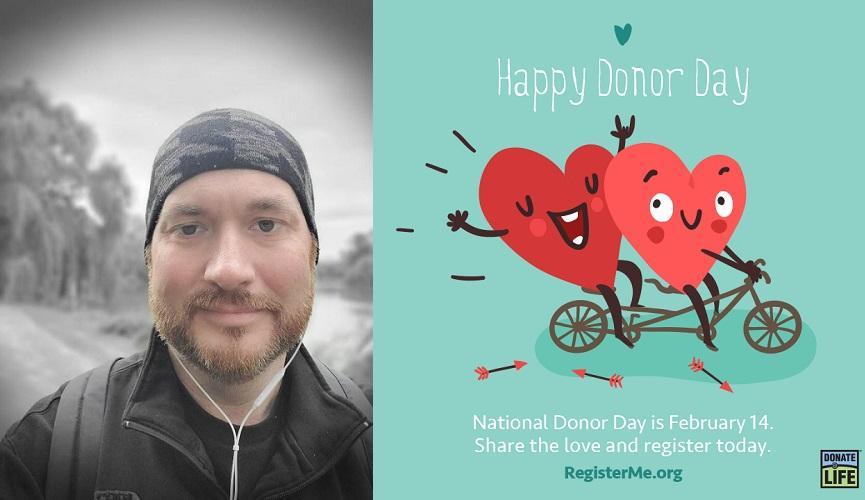 Jason has been fundraising with Help Hope Live since 2018. You can subscribe to his Campaign Page, donate in his honor, or leave a message of support on his Guestbook to celebrate Donor Day at helphopelive.org.
Written by Emily Progin