Learn how much a spinal cord injury costs, what insurance doesn't cover, and how families find financial help for quadriplegics and paraplegics.
How Much Does a Spinal Cord Injury Cost?
These two charts from the Reeve Foundation will help you understand just how expensive a spinal cord injury can be. Learn more about levels of injury here.
What Doesn't Insurance Cover After a Spinal Cord Injury?
As with most medical emergencies and catastrophic injuries, insurance never covers 100% of what an individual living with a spinal cord injury truly needs to heal, live, and thrive.
There are multiple spinal cord injury-related costs associated with medical care, ongoing rehabilitation, emergency needs, transportation, and wellness that insurance may not cover. Here are just a few specific examples:
Temporary relocation to be closer to a hospital or rehab center
Medications (such as to help manage inflammation, blood pressure, spasticity, or chronic pain)
An urgent hospitalization
A replacement part for a power chair
A part-time or full-time caregiver
Ongoing exercise-based rehabilitation, which can be critical to regaining mobility
A custom bed that can prevent the need for an overnight caregiver
Home modifications for accessibility
A wheelchair-accessible van or vehicle modifications
These expenses are just the tip of the iceberg—and the associated costs can range from several hundred dollars to tens of thousands.
Here are some cost estimates from our nonprofit based on real submitted bills: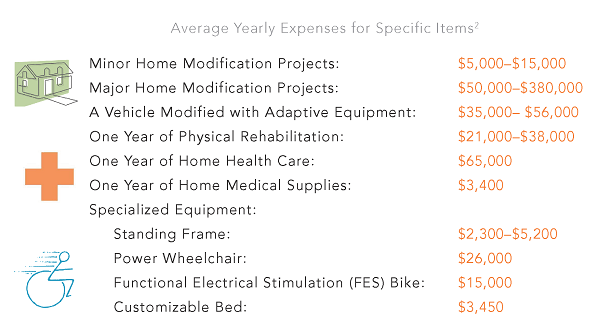 What Are Some Other Long-Term Needs to Consider?
There are plenty of other things insurance typically won't cover completely that can impact an individual's long-term wellbeing after a spinal cord injury. Here are just a few examples.
Work: The Reeve Foundation notes that spinal cord injury cost estimates don't include "indirect costs." Among those costs is loss of earnings or a decrease in professional productivity post-injury. Those indirect costs add an estimated $71,961 per year to the financial burden.
It's a misconception that all people living with spinal cord injuries cannot work, can never return to work, or don't want to work. Just ask our partner Josh Basile, Esq. As an accomplished legal professional and quadriplegic, he shares his firsthand experience with others in pursuing meaningful work after a spinal cord injury.
In addition to navigating workplace accommodations and complicated financial equations to maintain their state-based benefits*, professionals with spinal cord injuries may incur unique costs as they pursue or return to work, including…
Non-Medical Transportation: Got a new job downtown and don't own a car? Need to travel for a business trip or a family vacation? Folks with spinal cord injuries need to carefully consider accessibility at every turn. Whether they need to call an accessible rideshare to get home after a date or secure a reliable way to get to work every day, pursuing non-medical transportation with a spinal cord injury can be frustrating and expensive.
Housing: Home modifications may not be a one-and-done expense. Changes in age, physical capabilities, independence, or mobility equipment could cause someone living with a spinal cord injury to need to invest in additional home modifications or all-new accessible housing.
Education: Whether someone sustains a spinal cord injury as a young child or an older adult, pursuing education could require a few new investments, from caregiving support to student housing modifications for accessibility to technology for virtual access.
Securing financial assistance is often a critical part of life after injury. Financial capabilities can impact someone's ability to stay healthy, learn, work, connect, pursue their hobbies, see the world, quench their sense of adventure, and much more.
*Fundraising with Help Hope Live won't impact state-based benefits. Learn more about our unique fundraising model here.
Is There Spinal Cord Injury Financial Assistance?
After an extraordinary injury, fund raising can rapidly become a critical lifeline. If you or someone you know is struggling to figure out how to secure financial help after a spinal cord injury, it's a great time to learn about our medical fundraising nonprofit.
Start your application today: a one-on-one Client Services Coordinator can help you rally community support as you engage in verified, trusted, and secure spinal cord injury fundraising with a 4-star-rated, 501(c)(3) nonprofit. Donations are tax deductible, all funds are managed by the nonprofit for transparency and donor peace of mind, and funds raised won't put your state-based benefits at risk.
If fundraising isn't the right fit for you at this time, or if you'd like additional resources to supplement your fundraising activities, access our Catastrophic Injury Resource Directory for a comprehensive look at your options for spinal cord injury support:
Written by Emily Progin