Kim Hally

"She wasn't supposed to survive…yet the strongest woman in the world would defy the odds they set against her."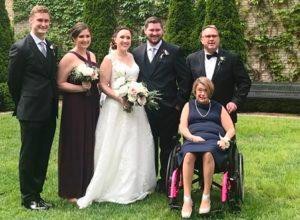 In 2013, Kim Hally left her son's lacrosse game and experienced a brain stem stroke in the parking lot that left her barely alive in the ICU. She experienced debilitating paralysis that kept her tied to rehabilitation facilities, reliant on a wheelchair, and in need of 24/7 care.
Her family's daily life instantly transformed.
Six years since that life-altering injury, Kim's devoted husband of more than three decades shared his insights on Kim's strength, the exorbitant cost of medical care, and how fundraising brings abundant community support within reach.
"You meet 100 people you never knew who become part of your life."
Written by Emily Progin