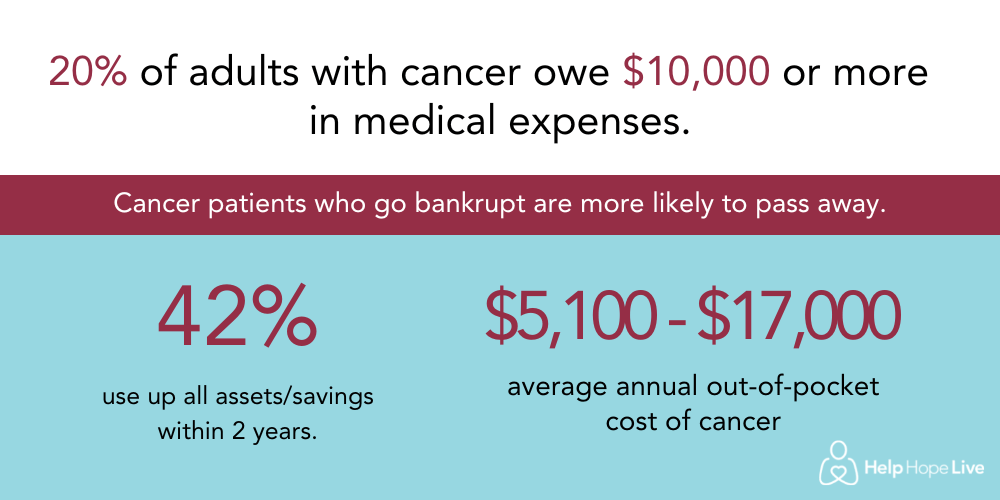 The Kaiser Family Foundation has released 2022 research on the cost of cancer and its impact on U.S. patients and families. Read the complete Advisory Board summary here.
In this post, we review the latest findings along with other key findings about the average cost of cancer treatment.
20% of Adults with Cancer Have Medical Debt Over $10,000
According to KFF, 20% of adults who have received a cancer diagnosis or have a family member living with cancer owe $10,000 or more in medical expenses.
The Advisory Board reports that the average annual cost of cancer is over $42,000, but this number can surpass $1 million depending on the diagnosis.
Individuals with cancer are 71% more likely than other patients to experience medical bills going to collections, tax liens, or mortgage foreclosures in addition to other financial challenges. They are 2.5 times more likely to declare bankruptcy. Most devastating of all:
"Cancer patients who went bankrupt were also more likely to die than those who did not."
As with most other diagnoses, the financial burden associated with the average cost of cancer treatment in the U.S. has a disproportionate impact on patients of color, as NPR reports.
The Cost of Cancer Treatment with Insurance
The direct and indirect costs of cancer include chemotherapy, surgery, radiation, immunotherapy, temporary lodging or relocation, medical travel, lost wages, caregiving, and ongoing rehabilitation. The cost of cancer treatment with insurance can rapidly become a significant financial burden.
According to Milliman, the annual cost of cancer for an individual living with leukemia is between $5,100 and $17,000 out-of-pocket during the first year after diagnosis.
The Emotional Toll
25% of individuals living with cancer are not able to pay their medical costs without difficulties—and 34.4% reported that cancer expenses had led to psychological hardship, such as worrying about paying bills.
Impossible Choices for Individuals with Cancer
According to KFF, two-thirds of the individuals living with cancer or living with a family member with cancer had to decrease the funds they kept available for household essentials, food, and clothing. 40% removed funds from a retirement, college, or savings fund. 30% changed their living arrangement to make ends meet.
In a 12-year study, the American Journal of Medicine found that 42% of the individuals diagnosed with cancer had drained all their savings and assets within just two years, losing an average amount of $92,098. 62% of individuals with cancer were in debt due to the annual cost of cancer treatment.
The Journal found that the overall economic cost of cancer in the U.S. tops $80 billion.
Whether or not they have health insurance, 1 in 10 individuals with cancer has delayed follow-up medical care due to the associated costs. 20% of patients taking oral chemotherapy stopped treatment because they could no longer budget for the associated expenses. 50% stopped treatment when their out-of-pocket commitment stretched past $2,000.
"Do I pull my kids out of daycare?" one single mom living with cancer asked in an interview with NPR. "Do I stop their schooling?" With $30,000 of medical debt related to her cancer treatment, she feels:
"My doctor saved my life, but my medical bills are stealing from my children's lives."
Long-Term Impacts for Younger Cancer Survivors
Individuals diagnosed with cancer between age 18 and age 39 typically borrow more than $10,000 to help cover the associated costs. 1.5% filed for bankruptcy themselves or with their family.
Up to 85% of individuals with cancer cannot work during treatment—but even post-treatment, research shows that young adults with cancer earn less than their contemporaries without cancer. They typically lose $2,200 per year due to productivity issues that are directly linked to their diagnosis.
Regardless of the age at which they are diagnosed, individuals who have been diagnosed with cancer tend to have higher out-of-pocket expenses than peers who have never had cancer: $1,000 compared to $622.
Financial Toxicity Paired with Administrative Nightmares
As NPR reported in 2019, cancer doesn't just come along with out-of-pocket expenses—it comes along with a nightmarish administrative burden for patient families.
"What I didn't anticipate is the knock-down, drag-out fight that I would have to engage in to get people to see there were errors and address it."
While living with painful symptoms and treatment challenges, individuals with cancer often dedicate hours of their days or weeks to understanding or disputing their medical bills. That means close reading with an emphasis on financial literacy, long phone calls and periods spent on hold, and near-constant stress as the financial toll climbs higher.
"As those bills start to accumulate, it can be very stress inducing."
A former nurse diagnosed with cancer explained that even with her extensive background in patient care, she found her medical bills extremely difficult to understand. Within her insurance network, one company covered certain facilities while another dealt with out-of-pocket costs and medications.
Bills were frequently sent to the wrong insurer. Corrected claims missing initial information were denied for arriving too late. In other cases, insurers disputed her medical team's pre-authorizations.
In some cases, insurers advised her to just pay the amount listed on a bill to avoid penalties and delays—even if part of the bill would ultimately be covered by her policy.
Getting Help with the Cost of Cancer Through Fundraising
The cost of cancer isn't getting easier to manage—it's getting harder. As one CDC researcher observed:
"The economic burden associated with living with a cancer diagnosis will likely increase."
Our nonprofit is dedicated to helping individuals with cancer and their families access trusted medical fundraising assistance. Learn how one-on-one support and tax-deductible fundraising can lighten your financial burden—apply here.

For firsthand insights on the financial and emotional toll of cancer, tune into our Hope Talk webinar on cancer and financial toxicity:
Written by Emily Progin