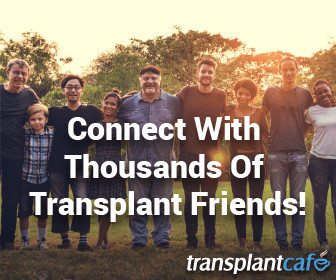 What is TransplantCafe.com?
Transplant Cafe is an online community and social network that facilitates support, connections, and a virtual global social resource to all members of the organ, tissue, cellular and limb transplant community. Transplant recipients or individuals waiting for a transplant, professionals who work in the field of transplantation (medical, business, or nonprofit), caretakers, or living donors and donor families are welcome at TC. 
Why Should You Join Transplant Cafe?
You should join TC because it was designed specifically with the transplant community in mind. Started by a transplant recipient, TC was created to facilitate a deeper connection among members of the transplant community, all while encouraging an environment that equally supports ALL realities that face the transplant community: the not-always-so joyful, the highest levels of elation, a passion for advocacy, and all aspects in between that make up the community's experiences.  
To make all this possible, TC is always implementing fresh new features and ideas, from the platform's exclusive crowdfunding partnership with Help Hope Live to help patients with their medical costs to business pages for members, media sharing, and even stores where members can offer their products and services to the community.  
How Do You Join Transplant Cafe?
Joining TC is easy! Simply visit TransplantCafe.com and click 'Sign Up' in the center of your screen, or go directly to the sign up page here:  
Because TC puts a high level of value on privacy, you will find there are a few steps and questions to answer during sign up. These questions help to keep out spammers and other unwelcome characters while helping your new transplant friends and connections to get to know you and your transplant experience right from the start. 
What Else Should I Know?
Tired of one-size-fits-all transplant headlines? Check out Transplant News, a new contributor network that explores the entire range of transplant-related stories from medical breakthroughs to personal journeys to opinion pieces from transplant medical professionals.
You can see Help Hope Live's latest posts here.
Written by Emily Progin