Trexo Home is a robotic walker designed to get your child upright and walking. With the help of a Trexo, your child can take more steps and walk farther to get more repetitions, weight bearing, and functional stretching, all right in your home.
How does it work?
Imagine a physical therapist moving your child's legs, step by step, to help them learn how to walk correctly. Now, imagine that the physical therapist never gets tired and moves each step precisely the same way every time. That's the basic function of a Trexo, which physically moves a child's legs in a repetitive walking manner.
This robotic system is controlled with a tablet which functions as a remote control. Using a Trexo tablet, a parent can set the exact pattern of movement and speed of walking that is comfortable for their child. Each Trexo is fitted for the user with complete freedom in setting the amount of weight bearing and support provided.
A parent or caregiver can also use a Trexo tablet to keep track of a child's initiation to ensure they're active and engaged during sessions. It will help keep track of the daily amount of time spent walking and number of steps they take so that the child is always working toward bigger goals.
How Trexo can help a child
While the primary purpose of a Trexo is to help with walking, the benefits of regular exercise using this equipment go far beyond that! A Trexo provides a whole-body workout and helps with:
Engaging the core and back muscles
Building strength
Providing functional stretching
Working on endurance
Getting the blood flowing
Promoting bowel movements
Helping with sleep quality
Most Trexo users also love the freedom that a Trexo provides. With access to equipment at home, families aren't as stressed about the need to travel for exercise appointments, and they can spend the time in physical therapy working on other exercises.
Will it work for my child?
The most important thing for Trexo Robotics is to ensure that children love the equipment so that they can enjoy every step. That's why each Trexo is set up with the guidance of a Trexo representative.
A Trexo can be adjusted and fitted for a wide range of conditions and abilities. Children living with the following conditions can use a Trexo:
Neuromuscular conditions, including cerebral palsy and muscular dystrophy
Spina bifida
A traumatic brain injury or spinal cord injury
Other conditions which impair lower body mobility
Additionally, a Trexo may be used by children with one or more of the following: contractures, high tone, low tone, unable to roll, unable to sit, require balance assistance, or unable to initiate movement.
Once a family has decided to reserve a Trexo Home for their child, Trexo will work with them to conduct an assessment and collect necessary measures to set up the device just right. Additionally, each Trexo comes with a two-week full refund period to ensure that the family wants to continue with their Trexo.
Fundraising for a Trexo
If you're interested in obtaining a Trexo, please contact Allicyn Hayes (ah@trexorobotics.com), who can help determine whether a Trexo is appropriate for your child. Allicyn can also provide information on delivery estimates and next steps.
Trexo Robotics is pleased to offer special discounted pricing to families who are fundraising for a Trexo Home through our nonprofit. If you're not already working with Help Hope Live, you can get started by calling 800-642-8399 or submitting this application online.
More information
Trexo Robotics has been around since 2016 and is on a mission to create assistive technologies for all people, starting with children. Founded by Manmeet Maggu (CEO), Trexo wants to create technologies that children love and physical therapists trust. Trexo Home was designed by Manmeet after learning of his nephew's diagnosis of cerebral palsy.
At Help Hope Live, we're pleased to be working with Trexo to help put mobility equipment within reach through fundraising. Start a fundraising campaign for a Trexo Home today.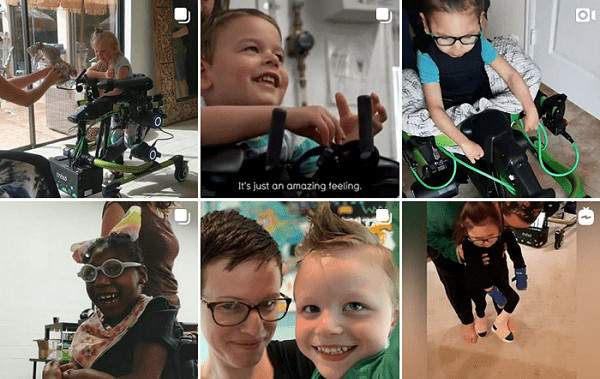 You can see more Trexo Homes in action by following Trexo Robotics on Instagram.
Written by Emily Progin