Thanks to your hard work, last week's #GivingTuesday was a smashing success!

$116,555 raised in 24 hours!
180 #freethefee donors at helphopelive.org for a total of $59,013 in donations in one day
595 donors to 35 Facebook Fundraisers for a total of $57,542 raised for Help Hope Live on Facebook
What's Next? Say Thanks!
Now is the perfect time to send out your #GivingTuesday thank-yous. A few ideas…
Broadcast a Facebook Live thank-you video
Send out personalized emails to donors
Create a social media post and tag your donors (check out the example below from our client David A Jeffers)
Set a reminder to follow up in 1 month with details on how donations have made a positive difference in your life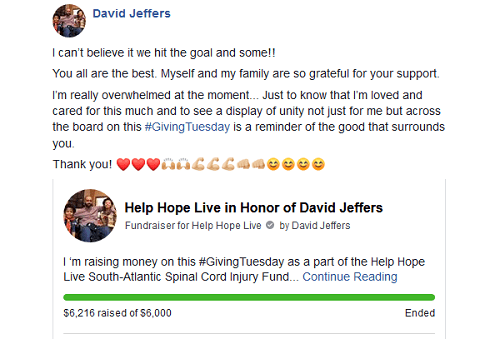 Did You Know?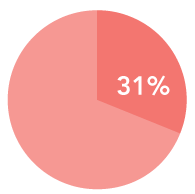 31% of annual charitable giving occurs in the month of December. Act now to make the most of this generous holiday season. Contact your Client Services Coordinator for help writing an end-of-year appeal to your community that you can send via email, share on social, or even drop in the mail with your holiday cards.
'Tis the Season!
We are blown away by the generosity of our client communities, and we know #GivingTuesday won't be the last of the season's life-changing gifts.
Happy holidays and congratulations on your #GivingTuesday achievements! Mark your calendars for #GivingTuesday 2019: December 3, 2019!
Written by Emily Progin