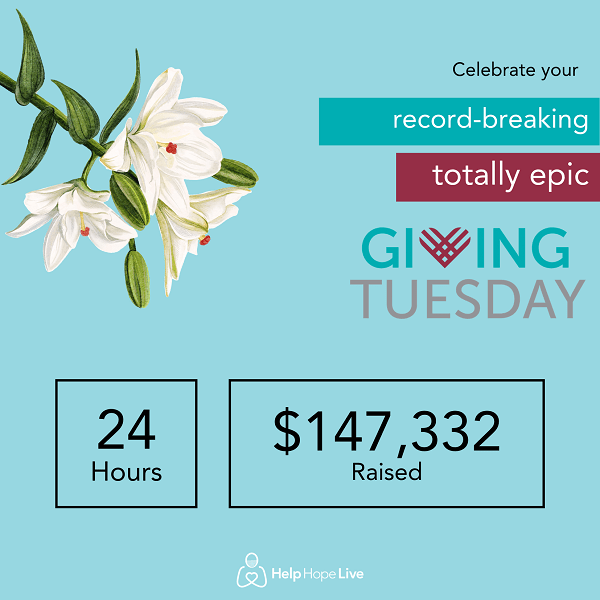 We are humbled by and grateful for your generosity on GivingTuesday.
Here's what you helped accomplish:
$147,332 raised in 24 hours for client campaigns and our General Operating Fund
(3% increase from last year!)
$79,363 in donations at helphopelive.org
107 Facebook Fundraisers created
(more than doubled from last year!)
$62,969 raised on Facebook
…and thanks to your incredible generosity, we received the full $5,000 match from Prelude Solutions to support our General Operating Fund!
Help Hope Live is so grateful for your support!
P.S. If you missed us yesterday, you can still give here!
GivingTuesday Across the U.S.
Total giving across all charitable causes increased from $1.97 billion to $2.47 billion in the United States. That's a 25% increase compared to GivingTuesday in 2019! Read more here.
Save the Date: GivingTuesday 2021
The next GivingTuesday is Tuesday, November 30, 2021.
What to Do Next
If you're a Help Hope Live client or team member, you may be wondering what you should do to stay connected with your community of support now that GivingTuesday is behind you. We've got your answer:
Written by Emily Progin