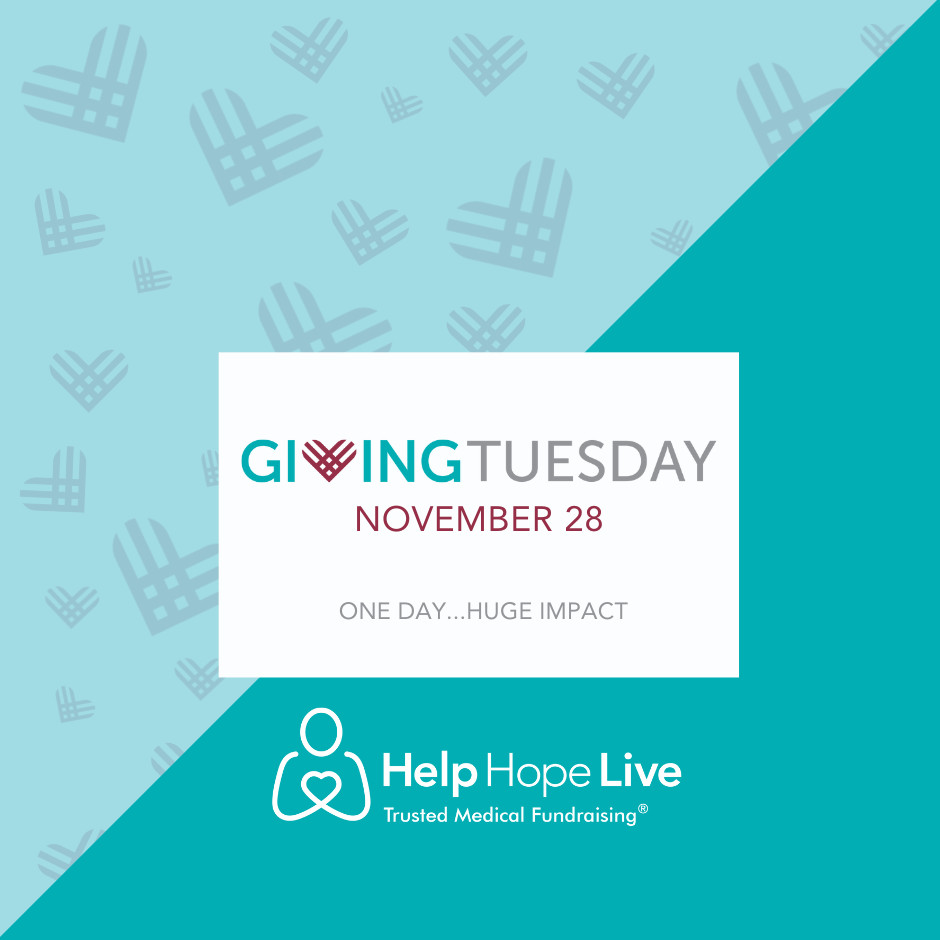 GivingTuesday is back on Tuesday, November 28, 2023!
It's the single largest day of giving of the year with four times more donations to our nonprofit than on any other day.
Don't miss your chance to participate! Read on to learn all about promoting your Help Hope Live fundraising campaign for GivingTuesday.
Your First Step: Contact Your Coordinator
Your Client Services Coordinator can provide you with support and resources to prepare you and your community for this special day of digital generosity.
Plan your strategy for email, social, and online fundraising: reach out to your Coordinator today!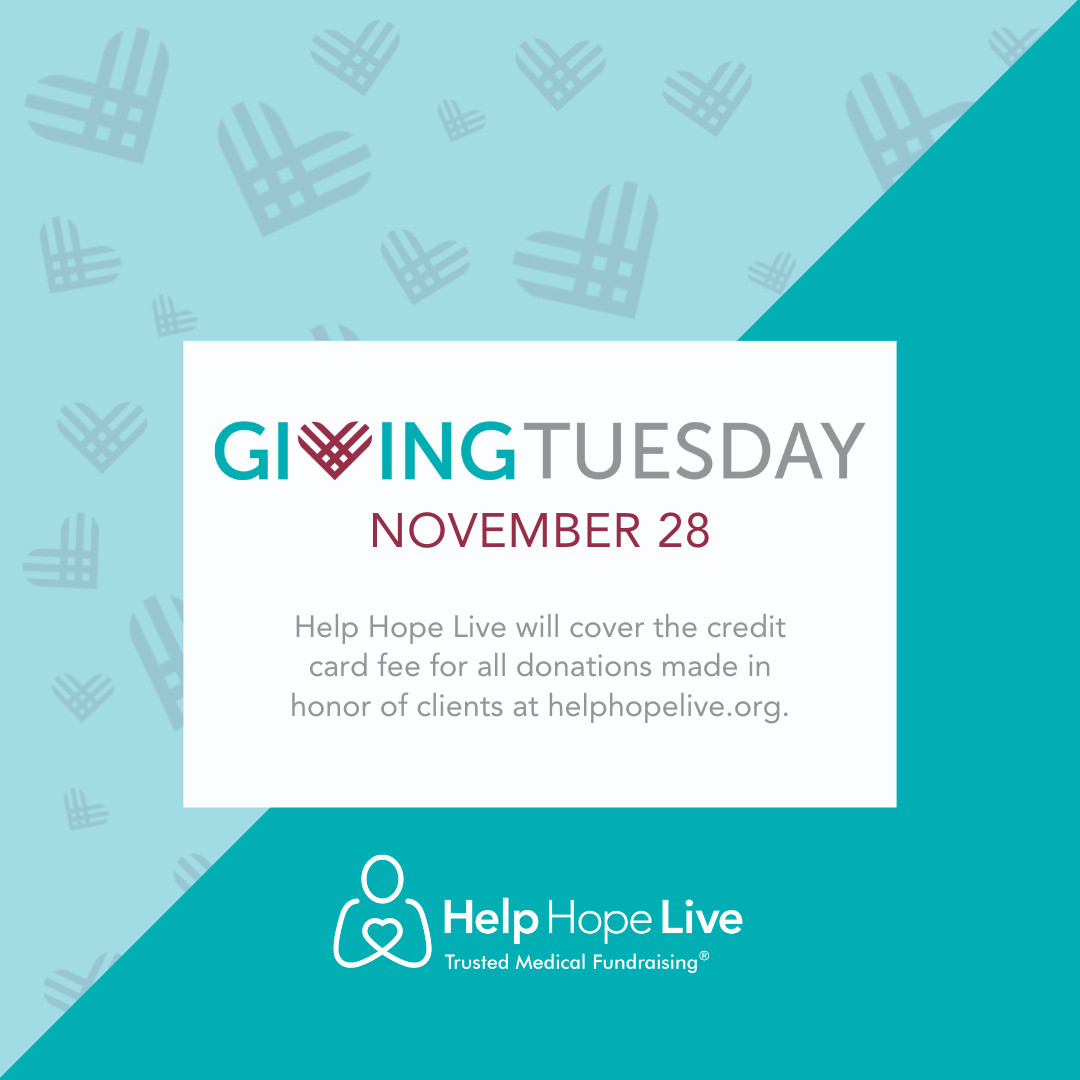 No Credit Card Fee for Online Donations
Between midnight on Tuesday, November 28, and 3 a.m. ET on Wednesday, November 29, Help Hope Live will cover the credit card fee for all donations made in honor of a Help Hope Live client at helphopelive.org.
Share this info with your community so they know they'll make a bigger impact than ever with their donation on GivingTuesday!

Get Your GivingTuesday Flyer and Campaign Picture
Contact your Coordinator to request a customized GivingTuesday flyer like this one to help promote your Help Hope Live campaign: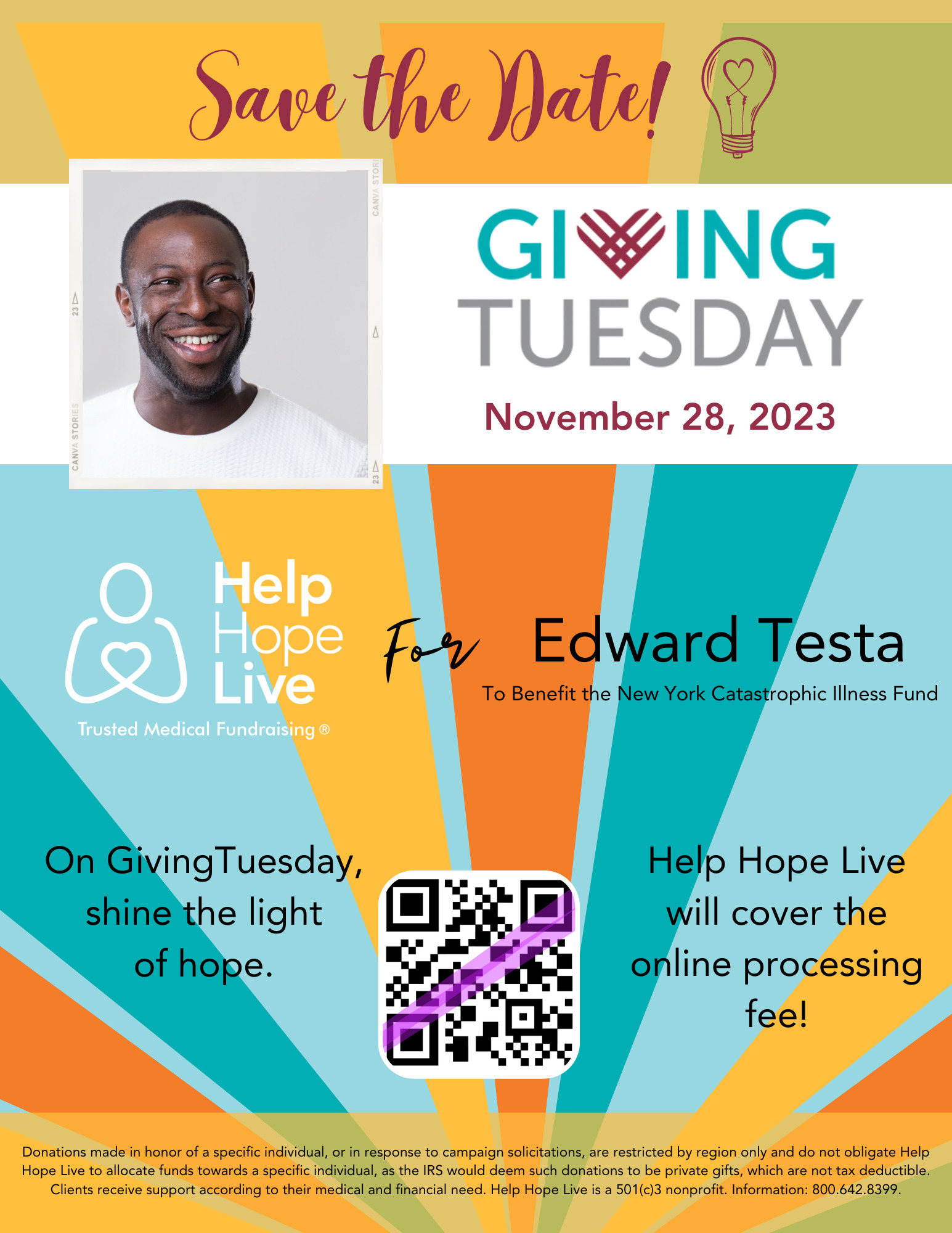 You can also request a customized campaign picture like this one, perfect for using on your Campaign Page, on social media, or both to celebrate GivingTuesday: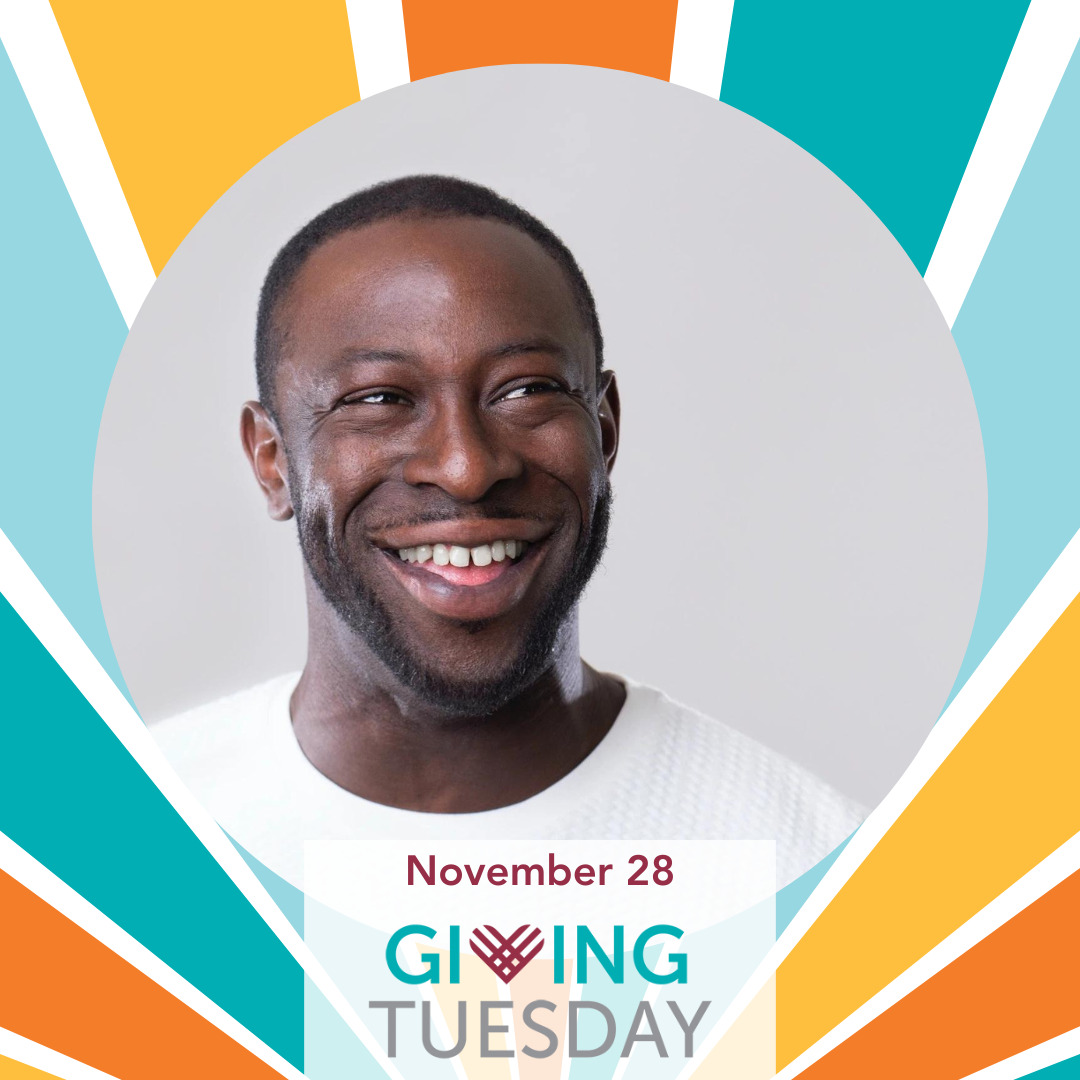 How to Share Your New Campaign Picture
Once you receive your customized campaign picture for GivingTuesday, there are a few easy ways to share it with your community.
Change your Campaign Page picture.
Ready for a Campaign Page refresh? Along with the steps in the next section, you can upload your customized GivingTuesday campaign picture as your new Campaign Page profile picture.
You can make the switch by logging in and navigating to your Campaign Editor. Click the round pencil icon next to your current campaign picture, then upload your customized GivingTuesday picture.
Remember to upload a new campaign picture or choose an older picture after GivingTuesday.
If you love your current Campaign Page picture, you can keep it and still celebrate GivingTuesday and show off your new picture with the social sharing options below.
Change your social media profile pictures.
You can make your new GivingTuesday campaign picture your new social media profile picture on one or more platforms.
Here's how:
1. Save the customized campaign picture to your computer or phone image gallery.
2. Next, navigate to your social media profile, edit your profile, and upload the picture as your new profile picture.
3. Repeat the process with any other social media profiles you'd like to update.
4. Remember to switch back after GivingTuesday!
Share as a picture in a post on any social media platform.
If you'd like to leave your campaign picture and social media profile pictures as they are, you can still share your GivingTuesday campaign picture on social media.
Here's how:
1. Save the customized campaign picture to your computer or phone image gallery.
2. Start a new post on a social media platform, and add the picture to your post.
3. You can add text to your post letting your followers and friends know that the picture is from your friends at Help Hope Live (tag us!) to celebrate GivingTuesday.
You can follow the same steps above to share your customized GivingTuesday flyer. Just ask your Coordinator for an image version of the flyer instead of a PDF.

Updating Your Campaign Page
A big event like GivingTuesday is a great chance to refresh your Campaign Page. Keep your Campaign Page subscribers and all your supporters informed: what's new in your life? How are donations making a difference?
Consider adding a new campaign picture (see our customized option below!), Updates about your fundraising efforts and medical journey, and changes to your Campaign Page story to keep your Campaign Page current.
Sharing recent milestones and updates is a perfect way to show your community how much their support means to you. Updates can motivate supporters to donate and get involved to keep your momentum going!


GivingTuesday is an opportunity to engage your online giving community—and social media provides a powerful way to spread the word.
Here are a few top tips for social sharing.
Tip 1: Plan to post 1-2 times per week.
Give your friends and followers as much time as possible to save the date!
Promote 1-2 times per week on socials leading up to GivingTuesday.
Once you have your customized flyer and profile picture from Help Hope Live, share one to two posts about GivingTuesday per week.
Tip 2: Make each post different - keep it interesting.
Even if you plan to share a post per week, don't re-use identical content.
Instead, come up with fresh ways to promote different aspects of your story, your fundraising campaign, and your key GivingTuesday messages and requests for donations.
If you don't have fresh content to share, skip a week—quality is more important than quantity for GivingTuesday posts.
Scroll down for sample social posts and ideas.
Tip 3: Add hashtags to reach more people.
Hashtags are a way to categorize your posts so they reach a wider audience on social.
Choose five or six relevant hashtags to add to each post—for example, #helphopelive #donate #medical #fundraising #transplant #givingtuesday
Only use relevant hashtags that will help followers and a general audience get a better sense of what your posts are about.
Tip 4: Focus on current platforms – not new platforms.
If you're most active on one or two social media platforms, focus your GivingTuesday posts on those platforms.
Commit to posting on the platforms you use consistently.
Starting a social presence on a new platform takes a lot of time and effort. You're more likely to see engagement and results when you promote GivingTuesday content only on the platforms where you already post actively and engage with others.
Tip 5: Tag us!
Follow Help Hope Live on our socials and tag us in your posts so we can keep up with your GivingTuesday hype!
You can find and tag us by searching for "Help Hope Live" on Facebook and LinkedIn, @helphopeliveorg on Twitter X and Instagram, and @helphopelive on TikTok and YouTube.

Sample Facebook Post for GivingTuesday
Big date, big difference! GivingTuesday is Tuesday, November 28. I am fundraising for an important cause, and I could really use your help and support!
Please consider making a donation to the national nonprofit @Help Hope Live in my honor on GivingTuesday.
THANK YOU—your support makes all the difference. #GivingTuesday #helphopelive #donations #giving #medicalfundraising
[add Campaign Page link – instructions here]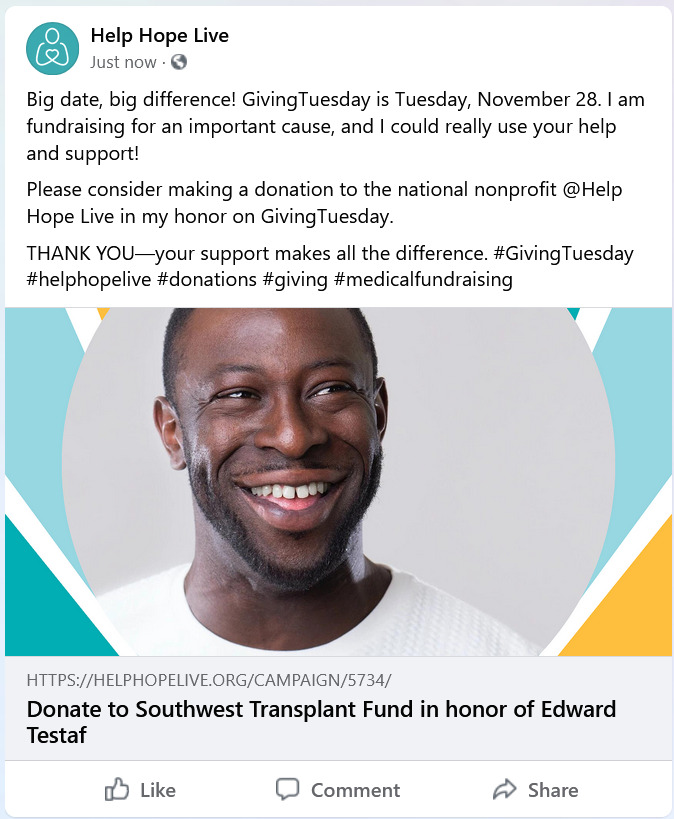 Sample Instagram Post for GivingTuesday
Save the date, make a difference! GivingTuesday is Tuesday, November 28. I am fundraising for a cause, and I could use your help! Please consider making a donation to the national nonprofit @helphopeliveorg in my honor. Link in bio! #GivingTuesday #helphopelive #donations #giving #medicalfundraising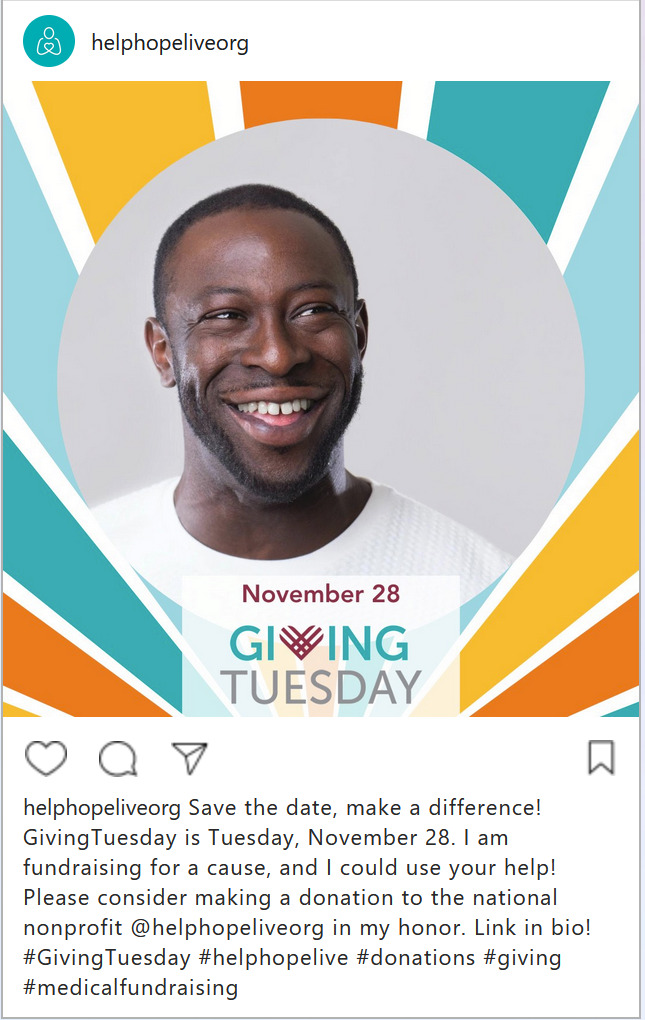 Sample Twitter X Post for GivingTuesday
Save the date, make a difference! #GivingTuesday is Tuesday, November 28. I am #fundraising for a cause, and I could use your help! Please consider donating to @helphopeliveorg in my honor. To donate, visit: [add Campaign Page link]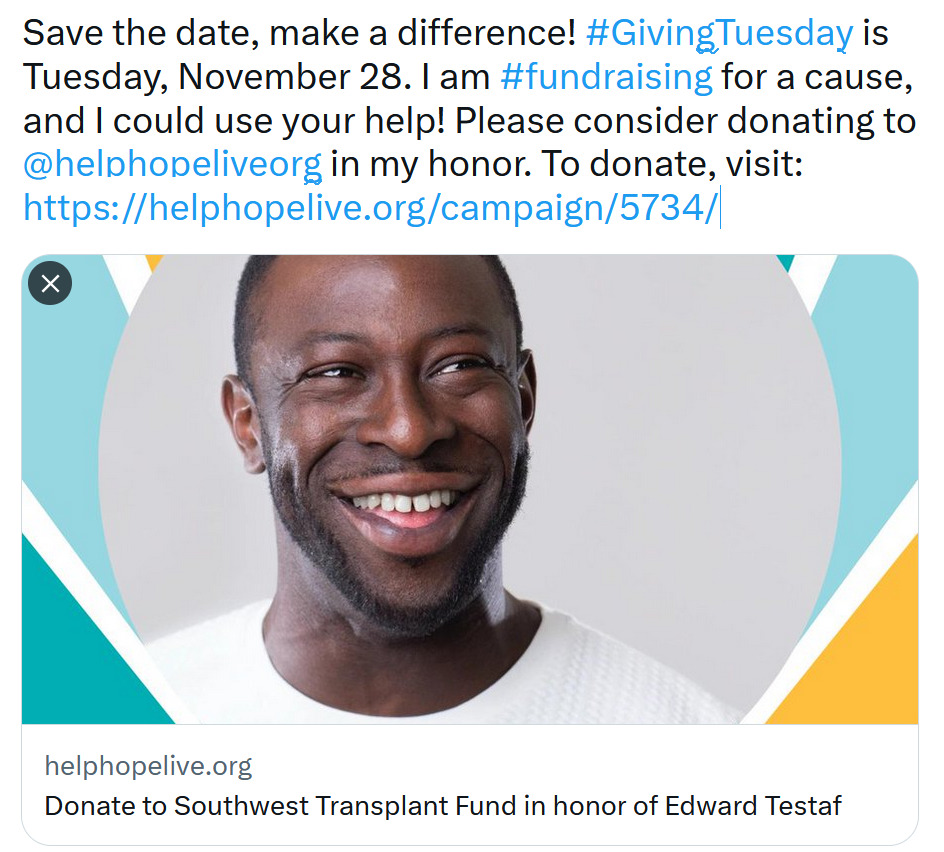 More Social Media Ideas for GivingTuesday
While our sample posts will give you a starting point, there are tons of creative ways to promote your fundraising campaign and GivingTuesday content on social.
If you're not sure what to post next, try answering one of the questions below in a text post or one-minute video post:
What is GivingTuesday, and why is it an exciting date for you in connection with your fundraising efforts?
Can you give a 15-second text or video "elevator pitch" on who you are and why you're fundraising?
What are three ways that your life has changed that are directly linked to the donations that your community has made to your Help Hope Live campaign?
What would a day in your life look like without fundraising (or key pieces of medical equipment)?
What are five things you are fundraising for right now? How much does each of them cost?
What is one moment that made an emotional impact on you over the past year that relates to fundraising (or community support in general)? What made that moment so impactful?
Why does it make an impact when someone spreads the word about your fundraising efforts?
Who are three people you are grateful to have in your life on this fundraising journey?
What does the word "hope" mean to you right now?
If a friend were to tell you that they want to help you with fundraising, but they can't make a donation right now, what are two ways they can make a difference WITHOUT a donation?
If a friend wanted to get their employer or a local business involved in your fundraising campaign, where should they start?
Why are you fundraising with Help Hope Live instead of GoFundMe? (Hint: you may want to share this post!)
How can someone start a Facebook Fundraiser for Help Hope Live in your honor?
What is one item that someone may be surprised to learn makes a HUGE difference in your day-to-day? How much does it cost to purchase or maintain it?
What are four words that come to mind when you think of the phrase "community support"?

Extra Video Tips for GivingTuesday
You can integrate video content into some of your GivingTuesday posts to increase engagement.
Try answering some of our suggested post questions further in this post in a video instead of a text post to vary your content on social.
Here are a few reminders to optimize your videos:
Ensure you add a link in bio to your Instagram and TikTok accounts. That way, when you post about GivingTuesday and ask followers to donate, you can simply add "link in bio" to your post instead of a full-length link to your Campaign Page.
If you're active on both TikTok and Instagram, post to TikTok first, then cross-share to Instagram Reels.
Keep an eye on trending video content and hashtags. You might find a trending video idea that inspires you to create something fresh that ties into your fundraising efforts or your GivingTuesday plans.

Start a GivingTuesday Facebook Fundraiser
Because you've chosen to fundraise with our nonprofit, you can start a Facebook Fundraiser for GivingTuesday to benefit Help Hope Live in your honor.
Access our complete guide:
Interested in getting a Meta/Facebook match for eligible donations to your GivingTuesday Facebook Fundraiser?
While Meta/Facebook has not yet released match info for 2023, we'll update this post when they do:

How to Write an Email Blast for GivingTuesday
Email blasts are a strong way to gather support for your campaign while you keep your community informed. Emails are a great way to share GivingTuesday plans with supporters who may not actively use social media, too.
Here's how to get your email blast started in time for GivingTuesday.
Step 1: Gather Email Addresses
To begin, create a list of email addresses in a Word document or spreadsheet.
Don't forget to include people who have given to your Help Hope Live campaign. You can export a list of campaign contributors: go to your DASHBOARD, then under MY SUPPORTERS, select VIEW:

Step 2: Write Content in Advance
Write content for several emails in advance—that way, you won't need to come up with content on the spot as GivingTuesday is unfolding.
Suggested Email Schedule
You'll want to plan at least one email before GivingTuesday, one for GivingTuesday, and one for the day after GivingTuesday—see below for content suggestions. You can plan as many emails as you want—just don't overwhelm your supporters!
Before GivingTuesday: send out an email to thank your network for their support and explain what GivingTuesday is. You can use our social media post examples below as a starting point!
On GivingTuesday: send out a reminder email.
Later in the day on GivingTuesday: send out an email thanking them for participating. Include a few ways they can help beyond making a donation: share my social media posts, donate to my Facebook Fundraiser, share my Campaign Page link, ask a business to donate, ask your employer if they will match employee donations, start your own Facebook Fundraiser, volunteer to plan a future fundraiser, etc.)
After GivingTuesday: send out an email expressing your sincere gratitude. Explain exactly how donations will impact your life.
Step 3: Optimize Your Emails
Here's what we recommend:
Always use the BCC feature! When you send out an email to multiple people at once, add all the email addresses to the BCC box. This ensures the recipients can't see each other's email addresses to fully respect their privacy.
Attach your customized GivingTuesday flyer in your first email.
Add at least one recent photo of yourself in every email.
Include your Help Hope Live Campaign Page link in every email.
Ask recipients to subscribe to your Campaign Page to receive email alerts when you update your page.
Step 4: Expand Your Strategy
As your email campaign unfolds, keep notes about what works well and what you'd like to change next time you send an email blast.
If some of your emails get more responses and engagement than others, tailor your future emails accordingly.
Remember: you can continue sending out email blasts after GivingTuesday! Consider sending out one email every two weeks or once per month. Additional email tips here.
Harnessing the Power of GivingTuesday
Every client is different, and so is every community of support. Let's work together to make the most of what you have—ask your Coordinator for materials, ideas, and insights to help plan the most effective GivingTuesday fundraising strategy possible this year.
Written by Emily Progin