Each year in April, we come together for a celebration of the gift of life: National Donate Life Month.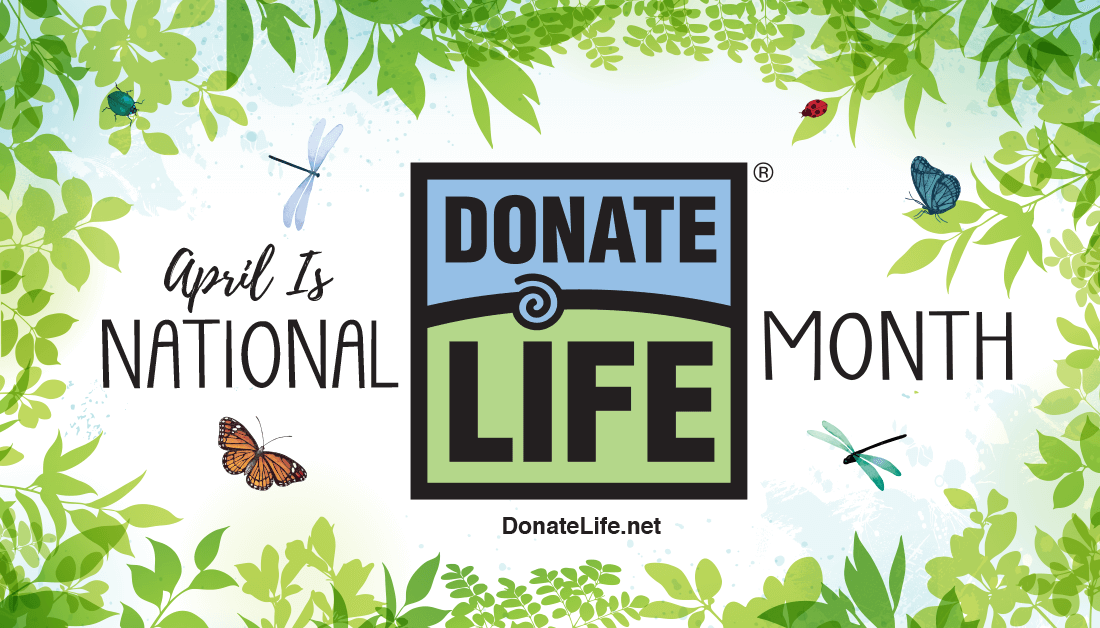 We know that Donate Life Month is extremely special to the transplant candidates, recipients, and families in the Help Hope Live network. Our mission is to bring health care within reach through community-based fundraising, and we know that it is closely tied to this special celebration.
The gift of life is often fueled by financial support and the love of a community.
Why Donate Life Month Matters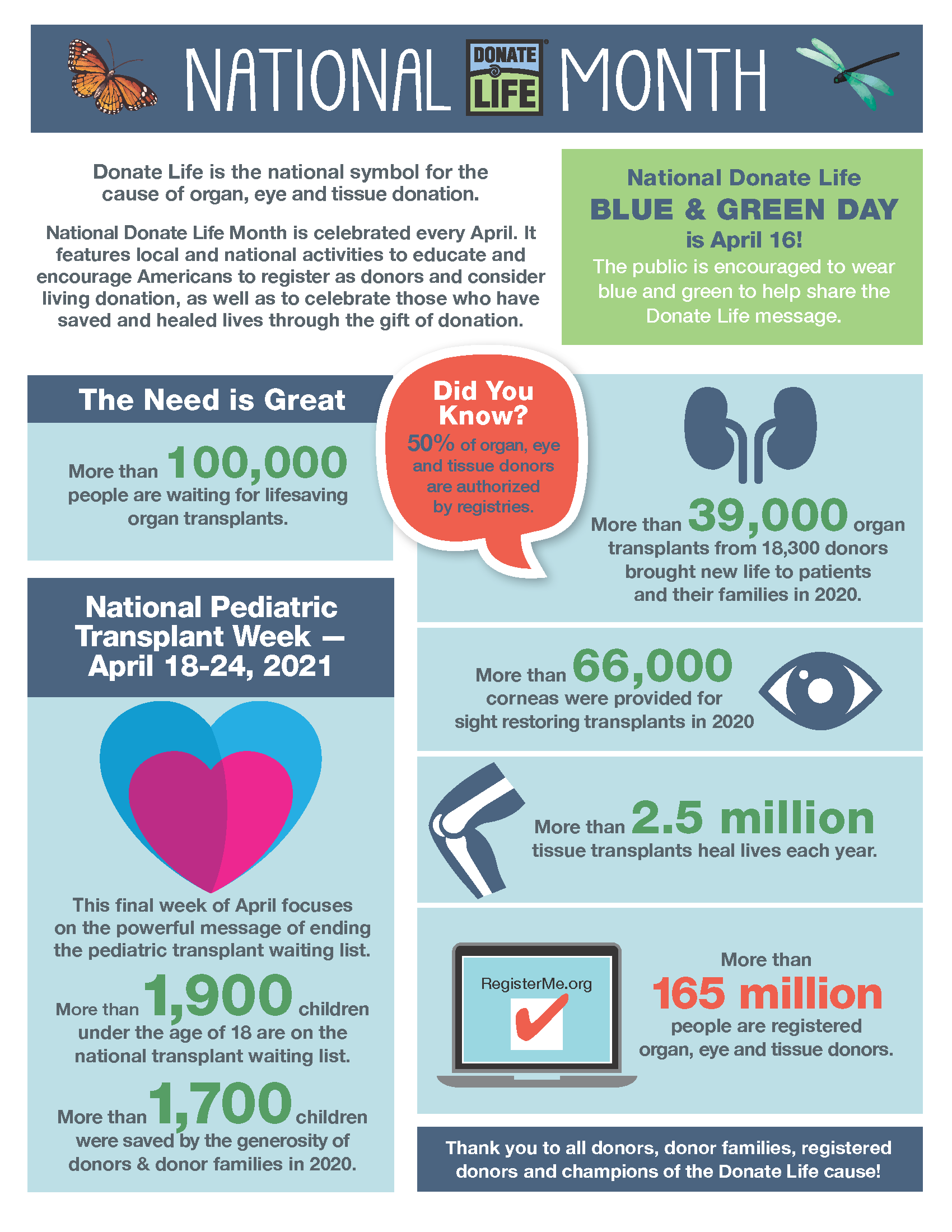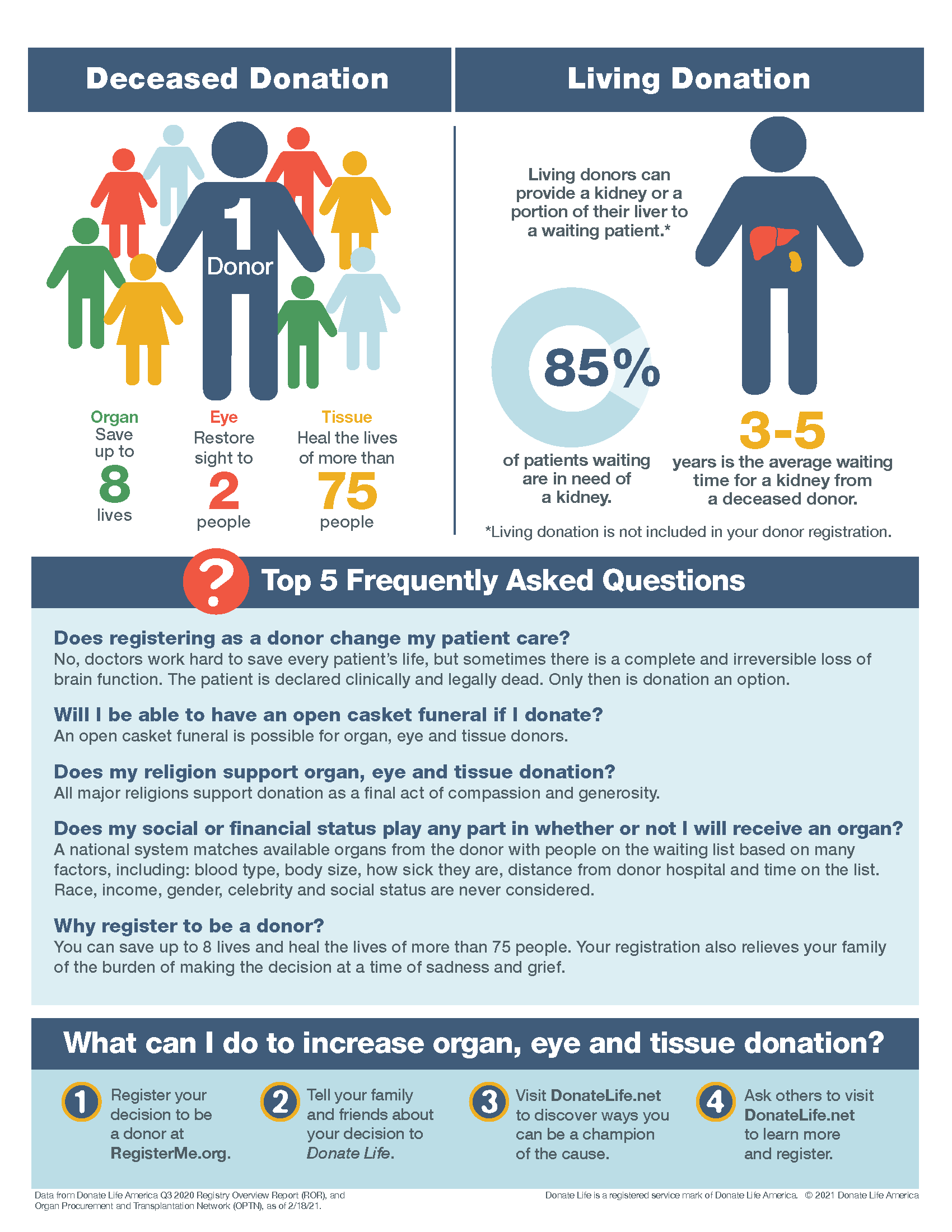 Donate Life Month has several important goals:
Celebrating new horizons and second chances made possible through the gift of life
Honoring both living and deceased organ donors and their families
Encouraging people to register as organ donors or consider living donation through education and awareness
Recognizing the medical professionals and caregivers who are an integral part of the transplant journey
"A garden and the insects within it serve as symbols of hope, courage, and transformed life."
The theme of Donate Life Month is Garden of Life. Together, we enrich and nurture our communities through the interconnected ecosystem of transplantation.
Key Dates and Events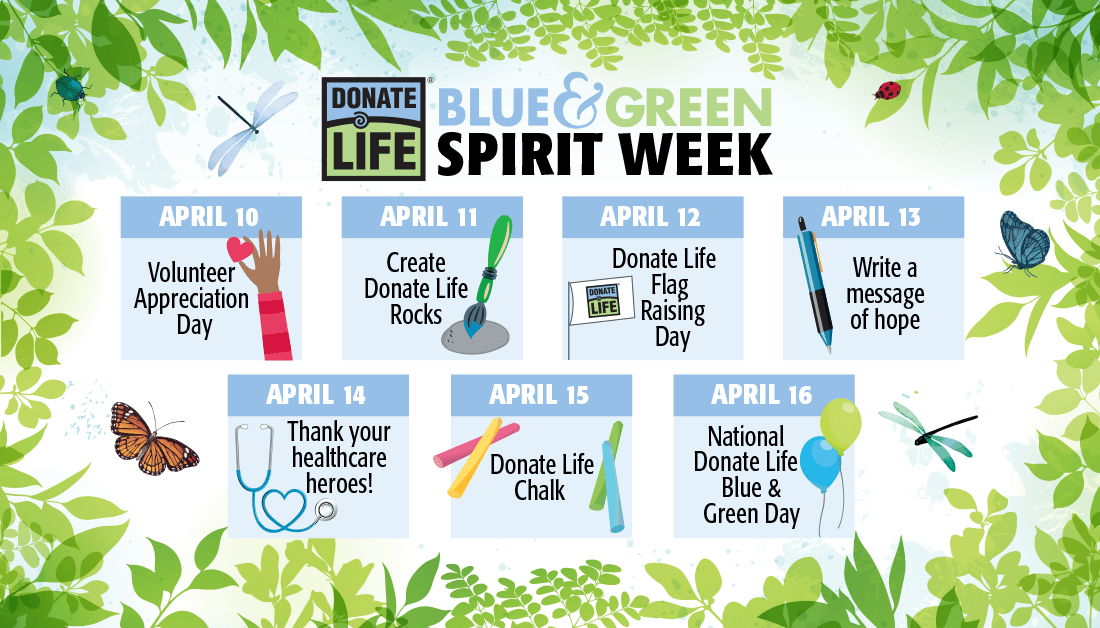 April 7: Living Donor Day. Thank living donors for their selfless gift!
April 8: Join us at 3 p.m. ET for our Hope Talk on The Stages of Transplant led by four Help Hope Live transplant patients.
April 10-16: Blue & Green Spirit Week (schedule pictured above). Download graphics and celebrate with unique daily challenges!
April 16: Blue & Green Day. Wear blue and green to celebrate the gift of life!
April 18-24: National Pediatric Transplant Week. Share your childhood transplant story and honor organ donors!
We Are Touched by Transplant

Our Touched by Transplant series is an annual celebration of the gift of life through firsthand perspectives from transplant candidates, recipients, caregivers, and loved ones. Read our previous years' stories here, and be sure to subscribe to our Latest so that you can be the first to read and share our fresh stories this month.
Want to share your own transplant story? Email sharehope@helphopelive.org if you'd like to contribute to this month's Touched by Transplant series.
The Cost of the Gift of Life
Our nonprofit was founded in 1983 by a Philadelphia transplant surgeon and his wife, a nurse, to help patients fundraise for the out-of-pocket costs associated with a heart transplant—a procedure that was still considered experimental and not covered by insurance.
We continue to serve our mission today for a simple reason: even with insurance coverage, transplant patients still need financial help to receive the gift of life.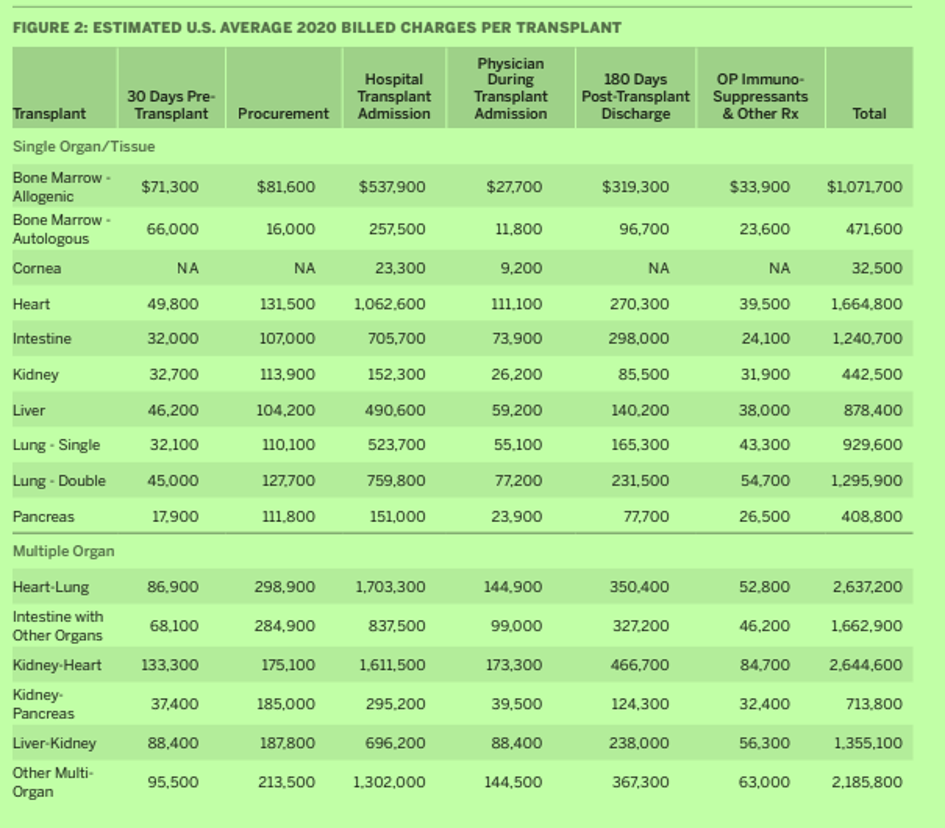 The cost of a transplant can range from $400,000 to over $2.6 million before insurance according to Milliman.
Click here to send a Tweet.
Common transplant costs include:
Health insurance premiums, deductibles, and co-pays
Pre-transplant medications
Unexpected pre-transplant hospitalizations
Medical travel and temporary lodging while you are being listed for transplant
Medical travel and temporary lodging after you receive the transplant
Relocation or moving expenses due to the transplant
Mileage, tolls, and parking fees for transplant-related medical travel
Caregiver costs, including lost work
Living donor costs, including lost work, transplant testing, and post-transplant medical care
Post-transplant immunosuppressants, which a transplant recipient must take for the rest of their life
Fundraising is often a critical safety net for transplant patients as they navigate the gift of life. Our nonprofit assists these individuals by helping them to start and manage transplant fundraising campaigns that are responsibly managed, medically verified, and backed by personalized support. Learn more here.
Fundraising During Donate Life Month
We can help you leverage this special awareness month to share your transplant story and secure critical community support. Ask your Client Services Coordinator for details about our press outreach assistance and social media support.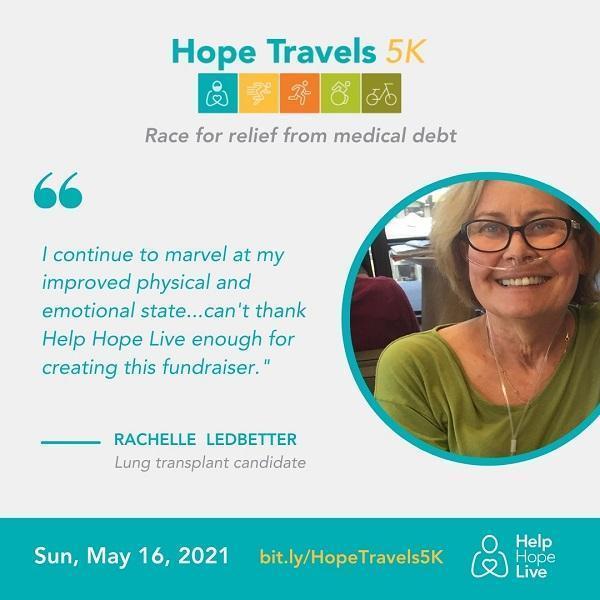 Don't forget to sign up for our Hope Travels Virtual 5K on Sunday, May 16. Register today to benefit a transplant client campaign and we will apply the $25 registration cost to the campaign as a donation—or support our mission as a whole.
Share your participation and assemble a team to amplify your fundraising impact!
Finding Hope
You can make your voice count during Donate Life Month. Here are 5 things you can do to make an impact:
Register as an organ donor and share your decision with your loved ones.
Share a post explaining how you are personally connected to this cause, whether as a transplant recipient, caregiver, family member, friend, or donor.
Debunk a common myth about organ donation.
Support a transplant-related nonprofit organization like ours by starting a Facebook Fundraiser, making a donation, or posting about why you love their mission.
Tell a patient or medical professional about Help Hope Live for transplant fundraising assistance.
Written by Emily Progin