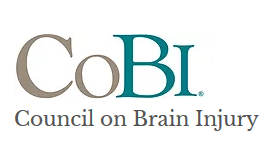 Your team traveled to Pittsburgh this week for the annual Council on Brain Injury (CoBI) Conference covering new advances in brain injury rehabilitation. The conference caters to professionals including nurses and doctors, therapists, social workers, and nonprofits like ours.
"We were met at the conference with great interest from the health provider community. We are excited to continue to build these relationships in Western PA."
Detour to UPMC
We got a chance to enjoy not only the CoBI conference but also a stop to see our friends at the University of Pittsburgh Medical Center (UPMC) Mercy. Sonny Mullen, one of our Outreach Coordinators, met with Karen Greenwald, RN, BSN, CCRC, currently the lead coordinator for Spinal Cord Injury Model System research and assistive tech studies in the Department of Physical Medicine and Rehabilitation.
What a great opportunity to connect with both the TBI and SCI support communities that are just a stone's throw from our nonprofit's PA headquarters.
"At UPMC, I loved the energy emanating out of each room, especially the physical therapy area. It was great witnessing the care and dedication given to each patient and the attention to detail within their rehab program."
Written by Emily Progin