GivingTuesday is over, but the season of giving has just begun! Ask yourself these nine questions to help set your fundraising intentions for the rest of the month (and the New Year).
Don't have a community-based fundraising campaign yet? See if the nonprofit Help Hope Live is a good fit for you.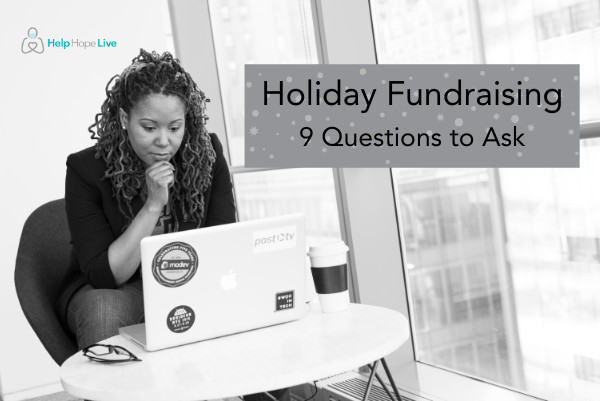 How successful was my GivingTuesday campaign this year?
Jot down notes about what worked well and what you'd like to improve next year. Time flies—before you know it, you'll be planning your 2021 GivingTuesday campaign! Now is the time to reflect and analyze.
What was my last successful fundraiser or fundraising push?
Think back to the last time you found success with your campaign. What did you do? Note anything that was successful about those fundraising efforts that you would like to replicate.
Would local news stations like to hear about my community-based fundraising success?
Feel-good fundraising stories are a hit around the holidays. Look out for a holiday press outreach guide from Help Hope Live later this month. In the meantime, keep your eyes peeled for local news stations (and specific reporters) that may cover stories similar to yours. We will ask you for suggestions for reporters or publications to contact as we develop your customized holiday press release.
When did I last update my Help Hope Live Campaign Page?
If a brand-new visitor arrives at your Campaign Page, would he or she be able to quickly figure out who you are, what you need, why you're fundraising, and what the latest developments in your story are? If not, it may be time to make some revisions and updates. Keeping your Campaign Page up to date helps to ensure that supporters feel connected to your story and get to see your progress (which will inspire them to donate again).
Who might have time to help me fundraise right now?
See if you can list at least five people you know who might be willing to volunteer their time or talent to help you plan future fundraising efforts. Keep in mind that Help Hope Live can reach out to these individuals directly to help them fundraise on your behalf.
How many friends do I have on social media?
Consider connecting with co-workers, friends-of-friends, extended family members, old friends, alumni, and others to grow your network on each platform and extend the reach of your posts. The more friends you have, the more people will see your content (and have a chance to share it with even more of their friends).
Can I start planning a fundraiser?
Whether you want to hold a small virtual event in January or an in-person event in April (pandemic safety permitting), make a list of a few fun fundraising ideas you've come across that you think your community would enjoy. Discuss these options with your Coordinator. Be realistic about how much you can tackle on your own (or with help from team members).
What did I do with my campaign last year during the holiday season?
Whether you held a fundraiser, reached out to your community with an appeal letter, or shared special content on social media, think back to your December fundraising efforts last year. Jot down a few thoughts about what worked well.
What does hope mean to me during the holidays?
December and January are great months for sharing messages of hope, gratitude, and reflection. Take the time to think about how far you've come since this time last year and what it means to you to have your community's support  as you continue your journey in the New Year. What gives you hope for the year ahead? Share your thoughts through your community-based fundraising campaign. Your authentic reflections will inspire connection and generosity.
You can discuss your answers to all these questions with your Client Services Coordinator for further guidance. Call or email your Coordinator today to access one-on-one support (and personalized materials) for your community-based fundraising campaign.
Written by Emily Progin