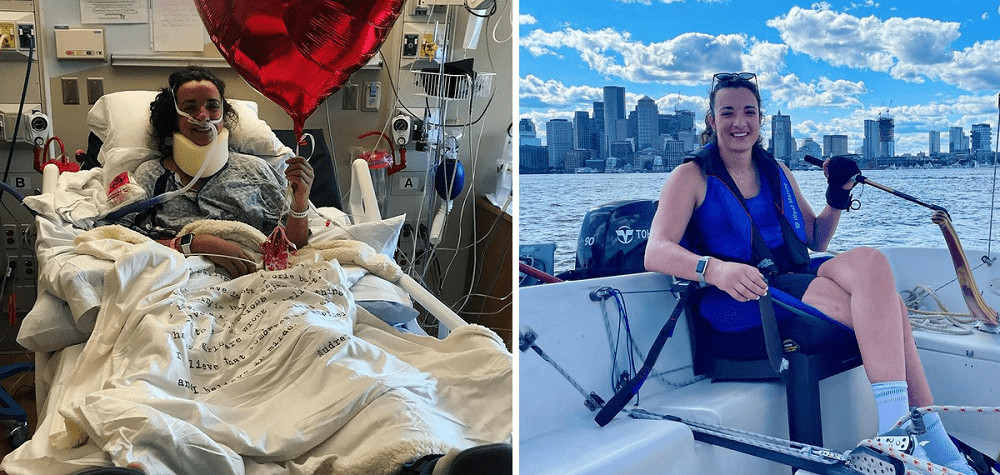 In July 2020, Dianne Vitkus' life changed in an instant as she fell 12 feet off a rooftop ladder and sustained a C6 spinal cord injury. Facing the most difficult challenge in her 28 years, Dianne's journey includes radical emotional honesty, steadfast commitment to physical therapy, and an outpouring of community support to lift and encourage her. This is her story.
On the Other Side of the Operating Table
As a surgical physician's assistant, I was very familiar with the environment when I was first admitted into the hospital after my spinal cord injury. Of course, my perspective was different being on the patient side of things, but I was able to remain calm—even as I was poked and stabbed in the ER, pushed into CTs and MRIs, and transferred onto the operating table.  
As it was all transpiring, I was able to talk myself through the steps of what I knew would happen next. I had scrubbed in during my clinical rotations to the exact surgery that I was about to receive myself.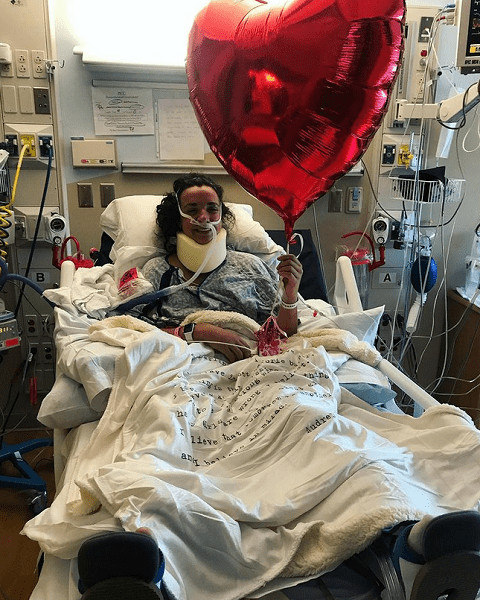 After surgery, I was able to be my own care advocate in the ICU and be a central part of my care team based on my background knowledge. It wasn't until I got to rehab that I truly felt out of my element and overwhelmed with what my future had in store for me.  
I learned fast that "recovery" meant so much more than just going to therapy. Bowel and bladder management, chronic pain, low blood pressure, medications, pressure sores, UTIs, short-term and long-term disability, SSI vs SSDI, wheelchair fittings, adaptive tools and equipment—I learned about these things in school, but I never had to think about applying them to myself. The reality of that was the biggest pill to swallow.  
SCI Emotions: Fury and Depression, Acceptance and Hope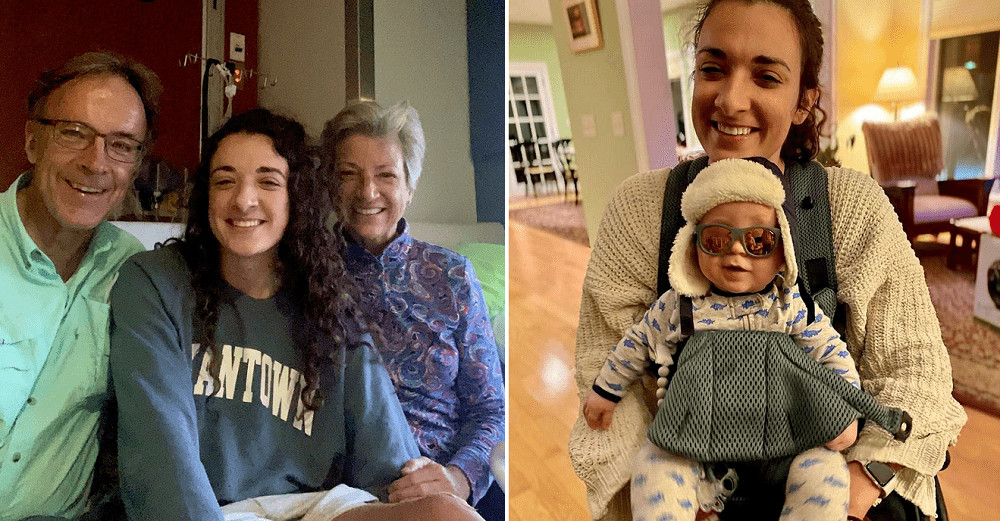 Over this past year since my SCI, I feel like I have experienced every emotion possible. 
When I first fell, I remember laying on the ground in disbelief, embarrassed that I had made such a devastating slip off the ladder that I was on. As I was about to enter the OR to repair my fractured neck, I broke down crying on the phone with my parents, terrified of what the outcome would be.  
When I woke up from surgery and saw my mom sitting next to me, all I could do was smile because I felt so happy to be awake and alive. Seeing my mom's horrified face, I felt terrible for causing so much pain to my family. I knew they were scared. I apologized endlessly, and I blamed myself for what happened.  
As the days passed and complications arose, I became angry at my situation. Why aren't my nerves waking up? Why can't I wiggle my toes or move my fingers? Anger turned into fury. 
Unable to move the majority of my body while lying awake and intubated, I became anxious. I had panic attacks almost every night. My eager spirit led me to try to move my new body before I was ready, which resulted in many falls off the bed, leaving me feeling disappointed and helpless on the ground. I earned myself a "fall risk" wristband.  
Because my diaphragm was affected by my injured spinal cord, I had to relearn how to breathe. This process was complicated by a punctured lung, pneumonia, and a mucus plug. I was so frustrated that I wasn't progressing.  
The outpouring of community support I received through cards, flowers, and gifts kept me from entering depression. I had so much gratitude in my heart—but I still had so much grief for the loss of my old life.  
As I left the hospital and entered the next stage of my recovery, rehab at Boston's Spaulding Rehabilitation Hospital, I became overwhelmed as I learned how many changes I would have to make to my everyday life once I got back into the world.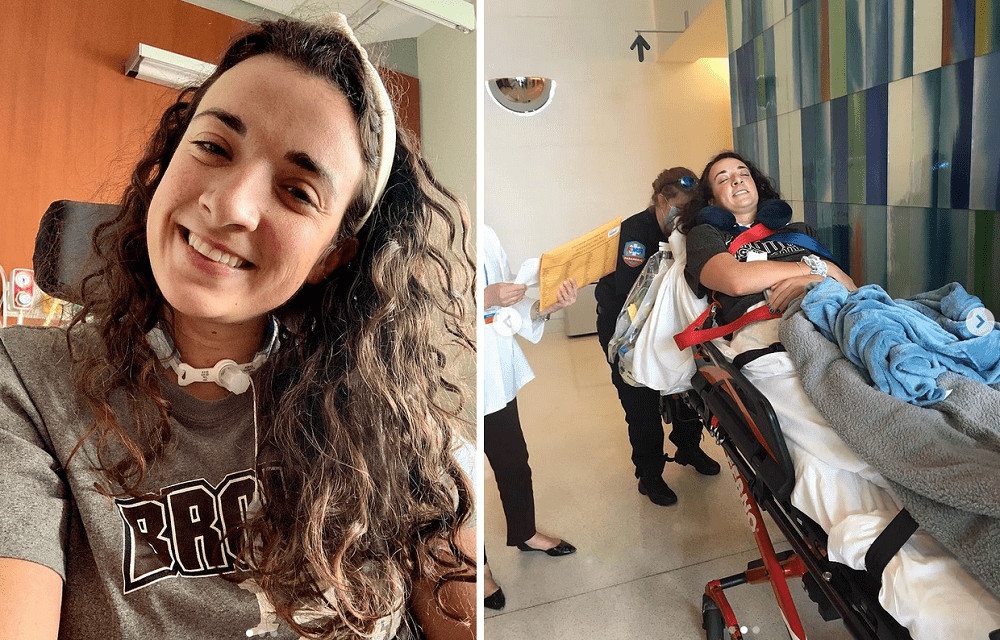 I felt so alone, constantly trying to explain to people what I needed when I didn't even know the answers myself. I entered a short state of depression when I left rehab, realizing that I would likely be in a chair for the rest of my life. It made me question whether I wanted to live at all.  
As I got the daily help and equipment that I needed to settle into a routine, my life slowly became easier. Today, I have entered a state of acceptance: I will never get my old life back, but that doesn't mean my new life can't be great. I don't have to walk to be happy, but my will to walk will never cease. Over time, I have developed a sense of hope for the future.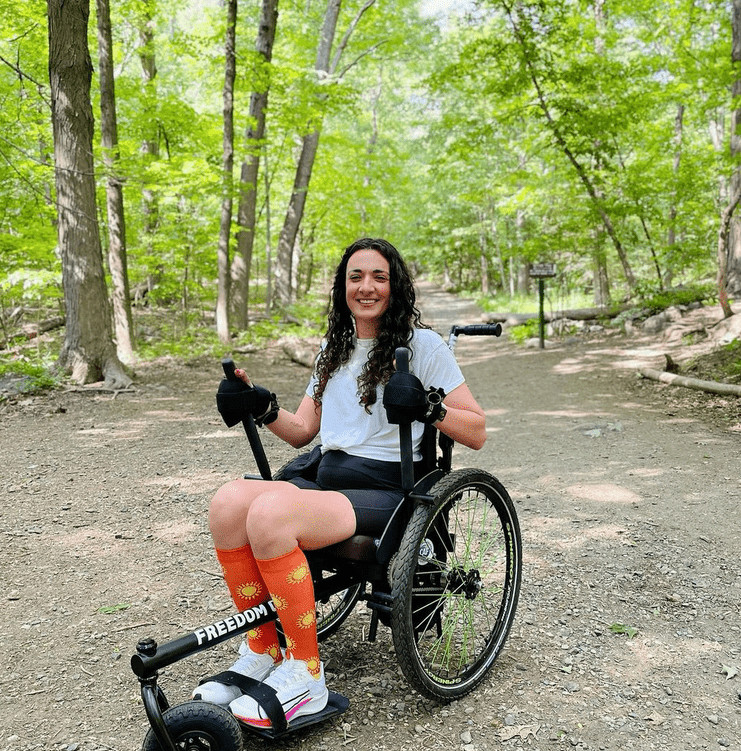 As the Sun Will Rise Again, So Will I
I have always had a contagious spirit of optimism and perseverance. I believe that if you have a positive mindset, even in the midst of bad circumstances, you will recognize the good things in life that are worth celebrating and fighting for—and when that happens, you become a force to be reckoned with.  
I continued to embody this naturally positive outlook after my SCI, though I did have to be a little more mindful in cultivating it.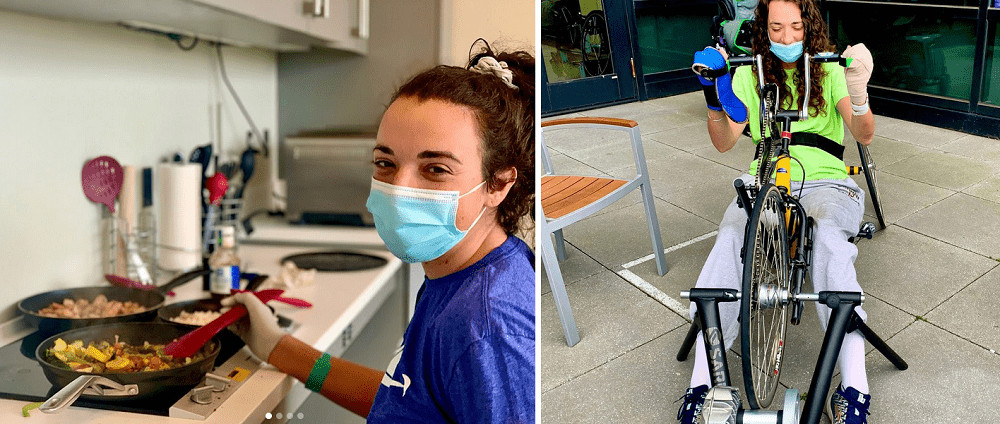 Every day, instead of focusing on not being able to walk, I find one good thing that I am thankful for—however slight it may be. I'm not saying that I don't have bad days, but when they come, I allow myself to be sad, frustrated, or angry, all the while knowing that tomorrow is a new day. Just as the sun will rise again, so will I.  
Community Support During COVID-19
I was injured in the midst of COVID-19 lockdowns. On the day of my surgery, my parents were not allowed to come and visit me until eight hours after the procedure—and only one parent could visit per day. My maximum number of visitors was six people, so I had to limit my list to my two parents, my two sisters, and two friends.  
I was in the ICU for one month. My sister Karen made a daily visitor schedule so that I had something to look forward to every day. Although I wasn't able to see them all every day, I felt their love from afar.  
The influx of cards, flowers, balloons, and gifts from my community began almost immediately. I kept on wondering how everyone knew what had happened to me so quickly. The love never seemed to stop flowing in. Pretty soon, my entire room was full of offerings of encouragement and support. It gave me so much more strength to keep fighting.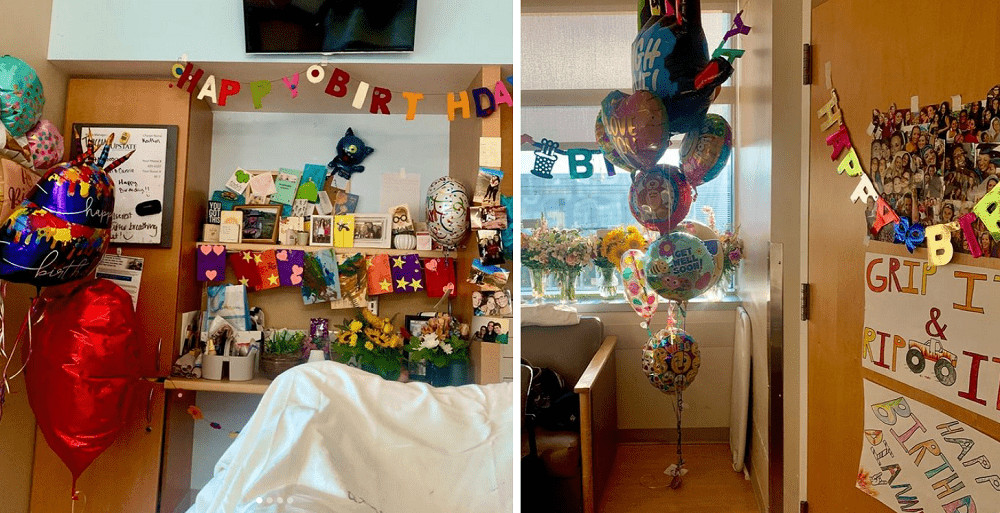 Community Support: Instagram and Fundraising with Help Hope Live
I created a new Instagram page, @vittysvoyage, right after I left the hospital and started rehab so that I could track my progress and update my close friends and family on everything I had endured up to that point.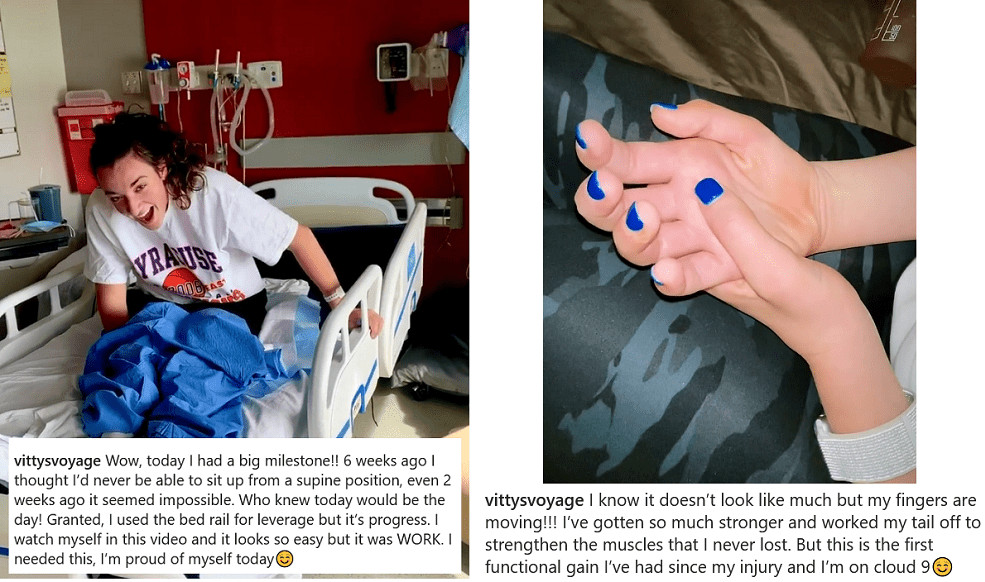 Initially, I was still very embarrassed to share—I was at a point where I still blamed myself for what happened. For this reason, I kept my account private for the first month or so. It took time for me to fully come to terms with my injury, accept it, and be ready to share it with the world.  
With the amount of people reaching out, leaving Guestbook messages on my Help Hope Live Campaign Page and making donations, I knew that eventually I would make it public as my way of saying "thank you" for all their support. Once I did, the response was greater than I could've ever imagined.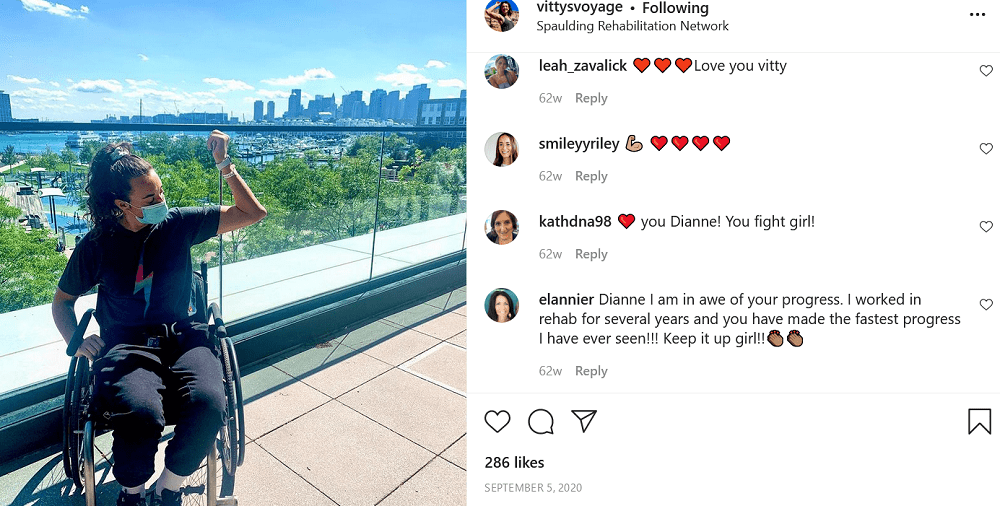 My community support system has been the driving contributor in my recovery journey. From my  hometown to former teammates along with their parents and team alumni associations to my new Boston community, everyone has shown different ways of supporting me—support that I never thought I would need one day.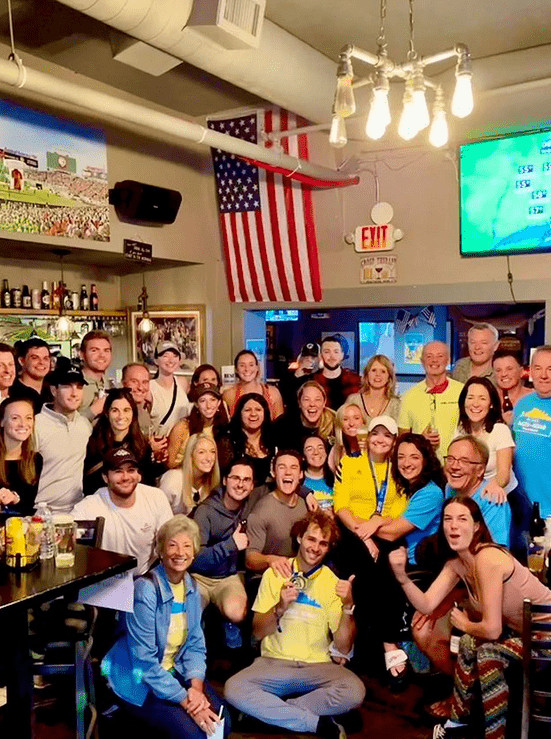 As people started asking how they could help, my dad researched how to fundraise after an injury like mine. He came across the Christopher and Dana Reeve Foundation, which has had a huge impact on SCI education, advocacy, and research on both a national and international level. Through that connection, we found Help Hope Live. 
Fundraising with Help Hope Live has not only been instrumental financially but has also enabled me and my family to connect with other individuals who have endured injuries like mine and their families.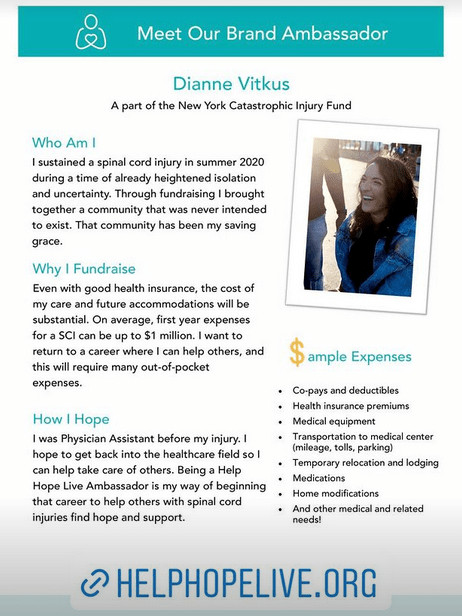 The Power of PT and Remaining an Athlete After SCI
When I first got out of rehab, I was going to therapy six times per week: three sessions of occupational therapy and three sessions of physical therapy. My goal was to regain my independence, and to do so as fast as I could. I often felt helpless in my apartment by myself, but I also didn't want a full-time caregiver or personal assistant.  
My biggest stride toward independence came when I was able to get in and out of bed by myself. I worked hard in therapy to achieve it. Today, I go to PT once per week. With support from surgeries and muscle strengthening, my next goal is to have a grip again and be able to pick things up independently with ease. That would be game-changing in my everyday life.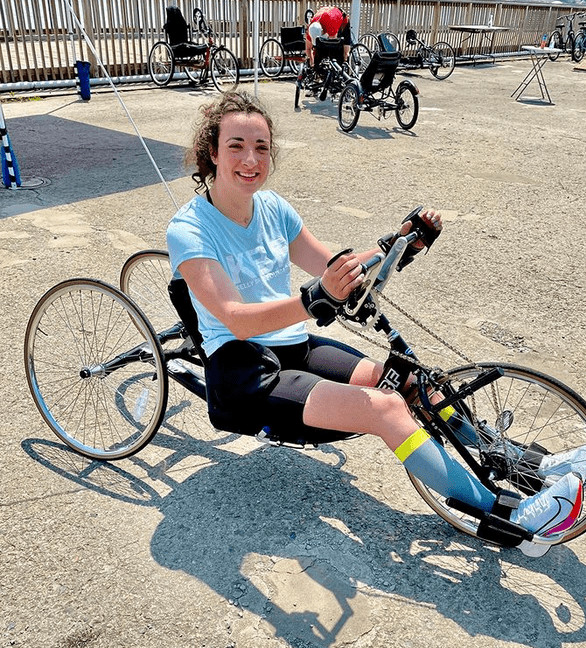 One of my goals over the summer was to try as many adaptive sports as I could and treat each sport adventure as if it were a therapy session. Cross-training activates different muscles at once to improve my overall fitness, prevent further injury, and decrease recovery time—all of which make it easier for me to function.  
Movement and sport have always fueled my mind, body, and spirit. I grew up in upstate New York as a three-sport athlete and went on to play D1 collegiate lacrosse. After college, I stayed active, joined a HITT gym, ran a marathon, and biked and hiked regularly.  
I did not allow my injury to stop me from being an innate athlete. I now live in Boston and have access to many adaptive athletics opportunities through which I can challenge, push, and compete with myself just as I once did.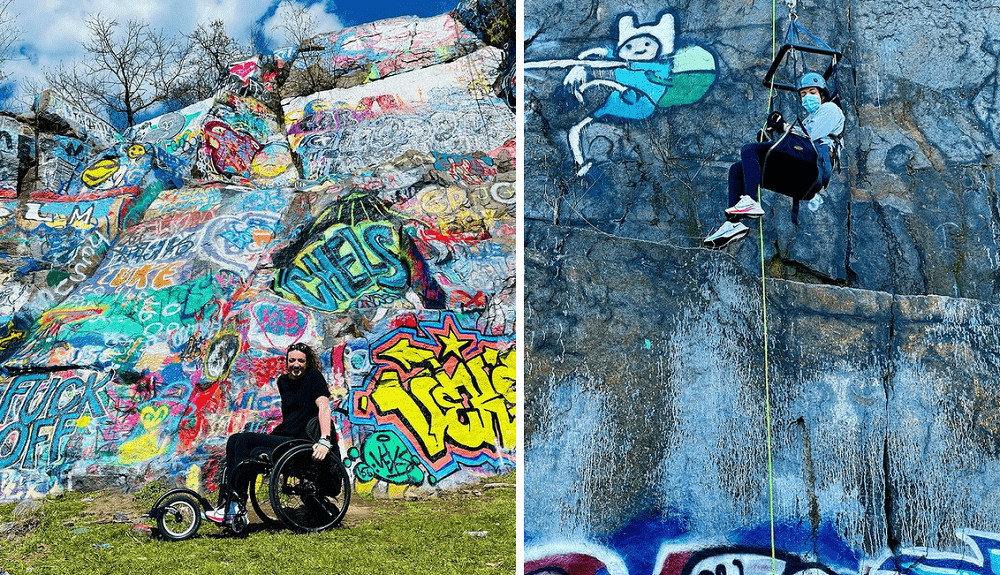 I go to a specialized paralysis gym, Journey Forward, for three hours every Friday. Since the cost is not covered fully by insurance, fundraising is a critical part of this rehabilitation effort. While there, I stand often, allowing me to put weight back on my legs, and I walk using Lokomat robotic-assisted training therapy. I work out my upper body and use neuromuscular electrical stimulation (NMES) to complete specific tasks using my paralyzed muscles.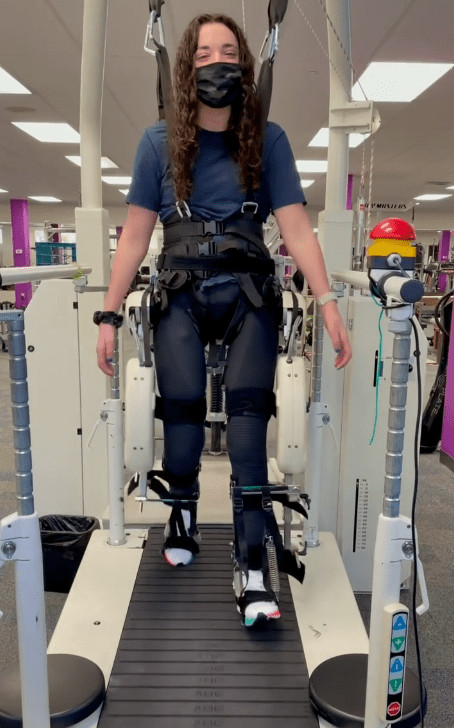 I am also a member of the ExPD program, or Exercise for Persons with Disabilities. The cornerstone of the ExPD program is indoor adaptive rowing using functional electrical stimulation (FES). I row three times per week. With the Spauling Adaptive Sports Program, I also handcycle and kayak once per week. I've gone windsurfing with Access Sport America and sailing at Piers Park.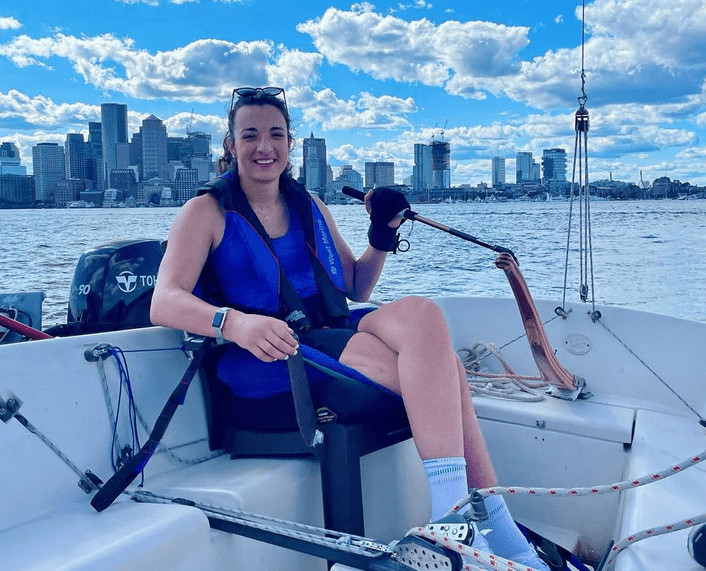 What Society Struggles to Accept About Life After SCI
With an injury like mine, I feel like the world expects you to wither away in a state of depression. People are often surprised by how busy I am. With an update on my Campaign Page, I reflected on my -year SCI anniversary with, "It's weird to say that I feel okay"—that's because society generally says that I shouldn't be able to be okay after an injury like this.  
In addition to giving back to my community of support, I continue posting on my Instagram because I want to familiarize society with disabled people and teach them that although life with a disability might be harder, it can still be filled with fulfillment and happiness.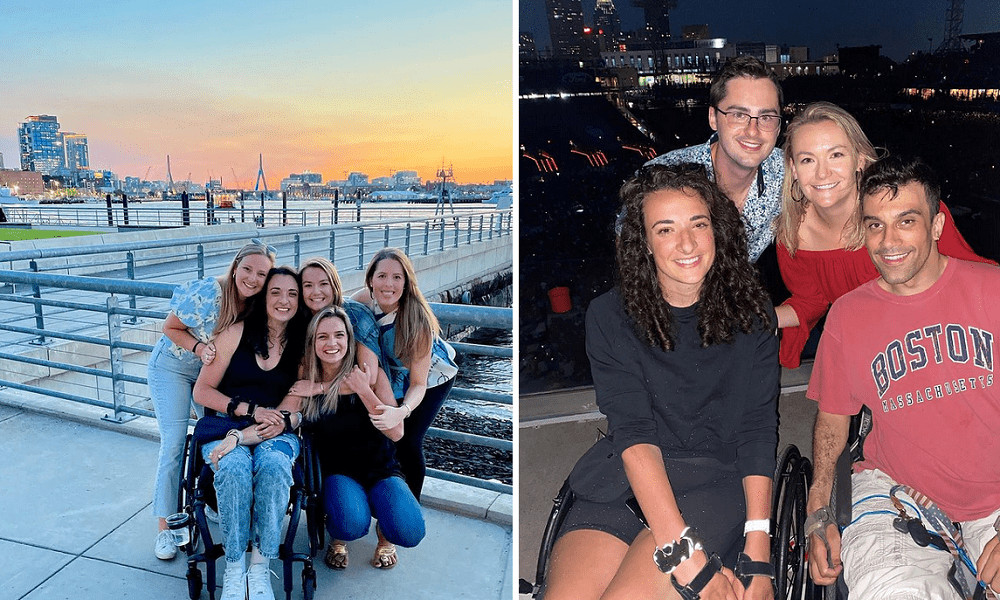 My Next Steps
I am ready for the next steps in my lifelong SCI recovery journey. I have three goals I'd like to achieve before my two-year SCI anniversary:  
To get my

license and an adaptive vehicle

. This will open doors for me, as convenient and accessible transportation is currently one of my main barriers. 

 

To get my

fingers working with full grip

, which should open doors for my independence. 

 

To get

back to work

as a physician's assistant. 

 
After I achieve these goals, I'd like to get a service dog to help me be more efficient in my daily life. What I'd love more than anything is to get the epidural stimulator that is still in clinical trials. If I do manage to get it, the specialized trainers and therapists I work with will be able to maximize the benefits and get me walking again. 
That is the hope, that is the dream—and I just can't wait.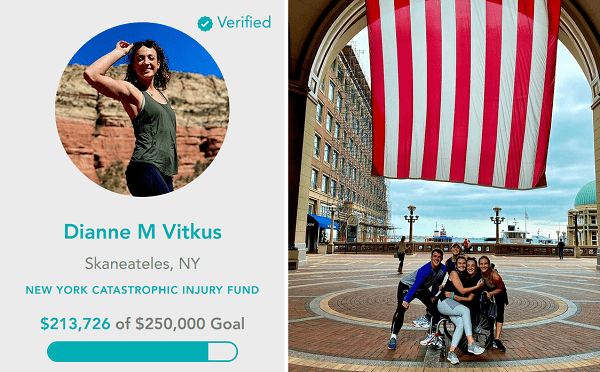 Follow Dianne's Campaign Page and her Instagram for updates. We are proud to welcome Dianne as a Help Hope Live Brand Ambassador as of November 2021.
Written by Emily Progin