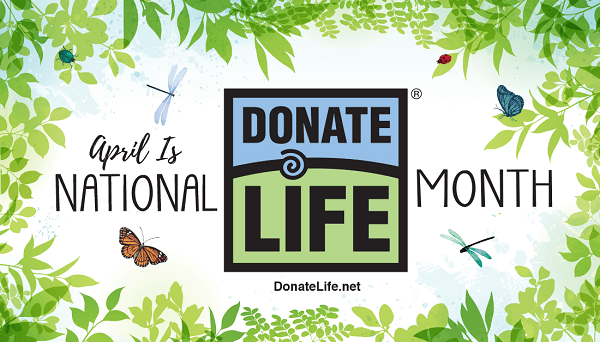 Each year, we look forward to April 1 as the kick-off of one of the most significant months of the year for the Help Hope Live transplant community: Donate Life Month! We love bringing you stories of how our transplant clients and their loved ones have been Touched by Transplant.
This year, we know Donate Life Month is kicking off during a challenging and uncertain time for many people in the transplant community. As Donate Life America explains, "information about COVID-19 is changing daily." Cancelled events, constant news updates, lifestyle changes, health concerns, stress: these are all things we know the transplant community is facing at the start of what is typically one of the most hopeful and joyful months of the year.
At Help Hope Live, we are keeping things simple. Hope is our middle name, and we believe that no matter what changes come our way, hope is NOT cancelled—and neither is Donate Life Month.
Please join us this month in celebrating the exceptional power of the gift of life through tissue and organ donation! We want to hear and share your stories, keeping our sights fixed on hope throughout Donate Life Month and beyond.
Email us now with your stories, photos, and videos. You can tell your personal transplant story, offer advice and tips for other transplant patients, celebrate an organ donor or a medical professional who changed your life, or anything else that represents Donate Life Month to you.
As always, we are accepting content from anyone who has been Touched by Transplant, including transplant candidates and recipients and their family members, living donors, family members of organ donor heroes, caregivers, advocates, and medical professionals. If email isn't your preference, you can also send us a message on social media or tag @helphopeliveorg in a post.
Not sure how to start? Here are a few ideas:
In one word, how would you describe what transplant means to you?
How do you plan to recognize or celebrate Donate Life Month?
Why is organ and tissue donor awareness important to you?
What are a few things that others wouldn't know about you just by looking at you?
How much did you know about transplants before you were personally affected?
How has COVID-19 affected your transplant journey?
What's the most common misconception about transplantation?
How do you celebrate your donor(s)?
What are you fundraising with Help Hope Live for?
What are some of the feelings that you share with other transplant patients?
What would you tell someone who is facing a transplant?
How has your community been there for you during your transplant journey?
Name someone you consider a transplant hero.
What would you plant in your "garden of hope"?
Check out some of our previous Donate Life Month content for more ideas: Touched by Transplant
No matter what comes our way this month, let's make it the most uplifting and hope-filled Donate Life Month we've ever celebrated together. Let's grow some hope!
Written by Emily Progin