Winter is coming…but first, there's #GivingTuesday, the single biggest charitable giving day of the year. This year, #GivingTuesday falls on Tuesday, November 27.
You can take simple steps leading up to this global day of giving to maximize donations to Help Hope Live in your honor, or pledge your support to our mission with a special donation or Facebook Fundraiser.
How You Can Help
If you'd like to support our mission on #GivingTuesday, we're asking you to pledge $35 – just $1 for every year we've been helping families facing a medical crisis to get the care and equipment they need to heal, live, and thrive. Simply click the button below and donate $35 to show you believe hope and community support can make a difference for individuals who are facing some of the darkest moments in their lives. Share your commitment on social with #35for35 and explain why our mission matters to you. Your words could inspire someone else to give, too!
How We Give Back to Clients on #GivingTuesday
Help Hope Live covers the 2.65% credit card fee for all donations made in honor of Help Hope Live clients at helphopelive.org from 12 a.m. EST on Tuesday, November 27 to 3 a.m. EST on Wednesday, November 28. #freethefee
Contact your Client Services Coordinator by Friday, November 16 to request a custom #GivingTuesday flyer to share in person or online to help promote the special deal on donations.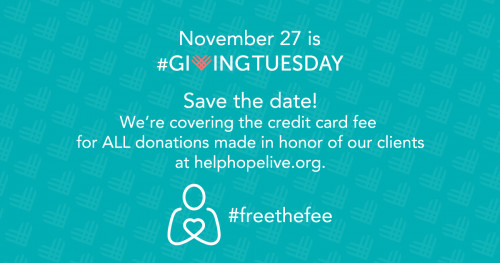 Maximize Donations: Refresh Your Page
Ready to spread the word about #GivingTuesday and #freethefee? Make sure your Campaign Page is up-to-date.
Upload a new, recent profile photo
Make sure your About Me section is still accurate
Add an Update summarizing your journey since you last updated the page, including breakthroughs and setbacks
Maximize Donations: On Social Media
Click to download #freethefee graphics:
Post throughout the month encouraging friends and supporters to mark their calendars and donate on #GivingTuesday for maximum impact
Share examples of how donations will improve your life
Tag all your posts with the hashtags #freethefee and #GivingTuesday
Example posts: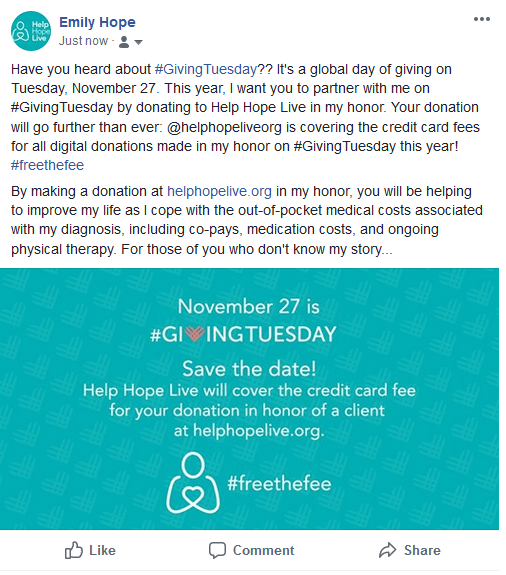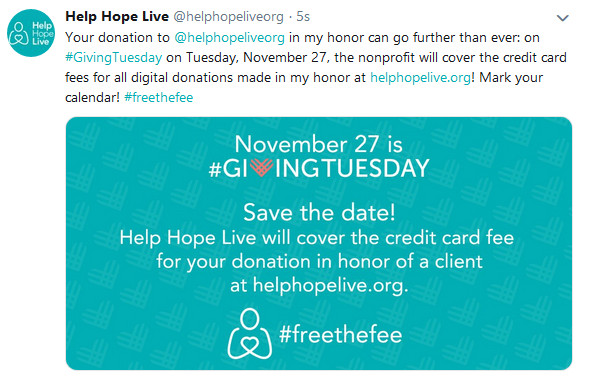 Facebook Fundraising and Matching Donations
You can create a Facebook Fundraiser to benefit Help Hope Live at any time, but there's a special reason to create a Fundraiser before #GivingTuesday this year:
Facebook is partnering with PayPal to match up to $7 million in donations made on Facebook to eligible US-based 501(c)(3) nonprofits.Donations up to $250k per nonprofit and $20k per donor are eligible to be matched.
Facebook and PayPal will match donations starting at 5am PST on November 27 and continue matching donations to nonprofits until the $7M match runs out.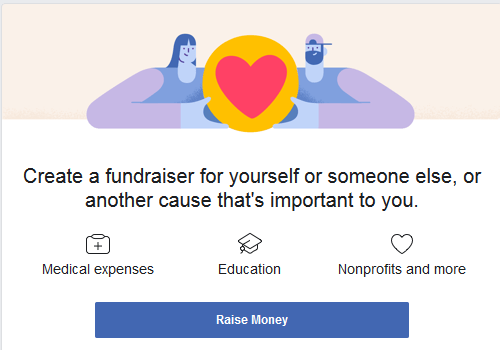 Special considerations:
Review our Facebook Fundraiser instructions before you create a Fundraiser of your own.
Create your Fundraiser BEFORE #GivingTuesday so you can maximize your chances of getting a match and engaging your community.
Want to start a Fundraiser in honor of one of our clients? Make sure "in honor of [Name]" appears in the title or description of your Fundraiser. Otherwise, donations will come to Help Hope Live without a designation to benefit our mission as a whole.
If you are a client or team member, mention your Facebook Fundraiser to your Client Services Coordinator.
Keep in mind matching donations are controlled and managed by Facebook and PayPal; do not contact Help Hope Live for updates or assistance with this matching gift. We do not receive updates or additional information on the match beyond what the general public receives.
Following Up
After #GivingTuesday ends, post a message of gratitude as an Update on your Campaign Page thanking everyone who shared and donated in your honor. Don't forget to:
Re-share your update on social media (consider pairing it with a live video or fresh photo)
Email any donors who may not be active on social media
Let the Countdown Begin!
Help Hope Live usually receives quadruple the typical amount of donations on #GivingTuesday. As a client or team member, you owe it to yourself to follow these tips and contact your Coordinator to put a strategy in place to take advantage of this special day of giving.
Written by Emily Progin