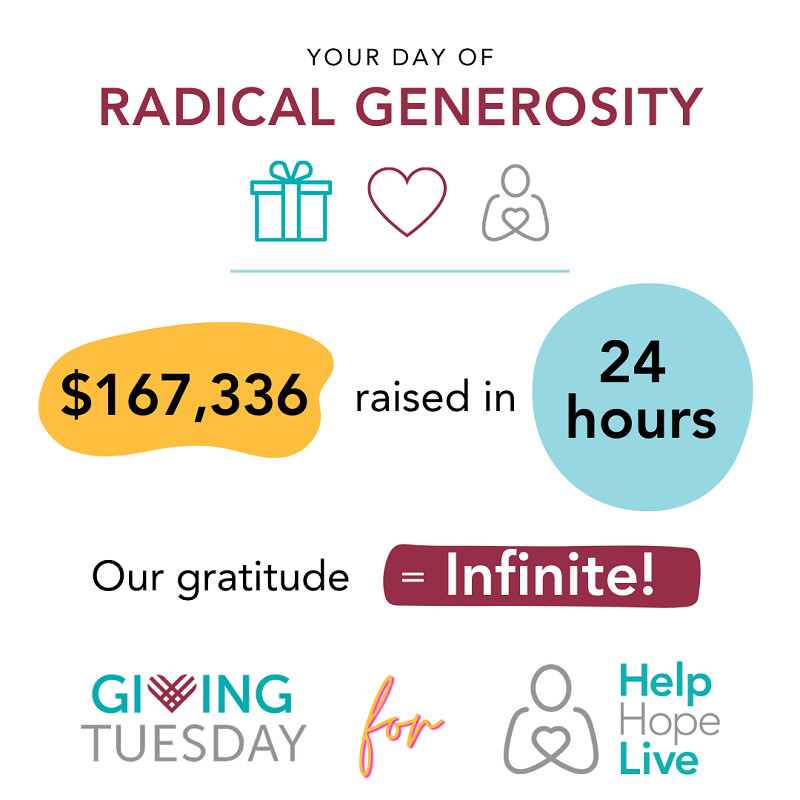 You did it again. The Help Hope Live community came out in full force for another GivingTuesday this November 29, 2022.
What your radical generosity made possible:
$167,336 raised in just 24 hours
Our West Coast friends made an additional $1,500 in donations before GivingTuesday officially came to a close, bringing our grand total to over $168,836.
$127,967 in donations through helphopelive.org
371 donors contributed to this jaw-dropping total. By 10 a.m. on GivingTuesday this year, we had already received TRIPLE the online donations in honor of clients of the entire previous day.
$40,869 raised through Facebook Fundraisers

You are the reason hope touches every community in every corner of the U.S. and beyond. Thank you for being a radically generous part of this year's epic day of giving.  
P.S. Didn't get a chance to participate? You can still give here! 
Act Local - Think Global!
Wondering how GivingTuesday made a splash in 2022 beyond the Help Hope Live community? Here are a few incredible statistics:
Giving in the U.S. alone topped $3.1 billion on GivingTuesday in 2022
That's a 15% increase compared to GivingTuesday 2021 and a 25% increase compared to GivingTuesday 2020!
37 million people in the U.S. participated in GivingTuesday 2022
That's 6% more people than last year. We love this quote from GivingTuesday's CEO, Asha Curran:
"The most magical part of GivingTuesday is that it's made possible by the many and not the few; everyday people's kindness, acts of generosity, and commitment to a better world fueled this day of good."
Save the Date!
GivingTuesday will be back before we know it on November 28, 2023.  
What to Do Next
If you're a Help Hope Live client or team member, you may be wondering what to do now that GivingTuesday is over. Help is here! Click the button below to read our follow-up tips for taking on the rest of this charitable holiday season.
Written by Emily Progin