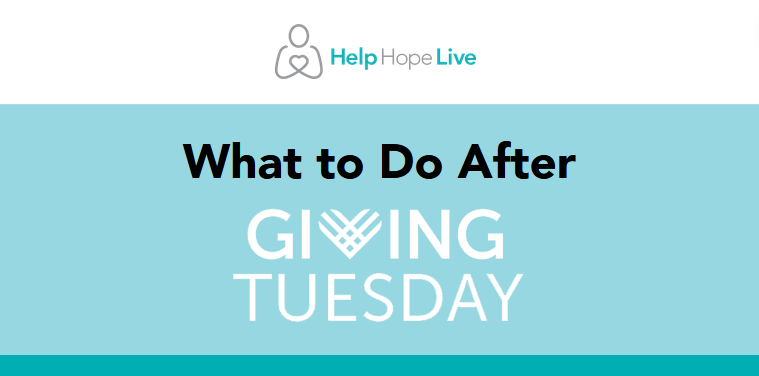 Help Hope Live's biggest giving day of the year is behind us—but the most giving SEASON of the year is just getting started. If you've wrapped up your GivingTuesday experience and want to know what to do now as a Help Hope Live client or team member, read on!  
Don't see the answer you need? Reach out to your Client Services Coordinator for some assistance, and don't be afraid to share some of your tips, ideas, and insights for GivingTuesday 2023. It's never too early to start making plans!
Top Questions After GivingTuesday
Tips for Following Up After GivingTuesday
We recommend taking two steps as soon as possible now that GivingTuesday is over: 
First, say thanks!
The very first thing you should do is to put together an authentic and heartfelt message of gratitude to share with your community. We recommend sharing this message on all your social media platforms, on your Facebook Fundraiser (if you have one), via email, and via text. 
Pair your post with a photo or a video—better yet, turn your entire post into a short video of thanks! The more visual you can make your thank-you, the more engaging it will be to your community of support.  
A few tips:  
-Don't just thank people who donated: thank people who liked or commented on your content or passed it along to others. They made a huge impact, too—make sure they know that! 
-Talk about how you feel. Did your community's support make you feel proud? Humbled? Speechless? Energized? Help your supporters get into your mind and heart so they can feel what you feel.  
-Was anything better about your GivingTuesday this year than last year? If anything stands out, share that, too. It's always nice to make a connection that links past generosity with new kindness.  
-Do you plan to pay it forward? Even if it's just sending out kind thoughts to others in need in your community, share your plans for using generosity to fuel something great in the future.  
Second, share the impact of your community's generosity!
For someone facing a medical crisis, it's easy to see the immediate need for financial help—and the immediate impact of donations and support. However, if your supporters are in a different situation, they may struggle to make the connection between a generous gift and the change it may make in your day-to-day life. 
So: why not help them understand it?  
To highlight how generosity changes your life, brainstorm a few concepts to share with them using the starting points below. If you have anything visual to pair with your post, like a photo or video, add it on! It's always better to show AND tell.  
"As you know, over the past year I've been struggling with…" 
"The top three things I am fundraising for are…" 
"The last thing I had to pay for out-of-pocket was…" 
"Thanks to your donations, I will be able to…" 
"Your support helps me believe in…" 
"Thanks to you, I am closer than ever to my goal of…" 
"What hope means to me is…" 
"Community support is important to my life because…" 
Bonus Homework: Capture Your Inspiration
We saw a lot of posts, fundraisers, and creative ideas this year that gave us new concepts to ponder for GivingTuesday 2023, from heartfelt videos to awesome email appeals.  
Did you see any GivingTuesday content this year that gave you new fuel for next year's festivities? While these thoughts are fresh, it's a great time to share your inspiration with your Coordinator so they can be ready to give you the best support possible for GivingTuesday next year.
What's Next?
You decide how you want to engage your community of support as the holiday season continues—but we're here every step of the way to offer our personalized support. Stay in touch so we can offer you encouragement, ideas, customized materials, and more throughout the end of the year and beyond.
Written by Emily Progin