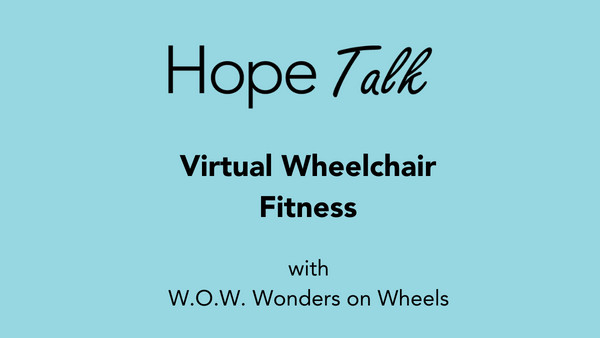 We've just announced two Virtual Accessible Fitness Hope Talks for February!
Join us on Tuesday, February 7 or Tuesday, February 21 from 6 to 7 p.m. ET.
About Our Virtual Fitness Hope Talks
These classes are wheelchair-inclusive but open to anyone who wants to participate – all fitness levels and ability levels are welcome. It's a lowkey and welcoming environment. You'll love it!
The new year is the perfect time to start your fitness journey and we've made it easy for you! Each month in 2023, W.O.W. Fitness & Wellness will be offering two fitness classes to help you stay active and feeling great. W.O.W. knows that the secret to achieving your fitness goals is to make fitness FUN! Commit to staying fit and let 2023 bring you healthy happiness.
About W.O.W. Wonders on Wheels
W.O.W. Wonders on Wheels is an organization that offers courses designed for wheelchair users but accessible to everyone. W.O.W. currently offers 10 livestream classes per week plus on-demand fitness and class videos that can be accessed anytime.
We are excited to have the fun and energetic Justin Graham leading this class. Justin is a certified personal trainer, fitness nutrition specialist, and certified Zumba and Chair One instructor who leads by example, provides knowledgeable feedback, and shares his fun and contagious energy in every workout.
Do you have personal fitness goals that you'd like to achieve? You can get personal with help from the certified personal trainers at W.O.W.
Written by Emily Progin