NOTE: our administrative fee changed from 5% to 3% on October 1, 2021. This post has been updated accordingly.
We are thrilled to announce the launch of a brand-new feature for Help Hope Live campaign donation pages: donor-covered fees. Take a look:

Donors can now choose to cover the 5.65% fee (3% administrative fee plus 2.65% third-party processing fee) as they make an online credit or debit card donation in honor of a client. 100% of the remaining donation will cover client medical costs.
Donors can also choose to add a tip to Help Hope Live to further increase their impact. These tips will be a significant source of support for our operations, particularly in light of the unique financial pressures that we're facing during COVID-19. Hope is not cancelled! Learn more about our COVID-19 response here and our COVID-19 Relief Fund here.
These options are also available on event registration pages: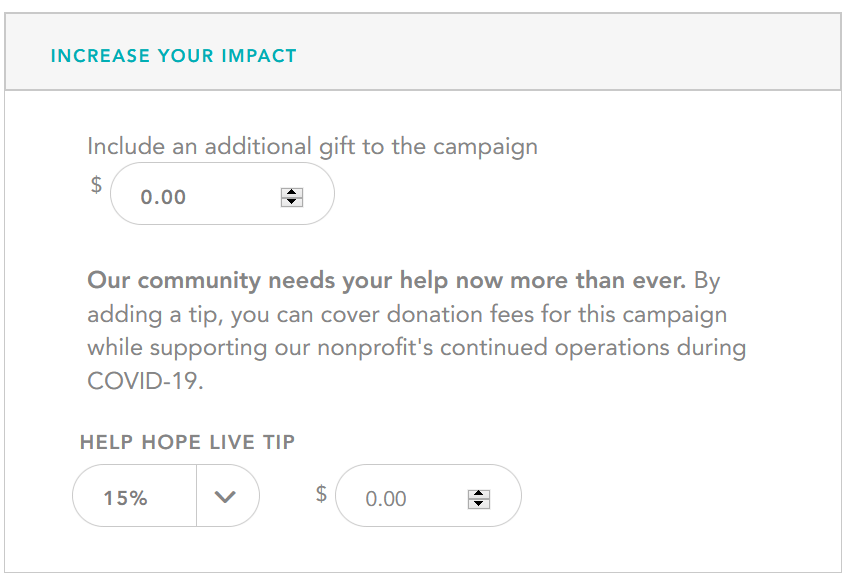 More Help, More Hope
Both donor-covered fees and Help Hope Live tips are optional.
We hope this special upgrade will inspire communities to continue placing medical care within reach by engaging with Help Hope Live fundraising campaigns.
Written by Emily Progin