A brand-new feature just went live on our website that we know you're going to love: verification badges! In this post, learn exactly how our newest feature helps you to inform and engage your community—plus some good news about our Charity Navigator rating.
You're Verified!

Our new verification badges appear on client Campaign Pages—you'll see them front-and-center at the upper right corner of the gray box that contains your Campaign Picture and the big gold GIVE button.
As you know, Help Hope Live verifies medical and financial need for every single client. We do this by partnering with Medical Professionals to authenticate the medical condition and anticipated out-of-pocket medical expenses of each client before we will disburse funds to cover related costs. Now a verified badge will appear automatically as soon as a campaign becomes disbursable, assuring community supporters that they can give with confidence!
Even though we've been documenting our clients' medical and financial needs from the beginning, with our new verification badges, you can easily share this fact with your entire community.
Anyone who visits, shares, or donates in your honor will know three important things:
Funds are being raised in honor of a real person with a real need
A medical professional has confirmed this need
Funds raised will only be used to cover medical and related expenses associated with this need
Our verification process and new verification badges are entirely unique: GoFundMe campaigns and other for-profit crowdfunding campaigns do NOT provide this kind of assurance to community members who support their medical fundraising campaigns.
And while we're on the subject of earning trust and accountabilty, here's one more good reason to fundraise with Help Hope Live…
4 Stars from Charity Navigator for 16 Years in a Row!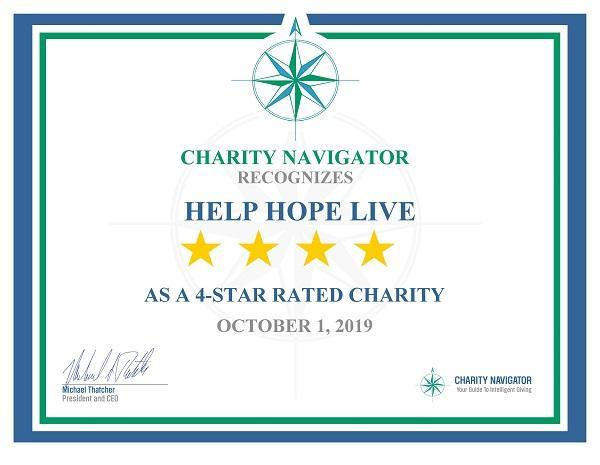 We got great news recently from the nation's largest independent evaluator of charities: Charity Navigator has awarded Help Hope Live the highest-possible 4-star rating for the 16th consecutive year. The rating is based on how we meet and exceed industry standards of accountability, transparency, and client support. You can learn more about how Charity Navigator rates charities like ours here.
We are delighted to receive this latest 4-star rating from Charity Navigator—feel free to share our good news with friends, family members, and individuals who may be interested in getting fundraising support from our nonprofit in the future.
We'll keep working on new, exciting ways to bring you closer to your community with fundraising resources that inspire confidence, clarity, and compassion. Look out for a special survey (coming soon) that will help us to understand what we're doing well and where we can improve to make your fundraising experience even more satisfying.
Written by Emily Progin