At 31, Christopher Wruck's kidneys are failing fast. He is raising two young children, five-and-a-half-year-old Alister and three-and-a-half-year-old Gwen, and he and his wife of three years, Sarah, are expecting a third child this year. As he awaits a kidney transplant, Chris works to find balance between his job as a 911 dispatcher, his family, and his ongoing medical care.
We asked Chris for his unfiltered thoughts on fatherhood.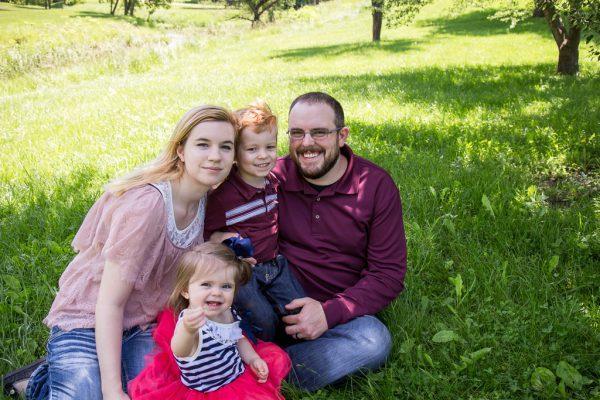 How would you describe fatherhood in three words?
Fun, crazy, and fulfilling.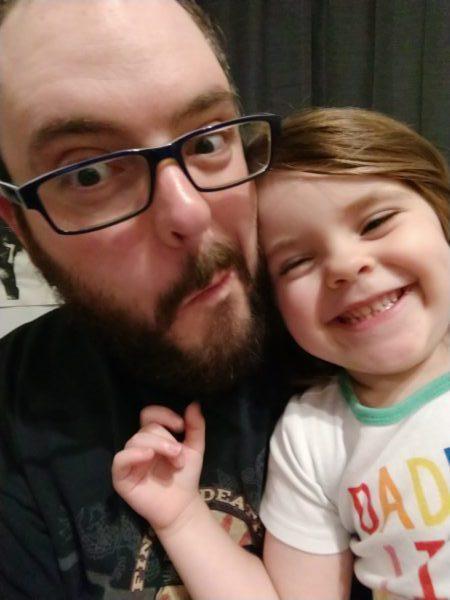 Did you wonder if kidney disease would prevent you from having a family of your own?
I've been fighting kidney disease since my early teens, so about 20 years. It had always been a concern of mine if I'd ever find the right person to build a family with. I am lucky to have what I have now.
My wife is accepting of me the way I am, without conditions, and by my side supporting me through all of this. She knew from the beginning it would become more of an issue as time moved forward.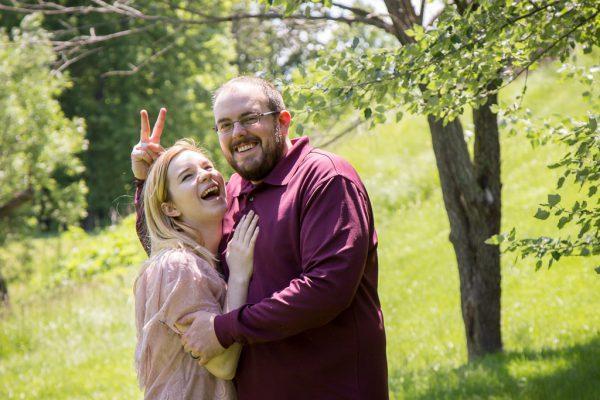 Does kidney disease sometimes make it difficult to be a dad?
It definitely does have its moments. I am still young, so I have that going for me, and I try to stay young mentally. I can still be a kid—which my kids love, of course! At times, my energy is just gone and, unfortunately, it's hard to do things with the kids when you feel like that, whether its simply going outside, playing in the snow, riding bikes, or even taking a walk.
Our schedules do not afford us the time to leave them with someone else very often, so usually they come to appointments when I go. We usually try to do something fun that day, whether it's going to Grandma's to play or going out to eat. They are fairly easy to please, and I am thankful for that.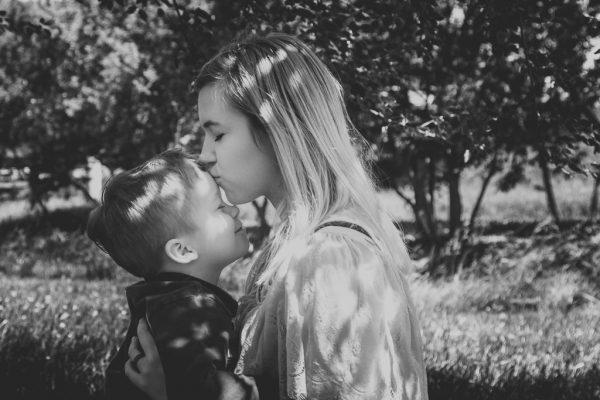 Up until the last nine months, I did not realize all of the effects of kidney disease. My kidneys have been gradually dropping, so the full realization honestly has only hit me within a recent timeframe. The realization is on multiple levels: I am now physically feeling the effects of kidney disease. I am also realizing the potential financial impact.
It is all overwhelming, and it is not easy to explain these constantly-changing feelings. Ultimately, I have been lucky so far, and I am even luckier to have an amazing aunt donating a kidney to me as well as amazing family, friends, and even strangers supporting me along with way. It is truly amazing who in your life steps up when a situation like this comes up.
How will a transplant change that?
The transplant will give me renewed energy, allowing me to do more things with the kids, and will let me get out more in general. Initially it will be hard during the healing process, but I should be good to go just in time for baby number three.
How much do your kids understand about transplants?
Alister has a good grasp on what is happening, I believe. I have spoken with him about it, and he asks me about it. Gwen, not so much yet: she is fairly oblivious to what is really happening, which I think is probably a good thing for her age. I think she may understand more once the transplant happens and she sees me in the hospital.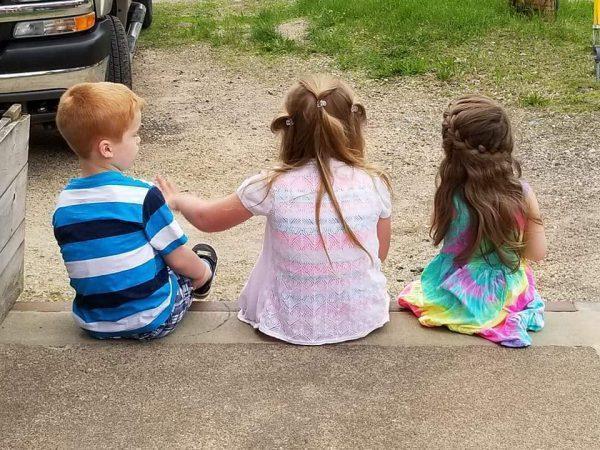 Do you get Gwen and Alister involved in fundraising?
The kids were present at the May fundraiser for Help Hope Live in my honor, and they will be at the July 8 fundraiser in Ontario, WI. Everyone loves to see them, and they are just fun to be around. They love music, and they were dancing up a storm at the fundraiser! At the next fundraiser, there will be more family members and locals present, so the kids will likely steal a lot of the attention.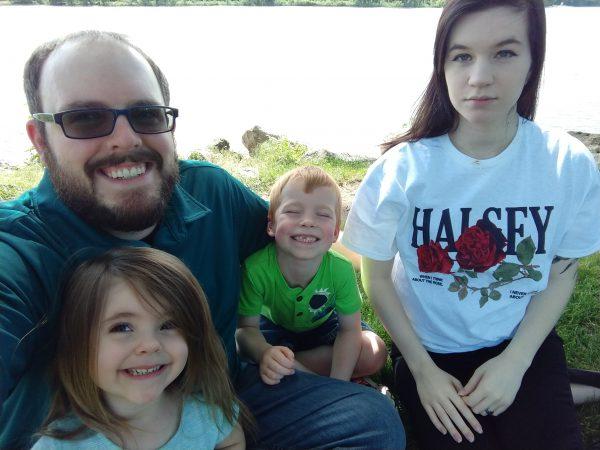 How will you celebrate Father's Day today?
The kids have mentioned swimming quite a bit lately, and I won't be able to swim much initially after transplant [some transplant teams recommend avoiding public pools for about six months post-transplant]. I think we might go swimming and hang out with family.
What is one thing you simply couldn't understand before becoming a father?
No one truly understands being a parent or father until they become one. The love you have for that little soul and what you end up doing for them is a real eye-opener when it comes to what truly matters in life. It makes me think back to what my parents did for me growing up, and what they still do to this day to try to help and support me and my family, especially with the kidney disease.
That is something I want to be able to do for my kids even when they are older. I want to be around for that.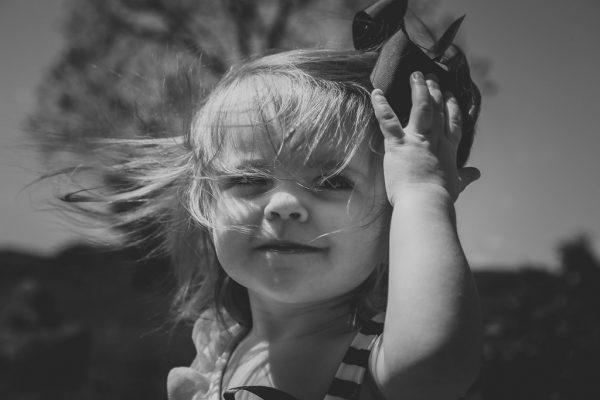 One more thing: if your kids want a hug or a kiss, give it to them. You can never have enough. I am constantly being asked for hugs, especially by Gwen, and I never turn them down.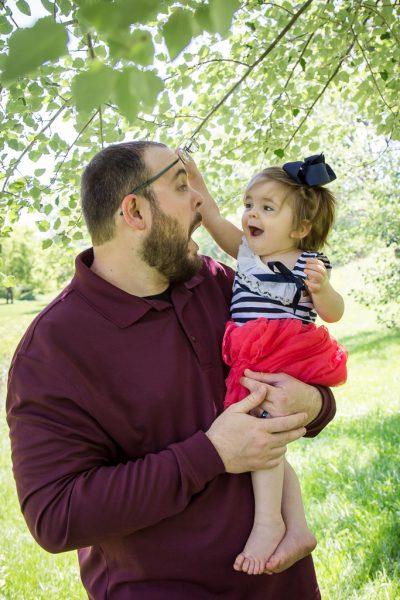 Find out about upcoming fundraisers in honor of Chris and other campaign news by visiting helphopelive.org. Happy Father's Day!
Written by Emily Progin