An evening of inspiration and hope—online!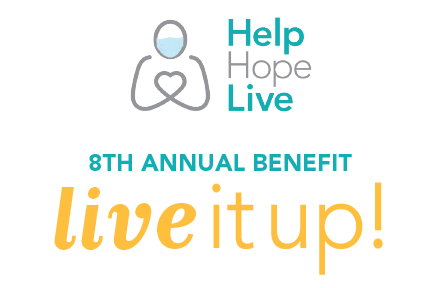 Live It Up! is an annual celebration of our nonprofit's impact and the community of supporters who fuel our mission into action.
Since 1983, we have mobilized thousands of communities to raise over $150 million to help people afford the exorbitant cost of lifesaving transplants and recovery from catastrophic injuries and illnesses. Together, our work places critical care and equipment within reach—transforming and improving countless lives!
For the first time ever, our communities of support from across the country can tune in online to help us celebrate our shared success!
This virtual event will feature a fun-filled pre-show, online auction, guest video appearances from brand ambassadors and clients, and our signature Help Hope Live Awards:
• Help Award, excellence in fundraising
• Hope Award, community support
• Live Award, influence after injury
• Rainey Award, volunteer of the year
Proceeds will benefit our COVID-19 Relief Fund to ensure our essential services can continue to support our clients and their increased needs during this challenging and unprecedented time.

Written by Emily Progin