One question that clients and their team members ask us every year after GivingTuesday is, what should I do now?
In this Blog post, you'll find answers to top GivingTuesday-related questions plus tips on how to follow up on your GivingTuesday efforts.
If you don't see an answer here, reach out to your Client Services Coordinator for assistance.
Common Questions After GivingTuesday
How to Follow Up After GivingTuesday
There are two things you should do right now.
Step One: Say Thank You
Share a heartfelt message of thanks with your community. We recommend sharing this message on all your social media platforms, on your Facebook Fundraiser (if you have one), and via email.
Include a photo of you if you can—photos always make posts more engaging and interesting.
Remember to thank everyone not just people who donated, but also people who liked, shared, and commented on your posts. Their actions help to increase the reach of your campaign. Why not tell them so!
Here are some real examples:
Get creative! Our client Kara Toomey even performed a special, personally meaningful song to help "give back something" to all the people who supported her GivingTuesday fundraising.
Step Two: Show the Impact of Donations
One thing that helps people feel more connected to a fundraising campaign (and more likely to donate again) is seeing that their donations really made a difference.
To highlight how donations will impact your life, brainstorm a few things that might put your need for fundraising into perspective. Here are some ways to begin your post:
"Thanks to your donations, I will be able to…"
"Thanks to you, I am closer than ever to my goal of…"
"What hope means to me is…"
"As you know, over the past year I've been struggling with…"
"Community support is important to my life because…"
"The top three things I am fundraising for are…"
"The last thing I had to pay for out-of-pocket was…"
Here are a few real examples: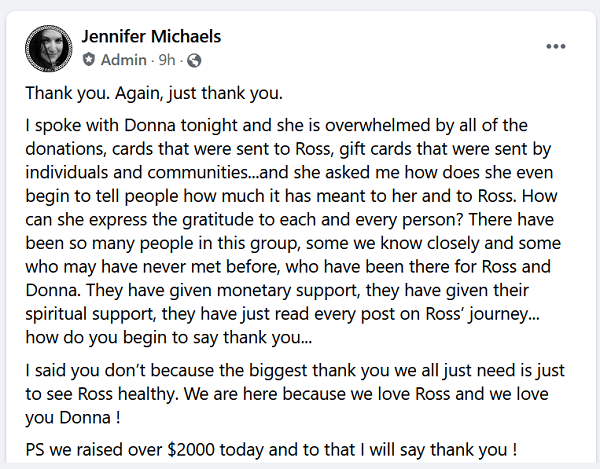 Don't Forget: Ask Your Coordinator!
When you've taken these steps, reach out to your Coordinator to check in. You'll be able to get encouragement, share ideas, and request any materials you might need to be successful with your ongoing fundraising efforts.
Written by Emily Progin