As a supporter of our nonprofit mission, you already know that medical fundraising with Help Hope Live changes lives. We're excited to share with you a few new statistics highlighting exactly how our mission made an impact last year—take a look!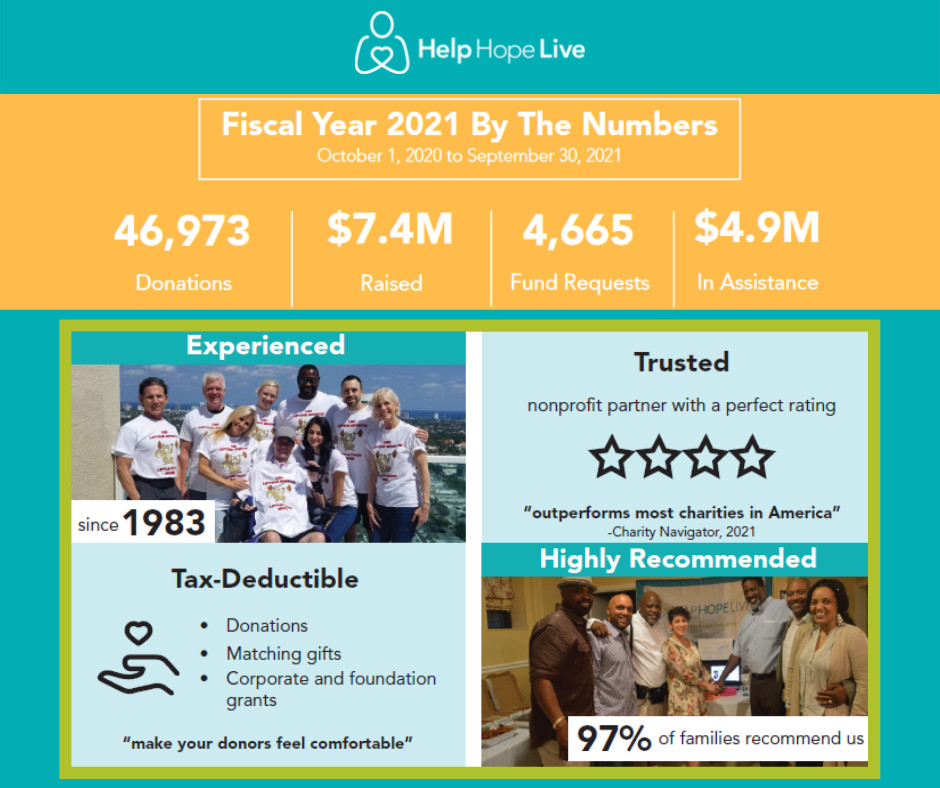 Over the 2021 Fiscal Year...
Help Hope Live received 46,973 donations.
That means 46,973 times, a caring individual felt they could place their trust in our nonprofit to manage a donation safely and responsibly. 
We take that privilege seriously—that's why we earn a 4-star Charity Navigator rating year after year and operate in a way that keeps donations safe, protects donors from fraud, defends client benefits, and honors donor intent.  
Help Hope Live raised $7.4 million.
That means the one-on-one fundraising assistance we offer to our clients and their communities really works to raise critical funds and hope. We may be a small team, but we have a far-reaching mission: these funds raised will impact hundreds of families in all 50 states. 
Help Hope Live fulfilled 4,665 fund requests.
This number means that 4,665 times, a client shared a medical or related expense with us and we were able to cover that expense using funds raised. 
The administrative side of a medical crisis can be just as overwhelming as the physical and emotional aspects. We believe patients should be able to focus on their treatment options and recovery—that's why our dedicated team works together to lift the administrative burden as much as we can, allowing our clients or their authorized team members to submit eligible bills directly to Help Hope Live for payment.  
Help Hope Live provided $4.9 million in patient assistance.
This statistic gets directly at the core of what we do: we made it possible for communities across the country to lift a $4.9 million medical cost burden off the shoulders of patient families.  
For supporters, these funds represent a pledge of help and hope in a time of overwhelming need. 
For clients, these funds mean life-saving care, life-enhancing equipment, critical procedures, mobility, technology, access, independence, caregiving, freedom, and so much more.  
How You Can Help
Every single statistic we've shared is made possible by people like you.
Help Hope Live supporters believe, like we do, that no patient or family should ever feel alone and overwhelmed with medical debt.  
Our team gives the best of their expertise and time to our clients and their communities every day to ensure they get the help they need to heal, live, and thrive. You make it possible for our team and our mission to change lives.  
Pledge your support for another year of hope when you donate to Help Hope Live today:  
Written by Emily Progin