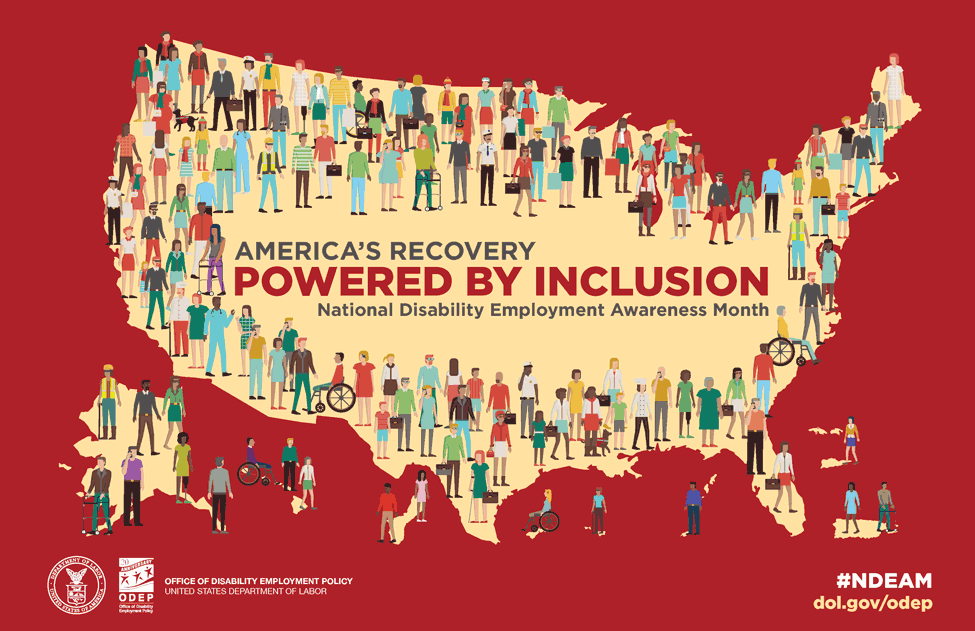 October is National Disability Employment Awareness Month (NDEAM). In this article, you'll learn four important concepts that impact NDEAM in 2021:
1. How the federal government is framing NDEAM 2021
2. Work-from-home roadblocks for employees with disabilities (see disability employment and WFH statistics here)
3. How working can potentially jeopardize state-based benefits, and
4. How to find free help for disability-related employment concerns.
Federal NDEAM Focus: Inclusion and Economic Recovery
Every year, NDEAM celebrates the diverse contributions that people with disabilities make to the U.S. workplace and economy. The theme of NDEAM 2021 is "America's Recovery: Powered by Inclusion."
Based on a White House NDEAM proclamation, the 2021 theme's reach is twofold:
First, it acknowledges the ongoing need for full inclusion in the workforce for employees with disabilities, including "dismantling barriers to access and inclusion," fueled in part by the Americans with Disabilities Act (ADA). The ADA is intended to help fuel "increased economic participation" and "a powerful shield against discrimination in the workplace" for the more than 60 million employees with disabilities across the U.S.
Second, the theme identifies that COVID-19 has disrupted and compounded workplace gaps for people with disabilities, particularly women and people of color. This disruption stems from multiple causes, among them the heightened health risks to workers with disabilities and the disproportionate impact of pandemic-related disruptions and work restrictions on industries that tend to record higher numbers of employees with disabilities (more on that in our next section).
While the White House proclamation does not outline extensive steps that the federal government plans to take to help ameliorate these concerns, it does mention one specific step: working to eliminate the outdated provisions in the Fair Labor Standards Act that currently allow employers to pay certain employees with disabilities less than the minimum wage.
Just 1 in 5 Employees with Disabilities Can Work from Home
"This is the disability issue that no one is talking about, and it's enormous."
Nearly two years into the COVID-19 pandemic, the Rutgers Program for Disability Research reported that workers with disabilities are disproportionately likely to work in fields that do not permit part-time or full-time remote work options. These workplaces may include restaurants, factories, and retail stores.
The disability advocacy community has continued to spotlight the ironic fact that as businesses have rushed to provide remote work pathways to their workforces due to pandemic disruptions, employees with disabilities have had to fight for decades for their right to these kinds of reasonable accommodations as professionals.
Disability Employment and Remote Work Statistics
The disability employment landscape at a glance from Rutgers:
1 in 5 employees with disabilities works from home.
Compare that to the 56% of workers in the broader workforce able to work remotely all the time or some of the time as of January 2021.
Just 20% of working-age individuals with disabilities are currently employed.
Across the broader U.S. workforce, 58% of working-age individuals are employed.
19% of employees with disabilities work from home compared to 24% of workers without disabilities.
Despite the added potential benefits of working from home for individuals with disabilities, this community is less likely to work remotely than employees without disabilities.
How Employment Can Jeopardize State-Based Benefits
One of the most frustrating barriers to employment for individuals with disabilities is not lack of accommodations or work-from-home challenges: it's the restrictive income caps that they must maintain to avoid losing their benefits.
In order to qualify for Social Security disability insurance (SSDI), individuals with disabilities cannot earn more than $1,310 per month.
The most common reason for the loss of SSDI benefits is, "the recipient has gone back to work." However, this policy applies to not only full-time employment but also most sources of supplemental income, potentially including funds raised through personal fundraisers such as GoFundMe campaigns.
Despite the overwhelming out-of-pocket expenses that most individuals with disabilities face daily, these individuals must impose limits on their own earning power to avoid losing SSDI. Frustratingly, though the federal government makes a special provision for "income to cover additional expenses…to survive," the provision only applies to individuals living with blindness.
The real and dangerous threat of losing SSDI benefits and other state-based sources of support, such as Medicaid, is a leading reason why individuals with disabilities turn to Help Hope Live for medical fundraising. Unlike with a for-profit crowdfunding platform like GoFundMe, the funds that these individuals raise with our nonprofit are tax deductible and typically do not count as income/assets for the calculation of state-based benefits.
Individuals with disabilities often face a massive financial burden to access the care and equipment they need to heal, live, and thrive. SSDI income caps create additional financial and emotional obstacles for these individuals, many of whom are constantly pursuing greater independence and self-sufficiency.
Individuals with disabilities may find themselves caught in the gap between what their benefits can offer them and what they need on a practical level to survive and live well. In the process, a benefits system that should be a safety net becomes an additional potential source of life-impacting limitations, exclusion, anxiety, and dependence.
Where to Find Free Help for Employment with a Disability
Individuals living with disabilities who need additional financial assistance can start a community-based fundraising campaign with our nonprofit. We also offer our clients access to a unique, free program to unlock extensive support for disability employment challenges: Ready to Work.
Our partner Josh Basile, Esq., provides no-cost, one-on-one disability employment counseling to Help Hope Live clients who need assistance navigating employment while living with a disability.
For a sample of the information that Josh can provide on issues ranging from SSDI/Medicaid protection to getting your state or workplace to cover employment technology, watch his Hope Talk on the subject:
Disability Advocacy Never Ends
From covering national observances like NDEAM to publishing firsthand perspectives from our client community on life, health, and employment with a disability, our nonprofit is dedicated to contributing to disability advocacy.
To keep up with our coverage of ongoing disability community concerns, relevant legislation, medical costs, and trending issues, subscribe to our Latest today.
Written by Emily Progin