During National Donate Life Month, we were joined by three Help Hope Live clients who shared their personal challenges and successes related to their transplants. Their personal stories provided insights that are relevant to anyone who has been touched by transplant.
CLICK HERE to skip to the Q&A.
Listen to the complete Hope Talk here (audio only):
Our Panelists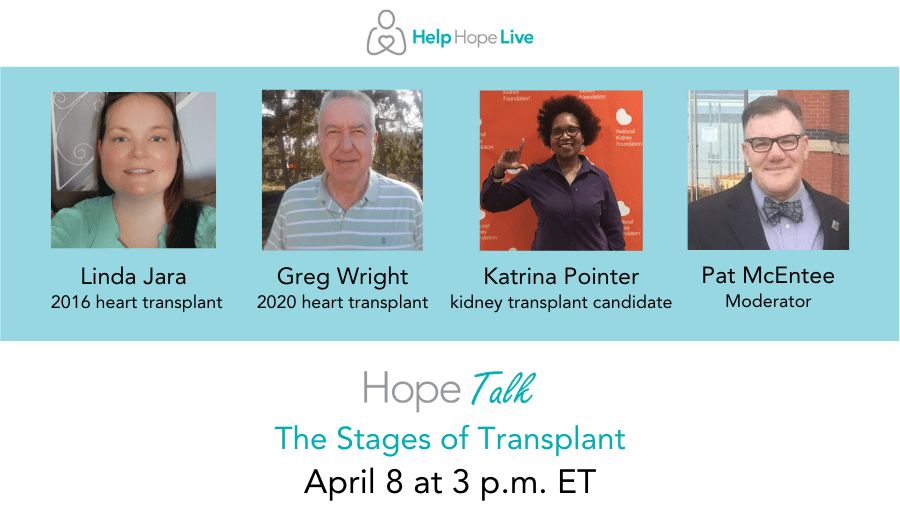 Moderator Pat McEntee received his heart transplant in 2017 at Cleveland Clinic after being diagnosed with congestive heart failure. Pat was dependent on an LVAD for three years before his transplant.
Linda Jara received her heart transplant in September 2016 at Temple University Hospital after being diagnosed with idiopathic dilated cardiomyopathy. Linda was dependent on an LVAD for eighteen months before her transplant.
Greg Wright received his heart transplant in February 2020 at the University of Pennsylvania after being diagnosed with congestive heart failure. Greg received an ICD implant in 2009.
Katrina Pointer was diagnosed with kidney failure in 2000 and is thankful to have a living donor. Katrina is waiting for her transplant procedure at Duke University Health. (NOTE: Originally scheduled to appear at this Hope Talk, Katrina was not able to join us live.)
The Stages of Transplant: Q&A
Here are the answers to your questions about the stages of transplant.
Once you got the news that you would be listed for transplant, how long was the process for you?
Pat: I was evaluated for transplant in June 2014. Once I chose the Cleveland Clinic as my transplant center, I had two full days of appointments scheduled, one in August and the other in September. These included meetings with cardiology, electrophysiology, the pre-transplant team, a social worker, a bone density doctor, a dermatologist, a dentist, and an infectious diseases team, plus blood labs, an EKG, an echocardiogram, and probably more that I am not thinking of.
While I was waiting on the list, every time I went to Cleveland Clinic, I had labs drawn as well as other tests repeated. The labs may frighten you: every time I got them done, there were between 25 and 40 vials drawn.
Linda: I spent most of my prelisted time in the hospital. I think about half of my evaluation tests were completed inpatient. I was first diagnosed with heart failure on December 24, 2014. I saw the heart failure doctor mid-January and was admitted to the hospital. My "you are listed" letter is dated February 27, 2015. My LVAD went in on March 3, 2015. I had no idea what hit me.
Greg: Once I was hospitalized at Lancaster General Health with severe congestive heart failure and non-ischemic cardiomyopathy, I was on the road to getting listed. Penn Medicine performed all appropriate diagnostic tests, labs, and seminars to prepare me for listing.
It was around mid-December when I was listed for transplant. When I was admitted to HUP in early February 2020, I was listed as critical. The installment of a balloon pump three weeks prior to surgery served as the bridge that kept me going. Without it, I likely would not have made it to transplant.
I have been waiting for a transplant since 2015. I had LVAD surgery in 2016. Is it normal to wait this long for a transplant?
Pat: I would say that is a long time to wait but not unheard of. There are so many factors that determine how long it takes—blood type, body style, antibodies, where you are listed, how many people are ahead of you with matching characteristics, etc. You might ask if you can be dual-listed. I was listed at Cleveland Clinic and they don't allow dual listing, but some centers will allow it. If you find that you can, that could help speed up the process.
Linda: That does seem like a long time, but I am saying that without knowing your situation, and I hope your team sheds some light on it for you. I did not have antibodies pre-LVAD, so I was a good match. I needed a few blood transfusions and my antibodies increased to 16% (around there), but I was still a good match.
I have another heart transplant friend who went into their transplant with 94% antibodies. She was harder to match. Blood type factors into it, and it seems that type O people wait longer. I'm O+ and waited for 18 months. An AB blood type would wait a weekend, if that long. The size of your chest cavity also plays a role since it determines which size heart you will need.
I know LVAD life is not easy, but being a transplant survivor also comes with challenges. I know the limitations that you have, but each day you have on the LVAD is another day that you are extending your life as you wait for your transplant.
Did you experience any psychological impacts after receiving a transplant, such as PTSD or trauma? If so, how did you heal?
Pat: Not really. There are times when I feel a twinge of guilt and hurt when I think of my donor's sons left without a father.
Linda: Yes, I have PTSD. I see a transplant therapist at my transplant center. She has been a tremendous help, not only with the trauma but also with other transplant-related bumps in the roads I have encountered.
I was diagnosed with heart failure and listed for a heart two months later. It was a whirlwind of a time, and I was in denial of how ill I was. I recommend taking advantage of a transplant therapist if your center has one on staff.
Greg: I was in a good psychological frame of mind when entering transplant surgery. I had a calm presence because of my faith in God and the HUP surgical team. I was confident I would make it to "the other side," and I did. Separately from the transplant process, I have been treated for OCD and ADD for well over 25 years.
I am a post-transplant patient and struggle with weight gain due to prednisone and genetics. Any advice?
Pat: I also struggled and continue to struggle with weight gain after my transplant. I was on prednisone for 15 months post-transplant and it caused me to gain 30 pounds. Since last year, I have managed to shed about 10 pounds of that by getting out and exercising (walking, jogging, biking, etc.) Basically, that's all I could do during the pandemic, as going to the gym or pool wasn't an option. I struggle with eating too many snacks, which doesn't help.
Linda: Prednisone weight will come off! I gained weight after transplant and it is frustrating. I was 20 pounds away from my pre-sick weight when COVID hit. Sadly, despite being physically active, I gained weight over the past year. My schedule was disrupted, and I was home with time to snack.
The best meal plan for me pre-sick was low carb. I have gastroparesis (as a result of my vagus nerve being severed) and can no longer eat the way I used to. I'm still trying to figure out the best and healthiest way to eat without feeling awful after. I also have a target of, at the minimum, 30 minutes of cardio five days per week.
Greg: I know where you are coming from: I have gained roughly 35 pounds since my transplant procedure. The best thing that you can do is to eat sensibly (low-sodium and low-sugar diet), get plenty of exercise, and try to get out of the house (light yardwork is always good).
I have been fortunate to participate in my second cardiac rehab program through Lancaster General Health. Their routine, mixed between arm and leg exercises, has been beneficial to my overall recovery.
Any words of advice when it comes to fundraising?
Pat: Fundraise as much as you can as early as you can. Remember that you can use funds for anything related to transplant before, during, and after the transplant. Update your Campaign Page on a regular basis and share it to all your social media channels. Reach out to family and close friends to see if they have any fundraiser ideas or are willing to plan one for you. Help Hope Live has tons of great ideas if you have people willing to make it happen.
Linda: My fundraising word of advice is to get a squad/team/tribe/committee (whatever you decide to call them) to help you. They are my lifeline when I am planning a benefit.
I started fundraising when I had the LVAD, and I took advantage of any opportunity that came my way. Some of my events included a painting afternoon, bowling, a restaurant night, and my biggest benefit: a beef and beer (popular fundraisers in the Philly area). I even participated in the Hope Travels Virtual 5K to fundraise and was successful.
I promote everything on social media, as does my support team.
For me, it was key to find what my community enjoys. They are the ones supporting me, and a fundraiser is only as successful as the people showing up. My Help Hope Live Client Services Coordinator is also a tremendous help.
Greg: I first received information about Help Hope Live during my family counseling session in October 2019. Two months later, I launched my Help Hope Live Campaign Page (the week before Christmas). The outpouring of support I received went beyond expectations.
I made it a point to thank my donors at the one-year anniversary (2/27/21) and to inform them of my progress.
One fundraising venture that was successful was a college basketball doubleheader at the institution where I worked for more than 20 years. In addition to the funds that were raised, it helped raise awareness about organ donation, and how it can save and better so many lives.
Any thoughts on the COVID-19 vaccine?
Greg: For transplant patients, there is still a need for vigilance before and after COVID-19 vaccination.  Much scientific advancement has been made to treat this virus, but there is still much more that we do not know. Listen to your doctors, and continue to follow the important CDC guidelines on mask-wearing, social distancing, and hand washing. Use common sense and do not take unnecessary risks in public places.
There are some reports that folks who received the vaccine can still contract the virus. We are not out of the woods yet, so please use good judgment.
Thank You!
We are so grateful to our panelists for sharing their journeys with our community and providing great feedback regarding each stage of transplant—and we're thankful to YOU for submitting your questions.
Please click here to view the rest of our Hope Talks.
Written by Help Hope Live