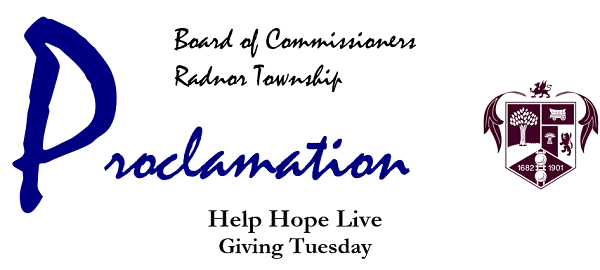 Thank you to the Radnor Township Board of Commissioners for officially proclaiming GivingTuesday in Radnor Township with this proclamation!
WHEREAS, the organization Help Hope Live, a non-profit organization that helps people fundraise to pay for medical expenses that are not covered by insurance.  They have been in business 37 years and are located in Radnor; and
WHEREAS, Giving Tuesday began as a response to the commercialization and consumerism of the post-Thanksgiving Black Friday shopping.  The premise of Giving Tuesday is that it is a day for anyone, anywhere to give to the nonprofit of their choice; and
WHEREAS, On this day, millions of people around the world support causes and communities they believe in or live near.  In 2019, Giving Tuesday raised $511 million and elicited more than 20 billion social media posts; and
WHEREAS, Prelude Solutions, of Pennsylvania has pledged to be a Partner in Hope;
NOW, THEREFORE, the Board of Commissioners of Radnor Township proclaim Giving Tuesday in Radnor Township on December 1, 2020 and encourage residents and business owners of Radnor to participate in this globally recognized day of giving by supporting local charities like Help Hope Live.  #givelocal
RESOLVED this 23th day of November 2020, A.D.
TOWNSHIP OF RADNOR, PENNSYLVANIA
Jack Larkin, President
Radnor Township Board of Commissioners
Written by Emily Progin