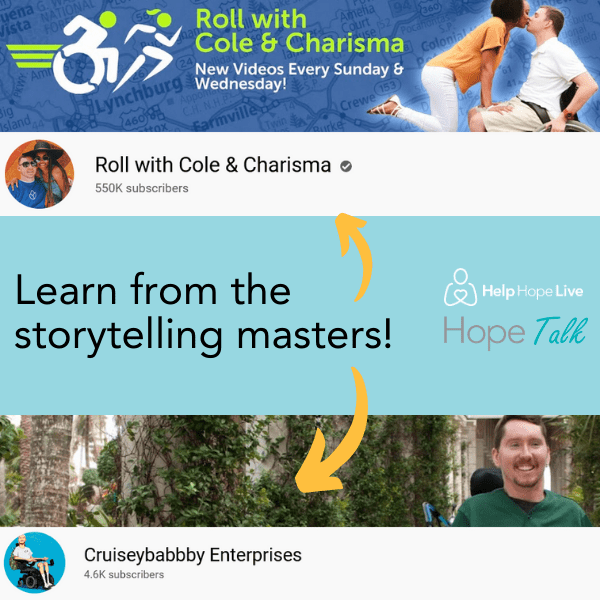 Wondering how to turn your medical journey into an engaging story to share with others? Interested in starting a blog or YouTube channel? Learn from the masters!
Here are 7 powerful tips from Help Hope Live clients Cruise Bogle and Cole Sydnor, along with Cole's wife, Charisma Sydnor—founders of the mega-popular YouTube channel Roll with Cole & Charisma—plus answers to YOUR questions for Cole and Charisma.
CLICK HERE to skip to the viewer-submitted Q&A.
You can watch our complete Hope Talk about storytelling here:
Tip 1: YOU choose your comfort level.
"Finding a comfort level is something that is still evolving for me, and I think it will always evolve in some respects—but there are also some things we'll always keep to ourselves." -Cole
"I think your comfort level can depend on who you're talking to. Don't feel like you HAVE to go out of your comfort zone for other people." -Charisma
"…but if you are looking for growth, get out of your comfort zone!" -Cruise
Tip 2: Find your reason why.
"With a journal, at the end of the day, you get it all down on paper, and it's off your mind. It's kind of the same with telling a story."  -Cole
"Making these videos is therapeutic for us." -Charisma
"When you take a second to acknowledge the fact that content you put out has actually changed the course of somebody's day, or maybe even their whole life, it's like—alright, I'm doing this for a reason. Maybe this IS working." -Cruise
Tip 3: Equipment is not a barrier.
"You can use a phone and still create content worth watching. Since everybody has a phone, there are literally no barriers to telling your story." -Cole
"We started with our phone! Investing in equipment can be very expensive—in our case, we remind ourselves that we're investing in our future and our business." -Charisma
Tip 4: Expect to spend a lot of time editing as you learn.
"In the early days, I would spend as much time editing as I did on YouTube watching videos on how to edit!"  -Cole
Tip 5: Post on social media every day.
"It's important to post every day if you can, if not, then every other day. If you post at least three Stories per day, it will get you the most interaction on your Instagram page. Videos also bring a lot of viewers to your social media pages." -Charisma
Tip 6: Grab attention fast.
"When it comes to content, people's attention spans are very short. You really have to grab them in the first five to 10 seconds—otherwise, you will lose them, and they're not going to watch the rest of your video." -Cruise
Tip 7: Don't let negativity stand in your way.
"Stiff-arm that judgment—tell them, you're not gonna break me down." -Cruise
"Think about the memorable positive comments instead of the negative comments. We know that we're trying to do positive in the world, so let people comment however they want to—we're going to continue to do positive stuff.
We're both very positive people, and we want people to understand that a positive, happy life is within everyone's reach. It doesn't matter what your circumstances are: you can make a conscious decision to try to be more positive." -Cole
BONUS: Cole shares his top fundraising tip!
"I've learned that you're not really 'asking' anything—what you're doing is presenting an opportunity. When you give people an opportunity to do good, it's up to them to do that or not. But if you give them that opportunity, a lot of times, people are going to be more than willing to do it."
If you're looking for fundraising assistance, partner with the medical fundraising nonprofit that Cole and Cruise trust: Help Hope Live. Click here to get started.
Q&A with Cole & Charisma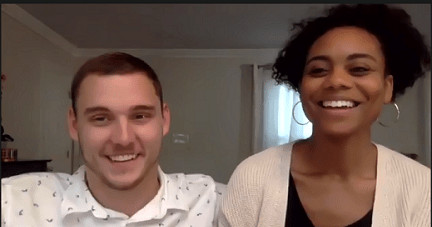 Follow Our Panelists!
Support our talented panelists by following them on social media!
Follow Cole and Charisma on YouTube and Instagram.
Follow Cruise on YouTube and Instagram.
Written by Emily Progin