Traumatic Brain Injury Financial Assistance
Medical care costs from a traumatic brain injury can last a lifetime. Our nonprofit can provide financial assistance through community-based fundraising.
Brain Injury Financial Assistance: Types of Traumatic Brain Injury & Common TBI Health Costs
Depending on the severity of the TBI, medical care costs associated with traumatic brain injury are estimated to be between $100,000 and $3 million dollars. Researching traumatic brain injury financial assistance options is the first step in creating a traumatic brain injury fundraising strategy.
Fortunately, there's help for TBI patients dealing with the financial burdens of traumatic brain injury recovery. Help Hope Live is your resource for community-based fundraising to assist with the costs that can result from having a TBI.
Other Medical Care Costs Associated with Traumatic Brain Injury
Beyond the initial incident, hospitalization, and inpatient care, the costs associated with the recovery and continued brain injury treatment care can change. From treatment at home to long-term care at a care facility, the expenses depend on the severity of the damage following a TBI.
Finding financial support for traumatic brain injury treatment for patients can be daunting, especially when you consider some of the additional costs, including:
Additional rehabilitation
Health insurance premiums, deductibles, and co-pays
Caregiver costs
Lost wages

Brain Injury Financial Assistance Post TBI Treatment and Hospitalization
Establishing greater support for traumatic brain injury patients is the goal of Help Hope Live. Through community-based fundraising, our nonprofit organization is dedicated to helping those in need to raise funds for medical treatment.
What Are the Types of Traumatic Brain Injury?
Traumatic brain injuries can result from many factors. These injuries can range from short-term, mild concussions to severe injuries that may require lifelong treatment.
The most common type of traumatic brain injury is a concussion. Other types of brain injuries include:
Falls
Motor vehicle crashes
Being struck/hit
Assaults
Blasts (leading cause of TBI among active-duty military personnel in war zones)
Common Causes of Traumatic Brain Injury
Traumatic brain injury (TBI) can be caused by a variety of factors. Some common causes of TBI include falls, motor vehicle accidents, sports injuries, assaults, explosive blasts, recreational activities, and work-related injuries.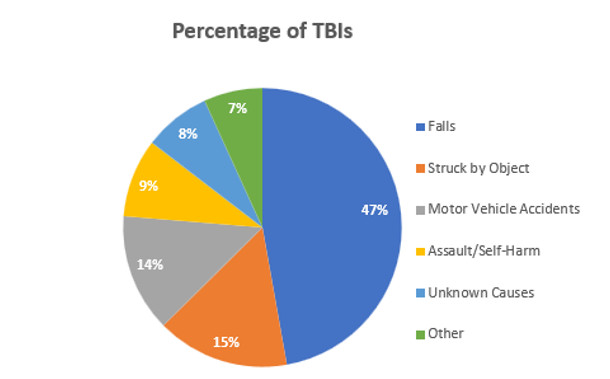 Causes of TBI are estimated from injuries reported by 2.8 million people in 2013.
A traumatic brain injury TBI is a health concern that impacts the entire globe. Did you know that, worldwide, at least 10 million TBIs occur annually that can result in hospitalization or death? The frightening truth is that no one knows how many people are living with TBI and are unaware.
Medical Treatment for Traumatic Brain Injury
There are variety of imaging tests to measure the severity of a TBI. These are the most common:
Computerized tomography (CT) scan. This test is typically where healthcare providers start. A CT scan uses X-rays to capture a detailed image of the brain injury. It is the fastest resource for measuring the damage that has been caused to the brain and head. 2 
Magnetic resonance imaging (MRI). Another method healthcare personnel use to determine the significance of the traumatic brain injury is an MRI. This technology uses radio waves and magnets to give specialists a detailed view of the brain and is another tool for finding any inconsistencies in the condition of the brain. 2
Nonprofit Advantages - How Help Hope Live Is Different than GoFundMe
Help Hope Live differs from GoFundMe by:
Verifying your medical need for complete donor confidence
Enabling donations that are tax deductible
Providing one-on-one fundraising help
Managing all funds raised to protect your state-based benefits (funds raised are not considered personal income/assets to you)
We are a nonprofit with almost four decades of fundraising experience and a 4-star Charity Navigator rating.
How Does Fundraising for Traumatic Brain Injuries Work?
Fundraising with our nonprofit works as follows:
Submit a campaign request for assistance at helphopelive.org/get-started/apply
You'll be paired with a Client Services Coordinator
Your Coordinator will provide you with one-on-one fundraising help, including personalized fundraising materials and guidance on how to rally your community, share your story on social media, reach out to the press, plan in-person or virtual fundraising events, and much more
Does Fundraising Work?
Here are a few Help Hope Live Traumatic Brain Injury (TBI) fundraiser success stories:
"It's much more than a fundraiser: it is an event that inspires all who attend that Matt refers to as his best day of the year."
A snowboarding accident left Matt Collura with a traumatic brain injury. He has spent years on a long and grueling road to recovery with countless out-of-pocket expenses. Help Hope Live helped Matt and his family to plan an annual 5K Walk/Run event in his honor. The fundraiser is now in its 9th year. Funds raised have helped pay for at-home rehab equipment, physical therapy, and a stairlift among other expenses.
"Without you, this accessible vehicle would not be possible."
Ethan Kadish was struck by a bolt of lightning while enjoying summer camp as a teen. The resulting severe TBI required round-the-clock care with expenses topping $1 million per year. Help Hope Live helped to mobilize the Kadish family's faith community with fundraiser planning help, secure online event registration pages, and long-term personal fundraising support. The expenses are bottomless, but so is the Team Ethan community's generosity.
"There is still a lot of work to be done, but we are thankful."
Alex Litz sustained a traumatic brain injury while he was driving to visit his parents. He was on the cusp of a career in medicine. Help Hope Live helps Alex and his family to cover a wide range of TBI-related expenses through online and in-person fundraising. They smashed through their initial $50,000 fundraising goal.
MOST COMMON BRAIN INJURY EXPENSES
Additional rehabilitation
Health insurance premiums
Caregiver costs
Lost wages
RESOURCES
Ready to Get Started?
If you choose to fundraise with our nonprofit, here's how the process will look:
1. APPLY for assistance
2. YOU'LL BE PAIRED with a Client Services Coordinator
3. YOUR COORDINATOR will provide you with one-on-one fundraising help, including personalized fundraising materials and guidance on how to rally your community, share your story on social media, reach out to the press, plan in-person or virtual fundraising events, and more.
Need Other Financial Help Options?
For alternatives to fundraising, you can find information on a variety of financial assistance options for traumatic brain injuries in our Resource Directory for catastrophic injury patients, family members, and caregivers.