In case you missed our latest eblast, we have made a few updates to our fundraising materials.
New IRS Medical Mileage Rate
The IRS updated its medical mileage rate in January. The rate decreased from 20 cents per mile to 17 cents per mile.
You will now see this change reflected on the medical mileage calculator when you fill out a Fund Request Form.
Fund Disbursement Guidelines and Instructions
We know that you use our Fund Disbursement Guidelines to help understand which expenses to submit to Help Hope Live. In turn, we use the questions we get from clients and team members to revise our Guidelines and Fund Disbursement Instructions so that these documents remain clear and complete.
The latest clarifications in our Fund Disbursement Guidelines include:
Automotive expenses
COBRA and health insurance premiums
Support animals
Burial expenses
We've also updated our Fund Disbursement Instructions to clarify:
Timeline for submitting Fund Request Forms (12 months from date of service)
Timeline for submitting retroactive payment requests (3 months prior to opening of the campaign)
Options for submitting expenses via POA or estate executor
Remember that you can access the Fund Disbursement Guidelines and Instructions at any time from your Campaign Dashboard by logging in at helphopelive.org.
For your convenience, you can also access these Guidelines and Instructions below to see the latest changes right now:
Fund Disbursement Instructions for All Campaigns
Fund Disbursement Guidelines for Injury and Illness Campaigns
Fund Disbursement Guidelines for Transplant Campaigns
Spanish Materials
If you access fundraising materials and your Dashboard in Spanish, you'll see that the Fund Disbursement Guidelines and the Fund Disbursement Instructions in Spanish have also been updated.
If you do not currently view materials and your Dashboard in Spanish but would like to, reach out to us and we'll make that change for you. We can also extend bilingual fundraising support to clients and team members via phone and email.
Impact Sheet
Take a fresh look at our mission and impact with this one-page review of Fiscal Year 2019: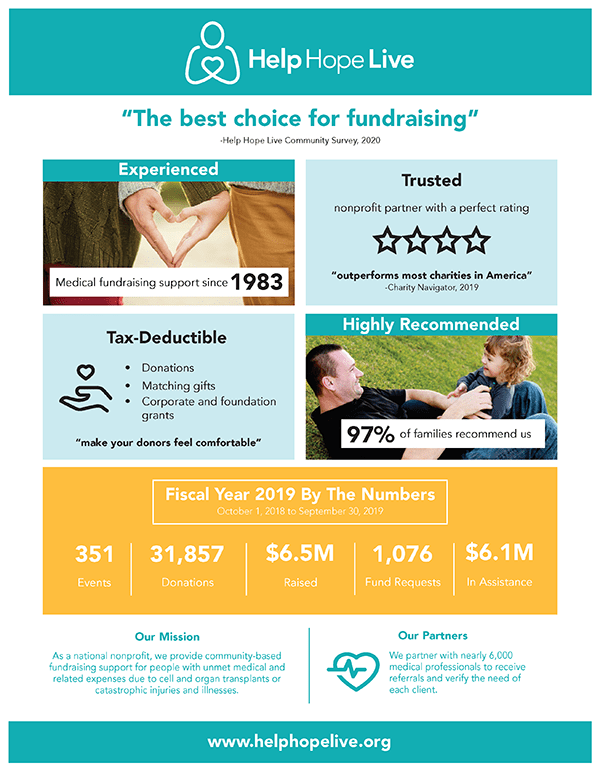 Feel free to save and share this graphic to help supporters and followers understand why you chose Help Hope Live as your fundraising partner. You can also find the PDF on our Publications page.
Friendly Reminders...
Our donor-covered fees feature is live on all campaign donation pages and event registration pages. Learn more here!
We have released a statement sharing our plans to support the national and international fight against injustice. Read the statement here.
Written by Emily Progin