Don't ever think you can't make a difference to a nonprofit's mission just because you can't make a financial contribution. Charities like Help Hope Live are great organizations to donate to, but they rely on more than just donations to provide help and hope to others.  
Learn 14 ways to ensure that hope is not cancelled for a nonprofit organization (NGO) you love, all without donating a single dollar.
1. Use AmazonSmile
We're shopping online more frequently than ever before with an estimated 25% increase in online spending in 2020. If you're already making purchases via Amazon, you can give back to your favorite nonprofit at no cost to you by switching over to AmazonSmile. 

With AmazonSmile, you get the same selection and shopping experience, but Amazon donates to the nonprofit of your choice with every purchase. It's an amazing way to give back! 
If you shop on your phone, make sure you active AmazonSmile using these instructions. 
2. Start a Facebook Fundraiser
You can start a Facebook Fundraiser to support the nonprofit of your choice and invite your followers to join you in making a difference. There is no cost to you and no obligation to make a donation personally—simply choose a nonprofit and ask others to give.  
Learning how to start a fundraiser on Facebook is easy with their step-by-step instructions. Facebook will even keep a running total of how much your Fundraisers have raised for charity over your account's lifetime!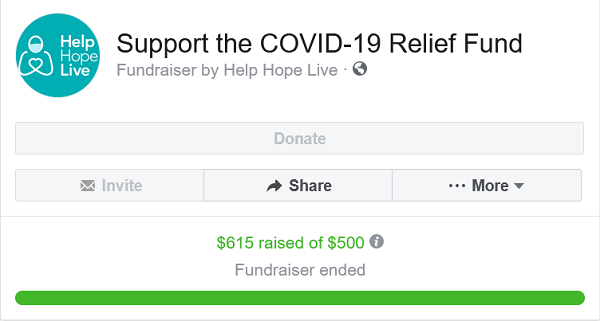 3. Plan a fundraiser
If you have a little bit of time and a big desire to give back, you can plan a fundraiser to benefit your favorite nonprofit. Opt for an in-person fundraiser, such as a yard sale or golf tournament, or plan a virtual fundraiser—find tons of ideas on our Blog!  
To lighten the load, you can recruit friends, family members, neighbors, co-workers, and others to be part of a fundraiser planning committee and divide up essential tasks.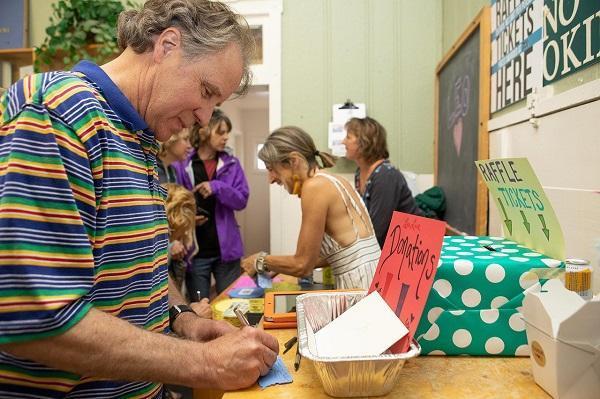 Need a little support? Ask the nonprofit if they provide guidance or resources for helpers like you (you can contact Help Hope Live here).  
4. Volunteer
Most nonprofits are overjoyed to hear from potential volunteers! Reach out and see how you can make an impact by volunteering. If you have a special talent you're willing to share, such as a knack for contacting celebrities or spectacular graphic design skills, be sure to mention them to the nonprofit.  
Keep in mind that there may be local ways to help, too, such as an in-person fundraiser in your area that could use an extra set of hands. Online or off, you can choose the volunteering pathway that works best for you, keeping your safety and schedule in mind.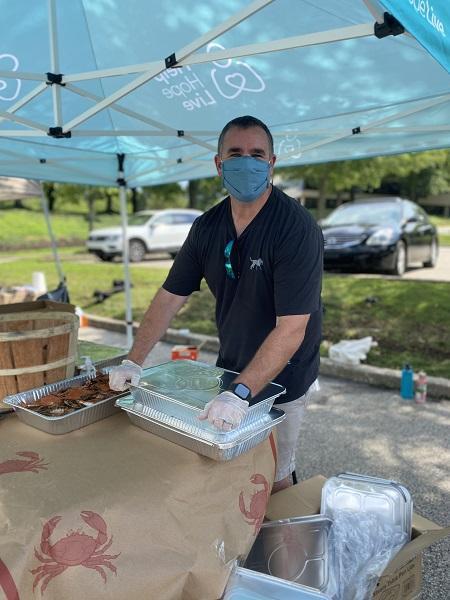 5. Share an upcoming event
Maybe now isn't the right time for you to buy admission to an upcoming charity event. You can still ensure your favorite nonprofit's events are a success by spreading the word.  
Invite friends to participate by sharing flyers, emails, or social media posts about upcoming events. You can also reach out directly to individuals with interests that are relevant to the event, such as your bingo-loving co-worker or your trivia-obsessed neighbor. More fun for them, and more attendees for the nonprofit—that's a win-win!   
To hear about upcoming Help Hope Live events, contact us and we'll add you to our email list. 
6. Attend a free virtual event
If a virtual event is free, does it still help the nonprofit? It sure does! Sometimes, nonprofits hold virtual events to broaden their reach and engage prospective supporters, partners, or clients. You can support these goals simply by showing up!  
Look for virtual gatherings and webinars (such as our Hope Talk series) and listen in to help the nonprofit expand its reach.   
7. Stream
Some nonprofits, including ours, encourage their supporters to raise funds through gaming and livestreaming. If your favorite nonprofit has a gaming program, find out how you can dedicate your next stream (or a whole week or month's worth of streams) to supporting their mission.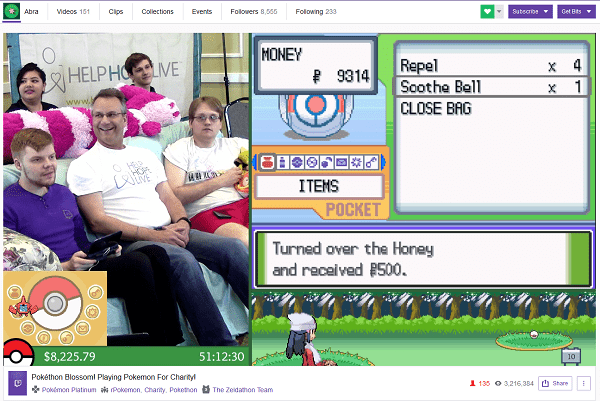 Love to game but not a streamer yourself? Some nonprofits can provide you with other ways to get involved in the gaming side of their organization. Once you get connected, you'll be able to find out about upcoming streams for the nonprofit that you can support by tuning in or spreading the word. 
We encourage all the gamers who love our mission to join our Gaming Discord, follow us on Twitch, and follow our gaming program on Twitter.  
8. Follow your favorite nonprofit on social media
It may be the simplest thing you do today to make a difference: follow your favorite nonprofit on social media. In the process, you'll do your part to help the organization reach more people who may want to donate to, or benefit from, its mission.   
You can find and follow Help Hope Live on:  
9. Share content
Once you follow your favorite nonprofit, all it takes is one more click to share posts with your follower community. If a Tweet or Instagram image catches your eye and makes you feel connected to the cause, take the extra step and share it. The simple act of sharing could allow someone who genuinely needs the nonprofit's help to discover the organization for the first time.
10. Post original content
Willing to take your social media support one step further for a good cause? Take the time to write an original social media post explaining why you care about the nonprofit or how the organization has made an impact on your life.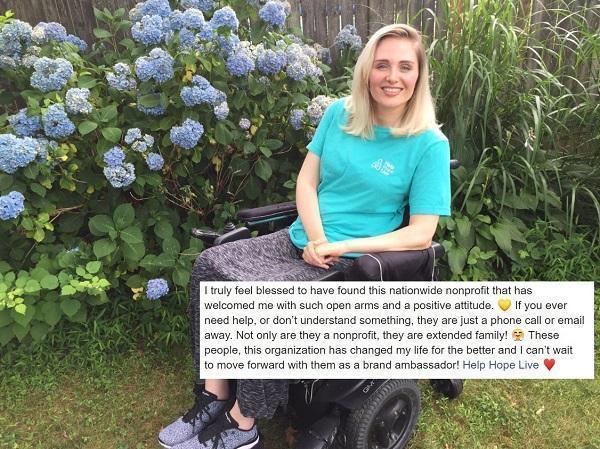 Your personal touch means everything, providing encouragement to the nonprofit and insight to your followers, some of whom may be interested in donating or getting involved themselves.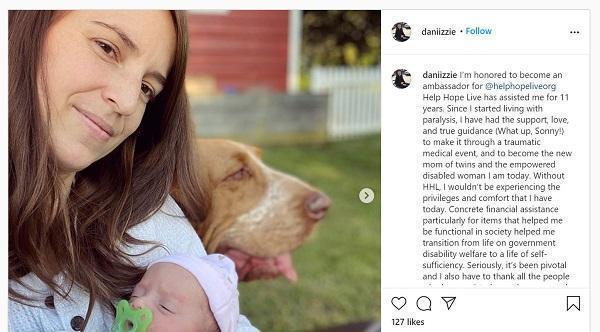 If you're not sure where to begin, reach out to the nonprofit on social to ask for advice on how to best share their mission. You may even be able to personalize an existing social message or use a Click to Tweet to share with ease, like this one:

Tweet: I am a proud supporter of the nonprofit Help Hope Live @helphopeliveorg! Caring, verified, tax-deductible fundraising help for thousands of families facing a medical crisis. Donate to their COVID-19 Relief Fund! https://bit.ly/HHLCovid #hopeisnotcancelled
Whenever you're posting about Help Hope Live, feel free to tag us @helphopeliveorg and add one of our favorite hashtags:
#helphopelive #WhyWeFundraise #forcedtofundraise #hopeisnotcancelled #hopeis 
11. Leave a review
One honest, positive review can make the difference between someone trusting an organization or thinking twice about getting in touch with them. If you have had direct contact with a nonprofit, leave a review detailing your experiences—your words will make a huge impact.  
If you've had a positive experience with our nonprofit, you can leave a Help Hope Live review at any time on Google and Facebook.  

12. Provide a referral
Sometimes, you may come across an individual or family that needs a hand. When that need is a perfect match for a nonprofit's mission, you can provide a trusted referral to help connect the two. 
If you know someone personally who needs assistance, reach out and share a link to the nonprofit's website or a phone number. If you don't know the individual personally, you may be able to post a social comment or send a DM letting them know that the nonprofit exists. 
Don't be afraid to tag the nonprofit if you're posting publicly on social media—it will help the organization respond to an urgent need faster.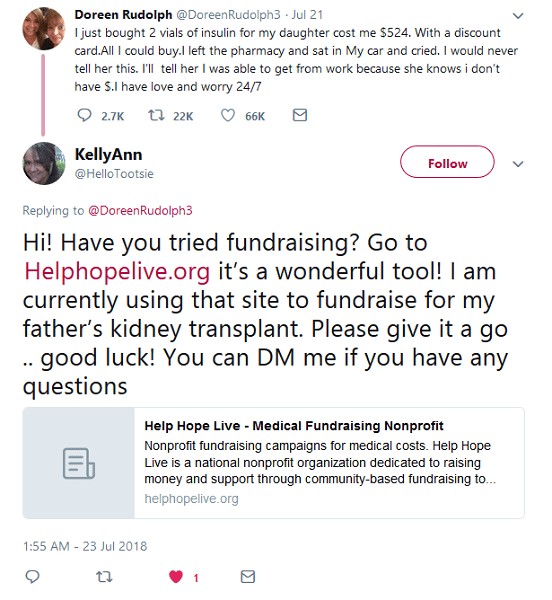 In some cases, such as with Help Hope Live's Start a Campaign process, you may be able to complete some preliminary steps yourself to further ease an individual or family's journey with the nonprofit. If you're willing and interested, you can stay involved as their journey with the organization continues, such as by becoming a fundraising Team Member. 
13. Talk about the mission
You may not see an immediate opportunity to connect a need and a nonprofit cause—but that doesn't mean that your word-of-mouth is any less valuable.  
Beyond social media, whether via a text, a Zoom meeting, or an in-person chat, talking about your favorite nonprofit is a simple but powerful way to make an impact. You never know when a good word to a friend, neighbor, co-worker, medical provider, or local support group could lead to a critical source of support in the future—whether for an individual in need or for the nonprofit.  
14. Ensure hope is not cancelled
Nonprofits are unique: they exist to serve the common good, saving and improving lives and making a direct difference day after day. There is one more way you can make an impact to a nonprofit without spending a dollar: live out the mission.  
Which nonprofit missions move you and inspire you to act? How can you do your part to strengthen and support your local community? What can you do to make a direct difference in someone's life today?  
No matter what the answers are, living out a mission that matters to you forever connects you to your favorite nonprofit cause. Be the change, and ensure that hope is not cancelled for the individuals, families, and nonprofit that need it most.  
If you have a nonprofit mission moment to share, post about it on social media and use #hopeisnotcancelled to join our nonprofit's quest to keep help and hope alive in these challenging times.
Written by Emily Progin