Financial Assistance for Lung Cancer Patients
If you're seeking financial help for lung cancer, trust Help Hope Live for fundraising.
On this page, we explore what you need to know about lung cancer detection, treatment pathways of the future, lung cancer treatment costs, and how fundraising for lung cancer with our nonprofit can help provide financial assistance following a lung cancer diagnosis.
Lung Cancer Treatment Cost
For patients who are supported by a reliable insurance plan, some lung cancer treatment costs may be covered. Many plans may not provide comprehensive financial assistance for lung cancer patients, particularly if treatment includes specific drugs or treatments with high out-of-pocket price tags. Further, even if your insurance does cover your costs, finding lung cancer copay assistance can also be a valid concern.
Before insurance, the treatments for lung cancer will likely involve one or more of these options: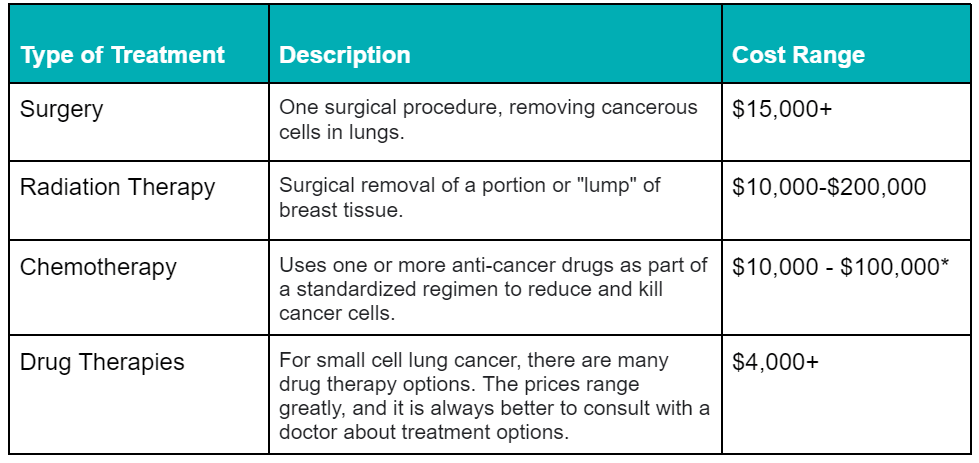 There is one type, hematopoietic stem cell transplantation (HSCT), that is used to treat cancer that is often covered by insurance. This type of therapy has evidence suggesting that it may be most effective treating several types of orthopedic conditions. Its use outside of these treatment types, however, are largely unconfirmed and still in clinical trials. However, it's best for patients to talk to an insurance provider to determine exactly what will be covered. 
Lung Cancer and Early Detection
Lung cancer is the second most common cancer and the leading cause of cancer death in the United States. Smokers are at the greatest risk for developing this disease. Avoiding harmful habits may help individuals avoid cancer, but if cancer develops, early detection is key. Talk to your doctor about getting a lung cancer screening.
Finding Financial Assistance for Lung Cancer Patients
Lung cancer medical expenses associated with procedures, rehabilitation and therapy, and long-term health care will vary depending on the situation. Regardless of the specifics, the expenses can add up quickly for patients and their families. Finding financial support for lung cancer treatments can be a burden–but Help Hope Live can help!
Help Hope Live is your community-based fundraising source to assist with the unmet medical expenses and related costs that can result from living with lung cancer.
Which Costs Can Fundraising for Lung Cancer Help With?
Medications

Travel expenses for rehabilitation and treatment

Relocation or moving expenses related to the diagnosis (such as in the case of moving to be closer to a rehabilitation center or hospital for treatment)

Temporary housing due to relocation

Mileage, tolls, and parking fees for visits to rehabilitation center or hospital

Home health care services

Physical therapy and vocational rehabilitation
Turn to Help Hope Live for Financial Assistance for Lung Cancer Patients
Fundraising can help provide financial support for lung cancer. Through community-based fundraising, our nonprofit organization is dedicated to helping you raise funds for the medical expenses associated with surgery or ongoing support for lung cancer.
How Does Fundraising for Lung Cancer Work?
The fundraising process with our nonprofit starts with a few simple steps:
Complete a short campaign request at

helphopelive.org/get-started/apply

We will contact you if community-based fundraising is a possible option

You'll be paired with a Client Services Coordinator

Your Coordinator will provide you with one-on-one fundraising help, including personalized materials and guidance on rallying your community, sharing your story on social media, reaching out to the press, planning in-person or virtual fundraising events, and much more.
How Is Help Hope Live Different from GoFundMe?
Help Hope Live differs from GoFundMe by:
Verifying your medical need for complete donor confidence

Enabling donations that are tax deductible

Providing one-on-one fundraising help

Managing all funds raised to protect your state-based benefits (funds raised are not considered personal income/assets to you)

Paying bills directly allows you to focus on treatment and recovery
We are a nonprofit organization with more than 4 decades of fundraising experience and a 4-star Charity Navigator rating.
Does Community-Based Fundraising Work?
Here are a few fundraising success stories from the Help Hope Live community:

"We're excited to pass along the hope for an incredible and fulfilling life."
Josh Sarchet, a music teacher, was diagnosed with end-stage lung disease. Fundraising became a critical part of his journey to a life-changing lung transplant, covering key expenses such as temporary relocation for post-transplant recovery. Josh and his wife, Laura, became Help Hope Live Brand Ambassadors–they now help other transplant families to find Help Hope Live and connect to their communities of support.
"He is still in remission."
At 28, PJ Kent was diagnosed with acute lymphocytic leukemia with little warning. With one-on-one fundraising assistance from our team, his family and community rallied to fundraise for urgent medical needs ranging from specialized care to inpatient stays and hospitalizations.
"One word of advice to a pre-transplant patient: Help Hope Live."
Rachelle Ledbetter waited for years for the gift of new life to fight back against debilitating lung disease. In 2021, she received a double-lung transplant and started a new chapter of her life. Her new beginning was fueled by her community of support through a Help Hope Live fundraising campaign. Today, Rachelle is a Brand Ambassador for Help Hope Live.
MOST COMMON LUNG CANCER EXPENSES
Surgery
Radiation
Pharmacological therapy
Transplants
Cancer treatments
Ready to Get Started?
If you choose to fundraise with our nonprofit, here's how the process will look:
1. APPLY for assistance
2. YOU'LL BE PAIRED with a Client Services Coordinator
3. YOUR COORDINATOR will provide you with one-on-one fundraising help, including personalized fundraising materials and guidance on how to rally your community, share your story on social media, reach out to the press, plan in-person or virtual fundraising events, and more.
Need Other Financial Help Options?
For alternatives to fundraising, you can find information on a variety of cancer financial assistance options. Please view our Catastrophic Illness Resource Directory for insight into sources of direct financial aid, support groups, and other resources for cancer patients and their families.