The content we get to engage with during Spinal Cord Injury Awareness Month each September informs, inspires, and enlightens, from hard-hitting looks at life with an SCI to hope-filled stories of the power of SCI fundraising and community. Today, we kick off October's National Disability Employment Awareness Month (NDEAM) by looking at the resources and movements happening right now to support people with disabilities in their career journeys—and what's just around the corner.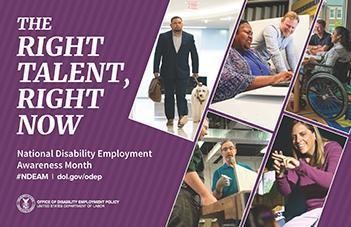 Next: Challenging—and conquering—disability career fears.
Everyone feels self-conscious preparing for a job interview. For people with disabilities, an interview can represent a whole lot more than an assessment of capabilities or character. Will the interview room be accessible to me? What will the interviewer say about my disability? Tips and guidance are more widely-available than ever for people with disabilities to help with securing a job or returning to work. The support is welcome: as BACKBONES reminded us this month, living with a disability can feel like a job all by itself.
Now: Persistent challenges in the workplace, from basic access to discrimination.
According to a report from Insider, people with disabilities continue to face daily reminders of how their disability makes them different. A few areas of concern highlighted by employees:
Employees with disabilities are often told off the record that they won't be granted extra time or accommodations because such necessities are perceived as evidence of "special treatment" or pose an added inconvenience for an employer.
Employers assume that making one accommodation covers every current and future need for an employee with a disability. Different professional situations may call for a variety of small changes to fully include every stakeholder. Employers may also assume that a newly-hired employee with a disability wants or requires the same kind of accommodations and tools as an existing employee without delving further into his or her unique needs.
While camaraderie and jokes can be components of a healthy company culture, uninformed comments about accommodations or disabilities can put an employee in a difficult or embarrassing position. Co-worker ignorance is nothing new to employees, but employer sensitivity training can help to reinforce the basics of respectful communication.
Employees sometimes feel uncomfortable or afraid disclosing a less-visible disability to an employer. Employers should encourage honesty by showing—not just saying—that they fully support employees and partners across all disability spectrums.
Next: Inclusion as a social, professional, and personal movement.
Inclusion isn't just a marketing strategy or a buzzword: it's the future of culture and employment. People with disabilities across the U.S. are using humor, honesty, open communication, and social sharing to bring inclusion to life. Pride, pragmatism, and professionalism can go hand-in-hand—and "tragic is not in this generation's vocabulary" when it comes to employment dreams and accomplishments. Neither is "despite."
Now: Disability cost support that never leaves your side.
At Help Hope Live, we know that mobility is a critical component of employment for many people with disabilities. Without accessible transportation, reliable personal mobility devices, and home health care support, employment can remain out-of-reach for talented and motivated professionals. Our nonprofit is committed to bringing these medical and related needs within reach through community-based fundraising—and unlike GoFundMe, funds raised with Help Hope Live typically won't disrupt Medicaid or push you beyond your asset limit for disability benefits.
Next: Disability employment resources that reach even deeper.
We already provide a fundraising lifeline to employees with disabilities, but we won't stop there. The newest resource we're making available to our clients is comprehensive support for navigating federal disability employment options. Debuting this month during NDEAM, our employment and career resource will be free for every single Help Hope Live client.
We can't wait to show it to you! Subscribe to our Latest updates to get a convenient, once-daily email in your inbox and you'll be the first to know when our new disability employment resource launches this month.
Written by Emily Progin